Whether you want to size up a smaller space or bring light and life to a bigger room, there's no better way to bring some inspiration to your bathroom interiors than with the perfect bathroom mirror. And if you're looking for the right reflective ideas, you've come to the right place – as we've rounded up the best bathroom mirrors to suit every space in this handy guide, whether you want something small and elegant, modern and statement-setting, or everything in-between.
Suit your wet room's style with a shaped mirror
The best bathroom mirrors match the contours of your bathroom, so it's time to pick a shaped mirror that suits how you want yours to look. From shower cubicles to tiling, if you're all about the clean lines and straight edges, then our Square Groove and Rococo glass mirrors can give you the contemporary feel you're looking for.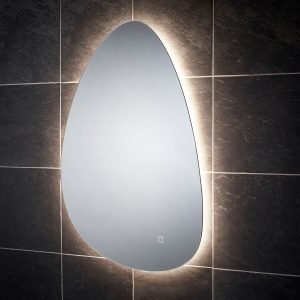 However, if your tastes are more traditional, you can match your bath and basin's curved edges with a softer, rounder mirror shape, like our Resonance, Maestro and even Oval mirrors too. The result? Stylish symmetry all across your bathroom space.
Brighten up your bathroom with an illuminated mirror
Everyone wants a nice, bright bathroom – but sometimes it's just not possible, and that's where an illuminated mirror can come in handy. Whether you're adding elegant lighting to your wetroom, or just want to get a better look at yourself in the mornings without the help of a window, illuminated mirrors are ready to add style and light in no time.
At Bathstore, we've got a wide range of illuminated mirror ideas to choose from with a variety of mood boosting bathroom features. For bright and long-lasting LED strips down the side, perfect for shaving or makeup – try our battery-operated Croydex Thornton mirror. But for added atmosphere, choose the relaxing warm glow of our Croydex Chilcombe bathroom mirror instead.
Invest in a full-length mirror to admire your full reflection
If you're looking for a reflecting style that shows off more than just your face, then you need to invest in a full-length mirror. Pick an open wall where you can make the most of it, and it's easy to check you're looking your best from head to toe before you head out the door.
But that's not all – one of the greatest secrets to making your bathroom feel bigger is to have as big a reflective surface as possible, so a full-length mirror is the perfect pick for an enhanced sense of space too.
Shake up your morning routine with a Bluetooth speaker mirror
Forget your shower radio or balancing your phone on the edge of the bath – now you can enjoy music from the comfort of your bath or shower, or even when you're just cleaning the bathroom with a cutting-edge mirror speaker mirror.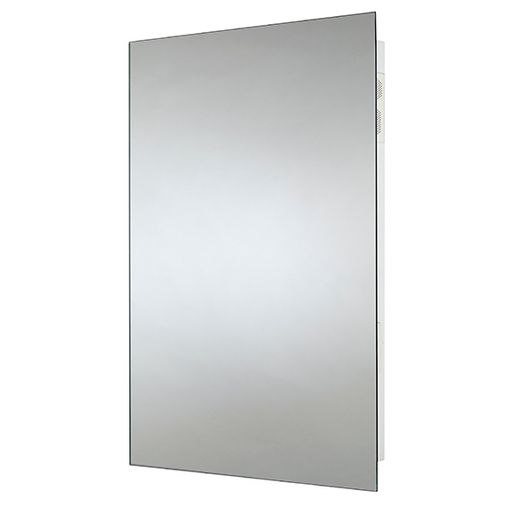 Only available with Bathstore's Hydra mirrors, it's easy to create an all-in-one experience with a delicately diffused glow from the under-cabinet LED lighting, paired with your relaxation playlist on the incredible incorporated Bluetooth speakers. Just sync up your phone, then lie back and listen to the crystal clear sound.
Add extra accessories for built-in bathroom time savers
Forget searching about for an adapter, it's time to pick a mirror that makes life easier in the mornings with a built-in shaving port. And that's not the end of the bathroom accessories on offer, as many modern mirrors are equipped with demister pads too. This cutting edge technology is designed to keep your mirror from fogging when you step out of the shower or steam up the room for completely clear illumination every time.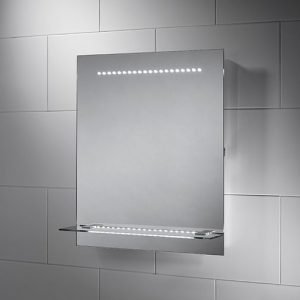 There's a wide range of shaver-equipped mirror ideas to choose from at Bathstore, but our favourites are the subtly curved retro Rhea design, or Maya LED bathroom mirror with an infrared sensor switch too.
Store more with a spacious mirror cabinet
Storage is always at a premium in any bathroom, so a mirror cabinet can be the best way to add extra space without sacrificing style. Combining spacious cupboard room with a stylish reflection, there's also often a range of mirror designs, ideas and finishes to choose from to make sure it fits in with your current bathroom décor too.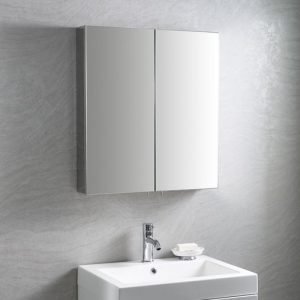 For a minimal look that brings together a mirror sheet with a small side cabinet, our Balterley Orbit cabinet is a reliable addition to any bathroom. If you want to go all-out with spacious storage instead, our Castor or Hydra double door styles have room to fit all your supplies, or our Tall version if you want to stretch to the ceilings too.
Pick portable reflection with a stand mirror
For close up grooming every day, try something that adds vanity table detail without the need for wasted space elsewhere in your home – a stand mirror. Small but stylish, these mini mirrors are ideal for those who don't want to drill holes in their walls to mount a full-sized model, or maybe just if you're renting.
Available in white, black or chrome, Homebase have a wide range of freestanding Home Design mirrors to choose from, ready to suit your bathroom's shade and style. Best of all, you can pick up and place them wherever you need for the best light.
Make your whole wall reflective with mirror tiles
Whether you want to make a smaller room feel larger, brighten up your space or simply get a good look at yourself from every angle – mirror wall tiles are one of the fastest growing bathroom trends around.
Available in packs of 4, these silver and glass squares can be stacked and shaped in whatever pattern you prefer, or used to cover the whole wall for a truly breath-taking and contemporary bathroom feel. With a natural finish, they're sure to match your current style too, with durable materials for long-lasting beauty.