Taps might seem like a bit of an afterthought when putting in a new bathroom, but these small parts pack a huge punch in the personality department. In fact, replacing just your existing bathroom taps can bring the whole room bang up to date. So take a look at the hottest (and coldest) bathroom tap ideas out there and see what floats your boat.
Noir is the New Black
They say the devil is in the detail, and it certainly is with the gothic element that black bathroom taps add. Black taps scream out for monochrome minimalism but adding furniture with warmer details in wood will stop starkness from creeping in.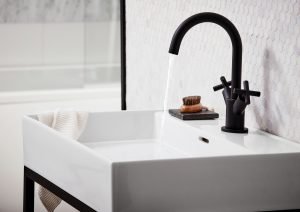 Black taps are the black sheep of brassware and they really suit environments that are unconventional and artistic. You can match them with salvaged, antique sinks for a wonderful contrast of old and new, or wall-mount them over something that's not a sink at all – like a galvanised steel bucket. Now that's a talking point.
Old-timers
If you thought traditional taps are bygones, we're about to prove you wrong. Old-school bathroom taps aren't just for lovers of lace window curtains, ceramic levers are making a serious comeback with designers evoking a utilitarian look inspired by 1930's public toilets – think white metro tiles and polished concrete floors.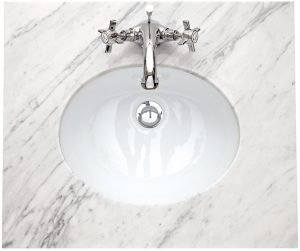 They're also retro heaven, and fit right in with the resurgence of the 'pistachio suite' and other such vintage inspired looks.
Culture clash
One of the latest trends in the bathroom is mixing textures and eras, for example two types of contrasting tile patterns, or a battered Victorian bath surrounded by sanitaryware that looks like it was made by NASA.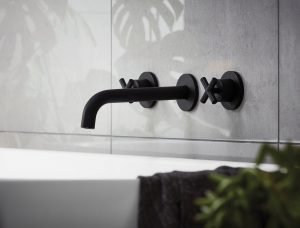 So how do taps play into this? Well, look for a contrast that's bold enough to look like it belongs. A mixer tap that looks like it was made in the 1800's will bring some texture to a minimalist bath, or a sleek wall-mounted tap above a roughly hewn stone basin will unify a sense of old and new. It's all about appreciating contrast, quality and craftsmanship over creating a 'look'.
Bronzed beauties
The sheen of bronze taps is pure Hollywood glamour – they'll transform simple white suites into things of beauty. Put them beside black herringbone tiles and you won't be able to take your eyes off them.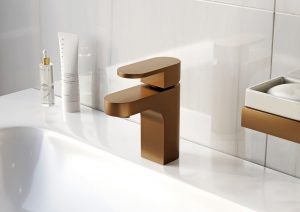 Bronze taps also pop with pastels. Think soft, mint walls and cream tiles to create a kitsch 1950's vibe –  a print of David Hockey's 'The Splash' will look amazing on the wall.
Barely there
Another key trend is for brassware that doesn't draw needless attention to itself. Simple, slim, or small – this is all about functionality and letting the rest of the bathroom do the showing off. A single, slim faucet works beautiful on bright, geometric tiles, or subtle set of deck-mounted valves will sit serenely on even the most flamboyant of designer bathtubs.