So, you want to install a double bathroom sink? Who can blame you? A double sink can be a game changer. 
Having two separate sinks can be particularly practical for couples; each of you has their own space, so both of you can get ready at once. It saves time, makes mornings less stressful and means that no one has to wait to get ready for a night out. 
It can also be life-changing for families. Just imagine no more cramped teeth brushing on an evening, or squabbling over who gets the bathroom mirror first in a morning. All down to a simple double bathroom sink.
How do I design my double sink?
While there are no real rules – it's your bathroom, so design it in a way that works for you – many people find that two washbowl style sinks or a double sink vanity unit work best in terms of space. But if you have room and want to try something different, there really are no limits to how to install your new double sink.
If you're not sure where to start, we've put together some double bathroom sink design ideas to get you started.
Sleek and simple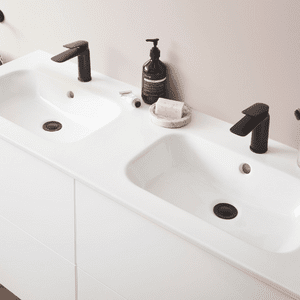 Double vanity units are a sleek and simple way to incorporate a double sink and built-in countertop space into your bathroom. As most designs include cupboards or drawers, these units can also provide additional storage space, which is a real bonus in smaller bathrooms. Most designs are stylish and modern, making them a great fit if you're going for a contemporary look.
Light and bright
If clean lines and a minimal look is more your thing then washbowls or counter top basins placed on a simple wall mounted shelf can be remarkably effective. Classic white porcelain on a bold, bright shelf adds a daring pop of colour to your bathroom, or opt for a simple white shelf with a feature washbowl. You might even want to get inspired by Moroccan or Middle Eastern design for your double sink washbowl designs. The possibilities really are endless.