A good basin can be a real feature in your bathroom, and many options are available that are stylish, practical, and affordable. However, before you buy one, you will need to consider a number of things including the size, colour and style of the bathroom. Whether you want a modernist rectangular basin, or a more traditional Victorian vanity unit with built-in drawers, there are basins available to suit every style of bathroom.
Sizing it up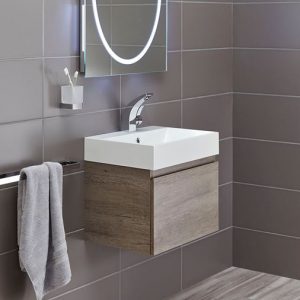 Depending on what space you have to work with, the basin you choose will need to fit neatly into your bathroom. There are many basins that can be mounted against the wall, as well as compact basin units that slot neatly into a corner, which will work if you have limited space in your bathroom.
Some corner basins are as small as 370mm width and depth, whereas the larger units – many of which can come with built-in drawer space under the basin itself – can be as much as 1200mm wide, and 508mm deep. Consider the depth of the basin, since this will alter how much of your floor space is taken up. Many basins with drawers can be mounted onto the wall and can be as little as 350mm in width, so there is plenty of variety available.
Shape is just as important as size when considering which basin will work best in your bathroom. The more traditional, curved basin will match any bathroom style, slotting neatly into most bathrooms without taking up too much space. The more rectangular basins can fit flat against the wall and need not be too deep if you're looking to save space there.
The modern and elegant washbowl-style basins are incredibly stylish. These are not usually wall-mountable, but sit perfectly on a pedestal or even a drawer unit.
Affordable luxury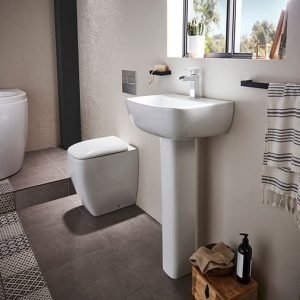 There is no hard and fast rule about how expensive basins are. Really, you can spend as much or as little as you like when buying a basin, but as with anything, it is often more worthwhile spending more on a quality unit, since they can end up being a long-term investment. However, working on a budget doesn't necessarily mean compromising on style or quality.
The standard curved basin will match any bathroom suite and their designs are simple but effective, so if you're looking for an inexpensive, stylish addition to your bathroom, these will do the trick. Even if you're after a more modern-looking basin, you can buy one without breaking the bank. Washbowls can be bought for less than £100, so you can kit your bathroom out with really attractive units without spending a fortune.
Typically, you can expect to pay anything between £150 and £300 for a good quality bathroom basin. Floor-standing units with built-in drawers are generally more expensive than the wall-mounted ones (though there are exceptions to this); materials will have a huge impact on cost. For example, marble top units ooze classic sophistication and will create a luxury feel to your bathroom – depending on what style of basin you choose, these can cost in excess of £500 at the top end of the spectrum. However, you can typically expect most basins to cost around £150 – £300.
Work with what you've got
Whether you're buying a basin as part of a brand-new bathroom, or to fit into an existing bathroom suite, you will need to consider how your bathroom will look alongside the other fixtures. Contrasting styles may well complement each other brilliantly, but it is best to bear the style and size of the bath (and/or shower) and toilet in mind when selecting a basin unit.
This also includes the colour of your other fixtures. For example, a black basin will look striking against a beige colour scheme, whereas an off-white basin may not match a bathroom with a bold colour scheme.
Tapping into the potential
A secondary consideration of a bathroom basin is the type of taps you will choose. Especially if you have children, you may want to assess how easy certain taps are to turn on or off, or how easy it is to control the temperature. (If you're accommodating for kids, you may also want to consider a basin with an overflow feature!) The style of tap is also important. If you are choosing a traditional Victorian-style basin, then the more angular, modern taps may not be in keeping with the overall look.
There are many styles and shapes of bathroom basin available. Whether you are working to a budget or not, luxury can be affordable and practical and can help make your basin unit the feature point of the room.