When it comes to choosing your bathroom heating solution, there are a whole host of decisions and choices to be made to ensure you get the right heating system for your bathroom. Once you have decided on a heating system for your space, there are a handful of other fittings you'll need to purchase alongside the system itself.
To help you choose the right fittings to complete your heating system, and your dream bathroom, we've got all the information you need, here in our buyer's guide.
Bathroom radiator valves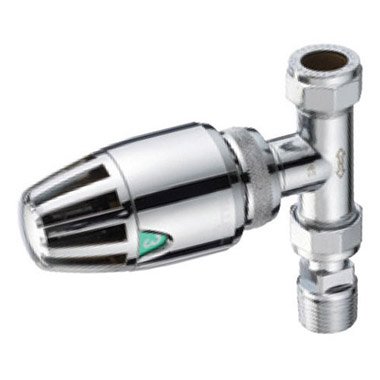 The types of valves needed depend on the type of central heating radiator chosen, the location and whether or not a thermostat control is required. Electric radiators do not require valves. For a bathroom radiator or heated towel rail which has side valve connections, angled radiator valves will be needed. A heater which has underside connections will use angled valves where the pipework comes from the wall, and straight valves where the pipework comes from the floor.
Here at bathstore we are always happy to recommend the right valves for your chosen bathroom heating solution, just talk to one of our friendly representatives in store!
Manual valves
Manual valves are usually smaller and more discreet than thermostatic valves, taking up less space and offering a cleaner decorative finish. As the name suggests, the temperature is adjusted manually, and as such, there is no automated device that switches the system on and off.
In bathrooms where aesthetics are more important than convenience, manual valves are usually the best option.
Thermostatic radiator valves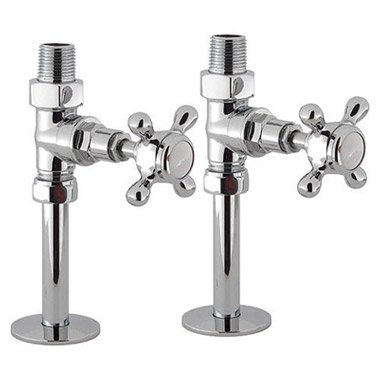 Thermostatic radiator valves (TRVs) allow the heating system to be controlled automatically, adjusting the temperature of the radiator according to the current temperature of the room. This makes the radiators more cost-effective as the radiator will only heat up when required.
Because a thermostat takes into account the current temperature of the room, it doesn't warm up unnecessarily, and will take advantage of heat from sunlight. In bathrooms which have a room thermostat controlling the boiler, a thermostatic valve is not required.
Thermostatic valves are the most energy efficient option, making the radiator more environmentally friendly as well as inexpensive to run. However, by design, thermostatic valves tend to be bulkier in appearance than manual valves, which might make them a less viable option for smaller spaces or contemporary bathrooms where the overall design calls for clean lines.
Additional bathroom heating fittings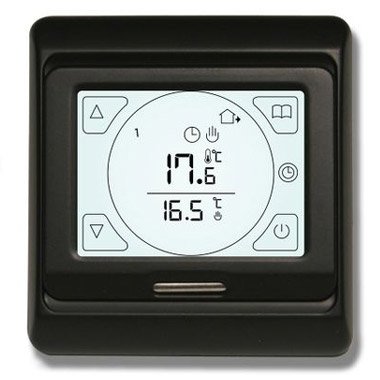 There are certain accessories and fittings which, while not a requirement for a bathroom heating solution, can make it more energy efficient. In cases where a heated towel radiator is used as the sole or main heat source, external towel rails or rings prevent the heat from being absorbed wholly into the towels, keeping the bathroom as warm as the fluffy towels.
Where underfloor heating is installed under a timber floor, the skirting board or trim will be needed to cover the expansion gap around the edge of the room. Your installer will be able to advise you further about this.