With many people updating their bathrooms to achieve a more contemporary look, the popularity of mixer taps has risen considerably. Mixer taps offer a fuss-free and streamlined solution to the more traditional two faucet tap, allowing users to control the temperature and pressure of the water with one handy lever – but how easy is it to go from pillar to mixer? Is this process going to cost an arm and a leg? Our handy guide will give you all the information you need to decide if it's a viable option.
What's the difference between a pillar and a mixer tap?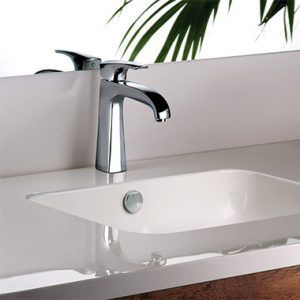 Pillar taps are considered to be a more traditional style of tap, and can be used in two-hole baths and basins. They have two separate faucets, one each for hot and cold water, and can operate in households that have a low pressure water system.
Most mixer taps operate through one faucet, and water is controlled by one lever, which can be moved left or right to reach the desired temperature, and up or down to increase or decrease the water pressure. In order to benefit from a mixer tap, you need to first of all make sure that your house has a high pressure water system. Mixers are often referred to as Monobloc taps. There are, however, a handful of mono mixer taps on the market which have one faucet, but have two tap handles for hot and cold, in-line with a more traditional style.
Is my water pressure right for a mixer tap?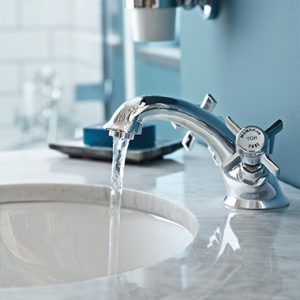 In order to reach a decision on this, you must first of all establish your household water pressure to ensure it is high enough to accommodate a mixer tap. If you have a mains cold and combination boiler then you will be fine to make the switch, or if you have a hot water cylinder with cold fed from a tank stored in a high positon (in your loft for example). If you are unsure of this, then feel free to contact one of bathstore's experts who will be more than happy to advise you on the matter.
Will switching mean I have to change my bath or basin unit?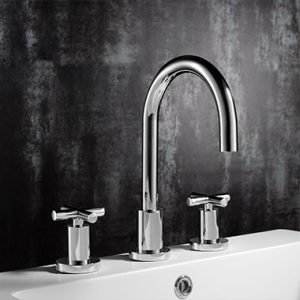 If you are redesigning your entire bathroom from top to bottom, then of course it makes sense to decide on your tap system early on so that necessary adjustments can be made. Making the switch tends to be easier with the bath in most cases, as long as the mixer unit covers two holes, as each pillar will have a hole, making this a straightforward swap.
Switching can get a little trickier with your sink, as your existing basin will have two holes in the ceramic. Most mixer taps for a basin would only cover one hole, so the likelihood is that you will have to buy a new basin which can easily be sorted out by an expert using bathstore's comprehensive installation service.
So there you have the lowdown on switching from pillar tap to mixer tap, you can make an informed decision as to whether this is a viable option. If you have any further questions about compatibility or installation, don't hesitate to call us – we'd love to hear from you.