When choosing a new toilet for your bathroom suite, you have the option of three different styles. The differences largely involve how the toilet is fitted within the room and how much space it takes up. Here at bathstore, all three are typically made from a similar material – vitreous china – and you can be sure of their high quality and durability, irrespective of style. They are also all available in a range of aesthetic styles from modern and angular to elegant and curved.
This short guide should take you through all the key features of each style, helping you choose which one is best for your bathroom.
Close coupled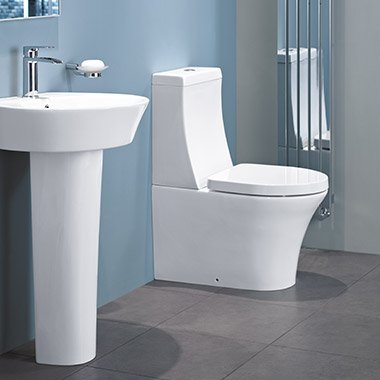 This is perhaps the style of toilet you will most commonly find in the UK these days. Close coupled toilets have the cistern attached to the toilet bowl, creating one streamlined unit which combines both essential parts. The pipes are hidden within the casings of the toilet and their compact nature means they are perfect for fitting into small or awkward spaces. For example, if there is a minor recess in your bathroom wall, having a close coupled toilet fitted in there may make the most of the space. These toilets are both quick and easy to have installed, making them ideal for any bathroom suite.
In terms of price, these range from as little as £60 up to around £500 at the higher end of the spectrum. Typically, the most common price range is between £200 and £300; it is always wise to invest in quality for a product that could last for such a long time.
Because the cistern is not concealed, these toilets are taller than either wall-hung or back to wall, so if you want to fit a close coupled toilet into your bathroom, you want a space that is roughly 80cm tall, 36-38 cm wide and between 61 and 68 cm deep. These measurements can all vary depending on the individual toilet, so check the dimensions thoroughly before deciding which one is perfect for you and your space.
Click here to browse our extensive range of close coupled toilets.
Back to wall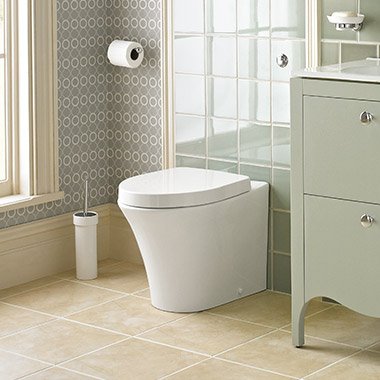 If you're after a toilet which is both space-saving and contemporary, a back to wall toilet may be perfect. These have the toilet bowl fixed firmly against the wall, while the cistern – usually sold separately – is concealed within either a furniture unit or in the wall itself, accessible through either the unit panels or a flush panel fitted into the wall. The pipes are concealed along with the cistern, making it the ultimate in neat and tidy bathroom fittings. By just having the toilet bowl on show, this creates a real sense of space in the room, leaving the bowl in the ideal position for cleaning and maintenance.
Back to wall toilets do not require any support from a frame – they slot into the corner where the wall meets the floor, fitted firmly against both. This provides the security of a fitted toilet without the added hassle of installing a frame, leaving you with an elegant toilet which is both functional and stylish.
You can expect to pay anything between £60 and £300 for a back to wall toilet, with the majority falling into the £150-£250 range. As with all bathstore toilets, you can be sure of their quality and many come with a 10-year guarantee or even for a lifetime. In terms of the space required, these toilets tend to be between 37 and 43 cm tall, 35-41 cm wide and 47-56 cm deep.
Check out our back to wall toilets here.
Wall-hung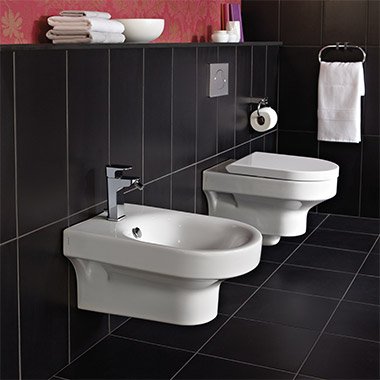 These are perhaps the ultimate in modern toilets. Wall-hung toilets are exactly as the name suggests – the toilet bowl is mounted onto the wall itself, not on the floor. Like back to wall toilets, the cistern is concealed within the wall, accessible via a flush panel. Because of this compact build and the bowl being suspended off the floor, these toilets are perhaps the easiest to clean, since you can reach all around it as well as underneath it.
This space underneath the toilet will create the illusion of your bathroom suite appearing bigger than it is. For this reason, wall-hung toilets may well be the best solutions for small bathrooms or cloakrooms. If you want more ideas for smaller bathrooms, check out our handy guide.
One of the key benefits of a wall-hung toilet is that you can have the height adjusted to suit your needs. This means that wall-hung toilets are a great idea if you are looking to furnish a bathroom for someone with limited mobility or someone who perhaps can't bend down as low. These toilets require mounting onto a wall frame to keep them secure, but if they are correctly installed, they will be incredibly sturdy, so you needn't worry about them falling apart – they are built to withstand approximately 200kg!
Because of the concealed cistern and the requirement of a wall frame, wall-hung toilets are perhaps best suited in brand new or remodelled bathroom suites rather than as a replacement for an existing toilet. This is because they need to be installed within the wall itself and therefore need a lot of work on the wall during installation.
However, if fitted correctly, these can look especially dynamic and create a real feature point within your bathroom suite. Wall-hung toilets have grown in popularity in recent years, but are still not as common as close coupled toilets, meaning that they are still a talking point. If you fancy having a toilet that will get your guests talking, this may be the one for you.
Just because a toilet is a very functional part of your bathroom doesn't mean it can't look eye-catching. By investing in a good quality toilet that features a concealed cistern, you can create the illusion of room within the suite whereas with a close coupled toilet, you can have a clean, streamlined fixture that will both serve a purpose and look very stylish. Whatever you're after, there will be a toilet available which can add character to your bathroom.