When it comes to choosing a new tub you'll really feel spoilt for choice. One of the best ways to start narrowing down the list is to decide whether or not you want a freestanding or an inset bath. This decision will largely depend on how much space you've got to play with.
Any bath is the centrepiece and focal point of a bathroom, so it's best to choose something that's going to work well in the space. If you're planning on fitting a new tub, and you're deliberating between the two, then we've got all the info here in our buyer's guide to help you decide.
What's the difference between a freestanding and inset bath?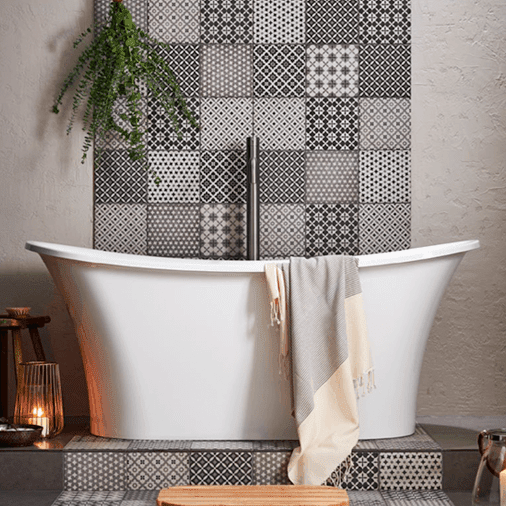 Freestanding baths take inspiration from more traditional style cast iron tubs that take centre stage in the middle of a large bathroom. Today's freestanding baths incorporate more modern design elements, whereas others have elements of more traditional designs.
Freestanding baths usually sit in the centre of the room rather than close to or built into the wall itself. Inset baths (sometimes referred to as "built-in baths") on the other hand, are the exact opposite. An inset bath is fitted flush against a wall. In standard bathrooms, it might span the full width of the wall, with only the side of the bath, or sometimes the end of the bath, exposed.
Freestanding baths
A large, luxurious freestanding bath effortlessly creates a spa-like sense of indulgence and grandeur in any bathroom. By design, a freestanding bath is usually a good choice if your bathroom is generously sized. Additionally, many people opt for a freestanding bath if they're designing something of a 'statement' bathroom.
Freestanding baths come in a range of styles and designs, including contemporary and traditional, and their spacious design makes them the ultimate in luxury design and bathing! While you can typically expect a freestanding bath to be more expensive, if you're serious about bathing and want the height of luxury in your bathroom, then they're well worth the investment.
Additionally, a freestanding bath can be raised on a platform to make it into a real feature. Lavish as they are in appearance, freestanding baths are also great from a practical point of view. So if you want an indulgent tub, but also want something you can give the kids a bath in before bed, then a freestanding tub is a versatile option. The space surrounding the tub can make it easier to reach into the bath, making it very easy to wash the kids – especially if you combine this with a flexible shower head (which makes washing their hair even easier!).
Here at bathstore, we also sell smaller freestanding baths if your bathroom has limited space, as we don't believe that smaller space means having to compromise on style.
Slipper baths
A slipper bath is a luxurious freestanding tub designed for those who are serious about enjoying a long relaxing bath. Most freestanding and inset baths are symmetrical by design so they are proportionally the same at either end of the bath. A slipper bath, while still freestanding, is different in that it is raised at one end of the tub which provides ample shoulder and back support for the ultimate indulgent soak.
Slipper baths incorporate the Victorian roll top design and usually stand on cast iron feet, so not only are they great for enjoying a truly relaxing bathing experience, but their traditionally influenced design brings real panache to your bathroom.
Inset baths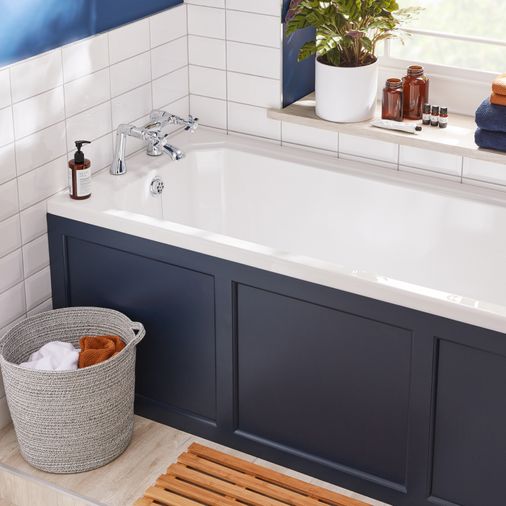 Sitting flush to the wall, inset or built-in baths can be a less expensive option than a freestanding bath. The main selling point of an inset bath is that it suits almost any bathroom as it sits along the wall – usually in the corner of a room. This is great news for people with less space to work with in their bathroom, or at least not enough to fit a lavish freestanding tub.
Inset baths are ideal on a practical level for a number of reasons. By design, they can incorporate a shelf which is really useful when bathing the kids (or for resting your book when enjoying a long relaxing soak in the tub).
Additionally, inset baths come in a range of sizes, so even if you're limited on space you'll still have the option to fit a tub, even if it isn't full sized. Unlike freestanding tubs, an inset bath can double up as a shower, which is also ideal for small spaces where a separate bath and shower is not possible.
If you're sticking to a tight budget, a timeless inset bath tends to be a less expensive option than a freestanding design. But even if you're after something more contemporary and elegant, there are a range of different styles available, whatever design you're going for in your bathroom.
Plumbing
Due to the different designs of freestanding and inset baths, you'll also need to consider the plumbing requirements for each. Freestanding taps or brassware are a great option for freestanding tubs, if you're going for a more traditional style. More contemporary freestanding tubs have a special wraparound panel that conceals the pipework.
In the majority of cases a freestanding tub will be located in the centre of the room, so it may cost additional plumbing fees to accommodate the pipework.
Inset baths are somewhat less complicated in terms of pipework. By design, all pipework is concealed away behind the bath panel, or into the wall itself. There's an array of stylish brassware options available for inset baths for a simple, timeless look or a traditional, classic style.