The question of where to place your bathroom basin can be tricky. Many can be fixed on top of a pedestal, whereas others need to be built into a worktop or vanity unit. Deciding which approach to take for your bathroom basin is often a matter of space and can also be down to personal taste in terms of appearance.
Whichever style of basin you choose it's best to ensure that it will be practical and suit your lifestyle, as well as complementing the other fittings in the space.
Up on a pedestal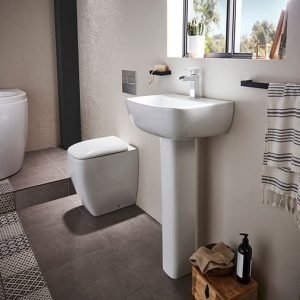 Many basins are placed atop a pedestal, either full or semi. These are slimmer options aside from fixing a basin on top of a vanity unit, and do not take up much floor or wall space. If you're working on a tight budget, purchasing a pedestal and basin may also work out as a cheaper option than a vanity unit with an in-built basin.
For the ultimate space-saving solution, you can pick a semi pedestal which tucks neatly into the wall and is often around 30cm tall. Semi pedestals conceal the pipes that are connected to the basin itself and give the unit a tidy, compact appearance.
Alternatively, full-length ones extend down to the floor, creating a long line that looks very appealing to the eye. These hide away the pipes just as the semi pedestals do and are available either with curved edges or as rectangular pillars, sitting steadily on the floor and supporting the basin securely.
Whether you choose a rounded or an angular basin, you can find a pedestal to match. This can ensure that your chosen style is continued around the room.
You can find bathstore's full range of pedestals here.
On the wall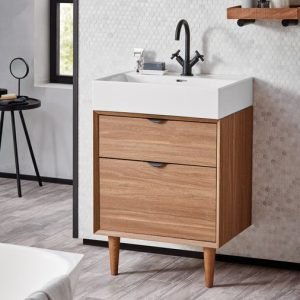 If you would rather go for a completely minimalist bathroom suite, you could do away with the pedestal completely and have your basin fitted to the wall. This is also ideal if you are looking for fixtures for a small bathroom or cloakroom, where space may be at a premium.
For a wall-mounted basin, you will need some kind of fixture in place for the pipes to be concealed. This could be a wall hung basin frame, for example, which is a metal frame onto which you mount the basin, giving it total security and ensuring it fits flush against the wall.
This is the ultimate in keeping your bathroom neat; even though the bottle trap will be visible at the bottom, these are discreet and compact, and need not detract from the attractive look of the basin. Indeed, they can be bought in the same style as the basin, which may even add to the overall look!
For more information about bottle traps and other basin essentials, check out our dedicated guide 'What other basin accessories and fittings will I need?'
When fitted correctly, this is just as sturdy and reliable an option as having a pedestal, so you never need to worry about the stability of your basin. If you are looking for a totally minimalist look in your bathroom suite, or if you are working with a more limited space, this may be the option for you.
Inset and semi inset basins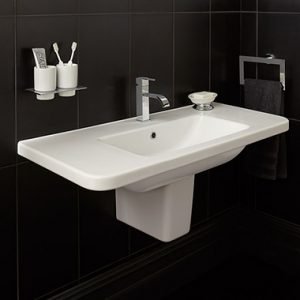 If you're looking to keep all your fixtures neat and compact, you can have your basin fitted into a worktop. This means that the pipes are totally concealed within the worktop itself and there is plenty of room around the basin for keeping all your bathroom essentials.
Basins like this can either be fully or semi inset. Fully inset basins are completely within the worktop, and are great for saving space. Semi inset basins protrude slightly outwards, with half the basin within the worktop and the other half sticking out slightly. Both angular and rounded basins can be fitted as inset or semi inset, and can therefore work as part of a contemporary or traditional bathroom suite.
For guidance and inspiration when it comes to vanity units, why not read our guide on vanity units?
Whatever space you are working with, you can have a basin fitted that will match the décor of the overall room. Whichever fitting you choose, from wall-mounted to floor-length pedestal, you can create a neat and tidy look for your bathroom suite.