A bathroom refit can involve a lot of planning. Everything from layout to style and size of your sanitary ware and bathroom fittings needs to be considered. Another aspect of bathroom planning is storage. This is can be problematic in small bathrooms and disruptive to designs for minimalist, contemporary and traditional style bathrooms.
No matter what style of bathroom you're fitting, you're going to need somewhere to store everything, from towels to bath products and cleaning equipment. Here are some clever design ideas and solutions for bathroom storage.
Use your wall space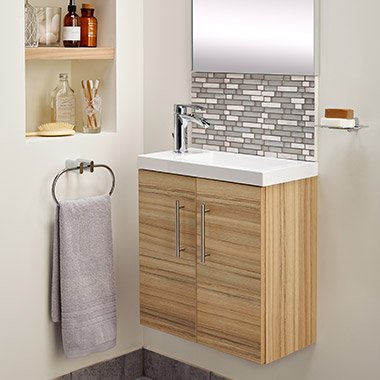 Bathrooms can be especially tricky for storage, usually due to the fact that the limited floor space is already used for fittings, door openings and sanitary ware. This can be particularly problematic in small bathrooms, where space is especially limited. Whatever the size of your bathroom, though, you can always use your walls for storage!
Wall space is ideal for a variety of storage solutions; anything from a bathroom cabinet to clever shelving can be a simple way to store various items for the bathroom. Shelves are a great place for keeping towels, since they will be kept tidy and easy to access. Adequate shelving can make a great feature in the room, and can help you create a stylish arrangement of your bathroom essentials.
Whilst storing products on the edge of the bath, basin and windowsill might seem like a sufficient solution, this can quickly leave your bathroom looking cluttered and untidy. Cabinets, on the other hand, are perfect for storing bathroom products, cosmetics, medicines and other small items you'd prefer to tidy away.
Wall cupboards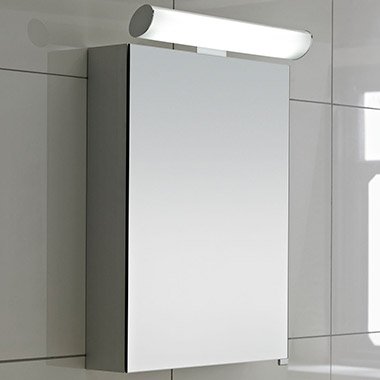 Whatever the plans for remodelling your bathroom, it's always a good idea to make the most of your wall space for storage solutions. This is a particularly practical solution if you've got double height ceilings, as the additional height is very useful for fitting tall cabinets and cupboards.
If you're fitting cupboards to a wall, it's generally recommended to just fit them to one wall. This line of thinking is similar to the dedicated storage wall solution (as mentioned above) as this prevents the room from feeling too cluttered and chaotic. Small rooms may also feel smaller if cupboards are fitted on numerous walls, as the cupboards can begin to encroach on the space. However, wall-mounted units can come in all shapes and sizes, so if you're worried about overpowering your wall, you can simply opt for one that's a little bit smaller.
Alcoves, corners and recesses
Make the most of tricky or unused spaces – these can be great for shelving and storage. Alcoves are particularly useful spaces for shelves – you can use floating shelves to make something of a design feature. Storage ladders are an alternative solution, and are ideal for storing away towels, toiletries, and toilet paper. These can fit neatly onto any space available, creating something of a focal point in your suite whilst also being a practical storage solution.
Similarly, corners and recesses are great for clever storage units such as corner cupboards and cabinets. Such spaces are unlikely to be used for anything else, and therefore make excellent storage solutions if you're a little short on room. A floor-to-ceiling corner unit can be a subtle yet practical storage solution, which would work well in both contemporary and traditional style bathrooms.
Freestanding units can work just as well as wall-mounted in creating new storage areas out of tricky, awkward spaces. Cabinets come in a range of sizes, from tall and narrow to short and wide, and anything in between. These are a real long-term investment, since they can be moved during a remodelling of the room, and can even come with you if you move house altogether.
The choice between wall-mounted and freestanding often comes down to space.
Vanity units and under sink storage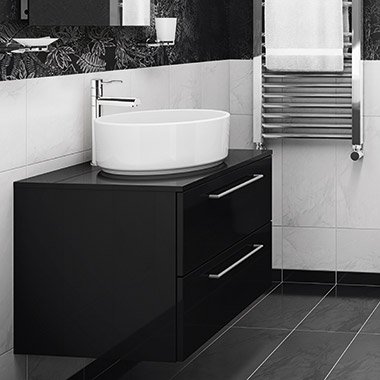 A vanity unit is excellent for storing cosmetics, bath products and other items. As they're the perfect partner for an inset basin, vanity units also double up as handy space-saving solutions for small bathrooms. This way you can combine your basin fitting and storage into one place.
Similarly, counters with an inset basin are excellent for stowaway storage space. Wicker or wooden boxes are a stylish yet practical solution for storing towels, bath products or other accessories. This is particularly useful if you've opted for a large counter inset basin or double sink with a substantial amount of space beneath the basin itself.
For more information about storage baskets, you can check out the article in our bathroom accessories buyer's guide.
Create a dedicated storage wall
As a great alternative to placing various shelves and cupboards throughout your bathroom, you can create a storage space using a dedicated wall. This will eliminate the chaotic feel of various storage solutions dotted around the room in and amongst your bathroom fittings.
If you've got the knack for interior design then you can use a combination of shelves and small drawer units to create a stylish feature. You can also use open shelf racks to store folded towels, and hooks to hang bath robes and other bath linen. Shelves are available in glass, which looks very sleek and minimalist, and wire baskets can fit neatly into the corner of a shower, using a small, unused space to create a smart storage area.
Click here to browse bathstore's full range of these products.
Bathroom storage doesn't need to be a complicated matter. By playing around with layout, clever design ideas and a dash of creativity you can find some easy storage solutions that are both practical and stylish.