The bath tub is pretty much the centrepiece to any bathroom, even if you're not creating a designer statement room. A bath tub isn't something you'll be replacing very often, so that's why it's so important to find one that's right for you.
Choosing the right bathtub is something of an investment and there's a vast array of different things to consider when it comes to picking a new bath. If you're not really sure where to start, we've got all the information you need in our bath buyer's guide.
Shapes, sizes and budget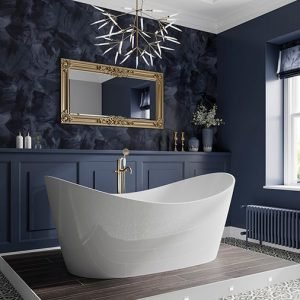 The first thing to consider, before you begin browsing luxurious new tubs, is to work out the size and shape of your current bathroom. Knowing what type of space you're working with is almost half the battle, as you can then begin looking at tubs that will fit in your bathroom.
Secondly, you need to think about how much money you want to invest into your new tub. Prices vary massively and will depend on the design, size and material used to make the bath. With this in mind, it's worth considering exactly what you want out of your new tub, and how much you want to spend.
Nowadays, baths are so much more than just somewhere to simply have a wash! They make a stylish centre piece to any modern bathroom, which is in itself a place to relax and unwind.
So it follows that the more stylish the design, the larger the tub, and the better the material made to manufacture it, the more you'll be looking at investing in the bath itself. If you want a bath for more practical purposes, and are less interested in creating a feature, then you'll be looking to spend less on your new tub.
How do you bathe?
Before getting into aesthetics, it's always a good idea to take a moment to consider the practicalities of your bath. If you take regular baths and enjoy nothing more than a good, long soak after a hard day, then a more stylish, luxurious tub might be well worth the investment. If you like to stretch out and indulge in a truly lavish relaxing tub, then you might be considering investing your money in something like a whirlpool bath.
At the other end of the scale, if you tend to take more showers than baths but still want the option of having the occasional swim in the tub, then a shower bath might be a good compromise.
Alternatively, if you need a bath to give the kids a good scrub down before bed then the chances are you'll be after a bath with fewer bells and whistles. If you're looking for a practical tub, you'll still want to invest your money wisely, choosing something durable. Even so, your tub will need to stand the test of time style-wise, so it might be worth considering more timeless options.
What to consider when choosing your new tub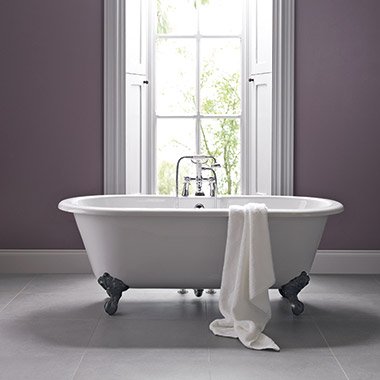 We've said it before and we'll say it again: consider your bath as something of an investment. Your bath is going to last you a long time, so you've got to make sure your new tub is up to the job and meets your every need. Comfort and style are both aspects you'll need to consider, but before you peruse new tubs, there might be some practical constraints to take into account.
Aside from space and use, other things you might need to keep in mind can include the type of water system installed in your home. If you're thinking of installing an especially spacious tub, you'll need to check that your hot water system is able to cope with sufficiently filling it with the required amount of warm water.
You'll also need to find out if the location of your current drain or waste pipe is compatible with the design of your new tub. There are other practical things to consider which can easily be forgotten about, such as how wide the bathroom door is. Whichever tub you choose, it will need to make it through the bathroom door.
Weight is another factor you'll need to take into consideration. If you're buying a tub made with heavier material, you need to know that your floors can handle the weight of it – and not only of the bath itself, but when it's full of water and has somebody in it, too! In some cases, it could be worth reinforcing the floor with bracing so it's able to withstand the additional weight.
Take it for a test drive
When you're looking at baths, it's always a good idea to get in to try it for size. You wouldn't buy a car without taking it for a test run first, and the chances are you'll have your bath tub longer than you'll have a car. You'll need to know that you can comfortably sit in the bath and that it's adequately sized for relaxing and enjoying a peaceful soak.
Choosing a new bath is a tricky decision to make with lots of things to consider. The best plan is to look for a bath that's going to best suit your lifestyle, your space and your budget.