If you think about it, most rooms in the house adhere to their own lighting scheme. Your living room is likely to have ambient lighting, perfect for relaxing and watching TV, whereas your kitchen is a practical space and much more likely to have bright lights. Similarly, your bathroom will need a significant amount of consideration as to how the room will be lit.
Excellent bathroom lighting is essential to creating both a functional space for your morning and evening routines, as well as creating the right atmosphere for rest and relaxation. Where most rooms in the house might use a combination of ceiling lights, standing lamps and wall lights, these options are much more limited in the bathroom.
If you're looking to install new bathroom lighting but aren't sure where to start, then we've got all the expert advice and tips here.
Know your zones
One of the ways in which bathroom lighting differs from other rooms in the house is simply because of the safety restrictions associated with the space. Bathroom fittings are marked with an IP number which is rated against the zone in which they can be safely installed. The zones are:
Zone 0 – The interior of the bath or shower
Zone 1 – This is the area that is directly above the bath or shower (Zone 0). This is measured as being 2.25 metres vertically from the bottom of the bath or shower and 1.2 metres horizontally from the centre of a shower outlet to the height of the outlet
Zone 2 – This is the area beyond Zones 0 and 1 which measures 0.6 metres horizontally and up to 2.25 metres vertically. This zone will also include any recessed window with a sill next to the bath
Beyond Zone 2 – This area is at a safe distance from the source of moisture, therefore, any (non-IP rated) light fitting can be used here.
Before you begin deciding on what light fittings are right for your space, it's worth taking some time to work out where you're going to install your lighting first. If you're unsure, a qualified electrician will be able to advise you.
Light it up in layers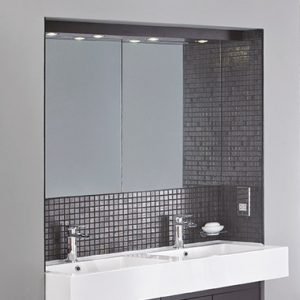 Bedrooms and living rooms are usually lit using a layer approach – which combines different types of lighting to create the right atmosphere in a space that is visually comfortable. Layered lighting is ideal for creating an atmospheric lighting scheme in your bathroom, whilst also providing practical illumination for various tasks. If you've got a very dark space which doesn't benefit from any natural light, layered lighting provides the right amount of illumination without making it appear bland.
The different layers of lighting are task, accent and ambient:
Task lighting
Task lighting describes the focused light to illuminate certain actions or activities that require more illumination. Task lighting is usually part of the general lighting in the space, but is focused (or localised) to provide light to assist with a specific task or action. In the bathroom, task lighting might be used around the bathroom mirror to effectively provide illumination for applying make-up or shaving.
Our range of illuminated and LED mirrors is ideal for task lighting in the bathroom, providing ample illumination and flattering light for applying make-up, shaving or cleansing. To find out more about bathroom mirrors read our handy guide here.
Accent lighting
Accent lighting is a subtle type of lighting which illuminates certain objects, focal points or features within a room. It is part of the general lighting scheme in the room, but can be used to add a touch of style and panache – highlighting features such as framed artwork or ornaments.
Additionally, accent lighting can really help to set the mood within a space – this is particularly useful in the bathroom.
Ambient lighting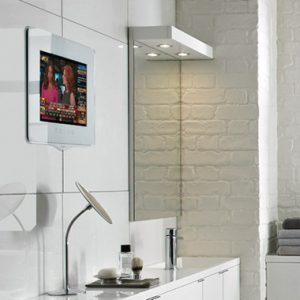 Ambient lighting is used to generally illuminate the space – usually by ceiling lights or a light fitting. This type of lighting's main purpose is to provide general illumination in the room to help you see where you're going and what you're doing. Unlike task lighting, ambient light is indirect and is typically used to diffuse light across the room.
Generally, ambient lighting will not illuminate alcoves or dark corners so as the only source of light in a space it can feel a little stark or bland, which is why layering can help to create contrast in the space and highlight features or focal points.
Bathrooms are notoriously tricky to illuminate well, as they can be prone to shadows and have dark corners and alcoves. When deciding which bathroom lighting fixtures to install in your space, make sure they are flattering and practical for your morning and evening routines, as well as atmospheric for when enjoying a relaxing soak in the tub.