Bathroom mirrors are often considered as a finishing touch, but no bathroom is really complete without one. As an essential part of your cleansing routine, a mirror also makes a very stylish addition to the space.
An elegant mirror can be quite the focal point of a statement bathroom, whilst a large mirror can help to bounce light around the room, creating a feeling of spaciousness in a small bathroom.
If you're looking for a simple, timeless mirror that isn't going to break your budget, you'll find framed options in our range. If you're after something a little more luxurious, you might consider a large illuminated mirror.
Whatever your space, style or budget, we can help you find the right mirror for your bathroom.
Attention to detail
It's easy to leave your bathroom mirror as something of an afterthought, but given that you'll use it probably every day, it's important to find something that's going to fit in with your lifestyle as well as the design of your space.
Whilst buying a mirror for the bathroom won't need as much consideration as more permanent fittings like your bath, shower or sanitary ware, you'll need to look at more specific features for a bathroom mirror than you would for a decorative one for elsewhere at home.
Bathroom mirrors are carefully designed to be moisture-resistant and prevent damage from water or steam. Many decorative mirrors, particularly those with a wooden frame, are less-likely to be moisture resistant, so might be more likely to get damaged or age quickly in the moist atmosphere.
Like anything you choose for your bathroom, you'll want something that's going to complement your design. A modern mirror cabinet might look out of place in an otherwise traditional style bathroom, whereas a rustic mirror cabinet could clash with the clean lines of a contemporary bathroom.
Mirror cabinets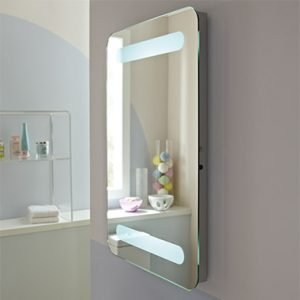 Mirror cabinets are a popular choice owing to their concealed storage. Perfect for fitting over the basin, a mirror cabinet will store away cosmetics, products and medicines whilst giving easy access to them whilst using the basin and mirror for grooming or cleansing.
The ample storage space is what makes mirrored cabinets a popular choice for family bathrooms, but the minimalist design and discreet hanging fixtures mean they're ideal for more contemporary designs too.
Cabinets come in a variety of sizes and styles to suit your space. Our mirror cabinets use specially-sealed glass to create a mirror that's watertight, easy to clean and will sparkle and shine for years to come.
Framed mirrors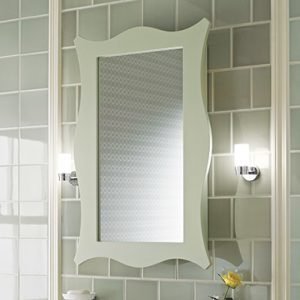 Framed mirrors fit flush to the wall and their fuss-free design makes them perfect for almost any bathroom. If you're looking for clean, timeless style or something minimal to complete your contemporary space, then a simple square or rectangular-framed mirror is your perfect partner.
You can choose a framed mirror from a range of sizes to suit your space – the square and rectangular designs can be hung either vertically or horizontally. For a simple, minimalist look, an ultra-slim design with clean lines will really complement modern spaces.
Alternatively, rounded or arch mirrors can be the perfect addition to a traditional or classic designed bathroom. The curvaceous edges can promote a period feel to your bathroom without being too ornate. Sealed to prevent water penetration, you can be rest assured this simple yet classic design won't tarnish or lose its sparkle.
The stylish bevelled edges add a dash of elegance and panache to an otherwise simple design – perfect for complementing modern, minimalist spaces.
Illuminated and LED mirrors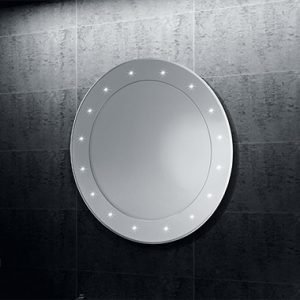 If you take personal cleansing and styling seriously, then why not transform your bathroom into your own grooming space? Unlike standard mirrors which simply reflect the light in the room, an illuminated mirror gives a soft, warm light which really shows off your good side.
LED-lit mirrors create a clean white light, which is flattering from all angles – perfect for applying your make up. These mirrors are striking in appearance, making a stylish feature even without the lights on.
If your bathroom doesn't get much natural light, an illuminated mirror can add additional warm light to the space for a little extra illumination. Most illuminated mirrors have a sensor switch, so you don't need to physically turn the lights on or off.
If you're after some decent storage in your bathroom but want all the benefits of an illuminated mirror, you can get the best of both worlds with an illuminated cabinet. Excellent for tidying away your cosmetics and other bathroom products, you'll also have a fully-illuminated mirror too.
Most of our mirrors can be fitted with innovative demister pads to ensure that the mirror doesn't fog up even after a hot shower or bath. Demisters prevent the glass from steaming up, so you'll no longer have to hang around for the mist to clear – perfect for mad dash mornings when you're both jostling for time in the bathroom!
Choosing a bathroom mirror is a practical necessity which can be doubled up as a great storage solution. Additionally, mirrors are a great way to add a touch of character to your space, which can really enhance your décor as well as creating the illusion of space in a small bathroom.