A frameless shower provides a true taste of indulgence. These minimalist designs make an elegant addition to contemporary and designer bathrooms. A frameless enclosure promotes clean lines and a sense of space, giving a modern, fuss-free design. For those serious about showering, there's no better option than a spacious walk-through shower. If you've got a good sized bathroom with space to share, then a frameless walk-through shower is a stylish and luxurious addition that will stand the test of time for years to come.
What is a frameless shower?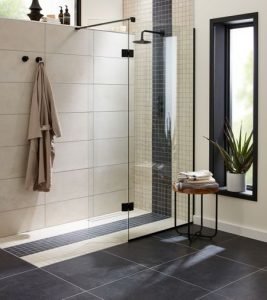 A frameless shower offers a truly luxurious showering experience. Unlike many other design variants, they promote a light, spacious and open design, for a truly liberating shower experience.
To get the most out of a generously proportioned bathroom, you can combine the frameless design with a low profile shower tray to create a walk-through shower, without having to waterproof the full room, as you would with a wet room.
How do they work?
Frameless showers come in two different styles, as a shower enclosure and as luxurious walk-through shower.
Frameless shower enclosures
Similar to other shower enclosures, they are fitted around a shower tray, but unlike a traditional shower enclosure, the glass is not surrounded by a thin metal frame to hold it in place.
Because the glass is not supported by metal frames, it needs to be strong enough to provide structural support. That's why the glass for a their enclosure goes through a special heating process, which makes it much stronger than the glass that is normally used for shower enclosures.
The result is a gleaming and elegant shower enclosure which gives a real sense of light and space within the room. Additionally, frameless doors and panels are easier to clean, as dirt and grime aren't able to build up along the edge of the frame.
Frameless walk-through showers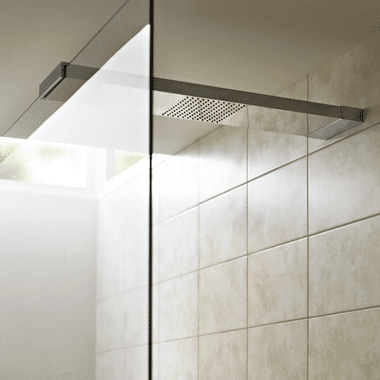 Unlike shower enclosures, which generally slot easily into corners or recesses in the room, a frameless or walk-through shower essentially creates more of a wet-room than a bathroom. A single pane of thick, tempered glass stands alongside a wall, with the shower head mounted from the ceiling.
You can simply step into the shower and out again when you're finished, giving you a spa-like experience every time you take a shower! The tempered glass is 8mm thick; much thicker than you'd expect in standard shower enclosures. By design, a frameless shower boasts clean lines for a contemporary and open plan appearance and, aside from looking ultra-slick, it's durable, resistant, and easy to clean too!
What's the difference between a frameless shower and other types of shower?
Most shower enclosures are fitted with framed glass. As the glass for most shower enclosures is typically thinner than a frameless one, the aluminium frame provides additional support, which reinforces the glass.
The frames then affix to other frames, either to the wall or ceiling, which creates the shower enclosure. As frameless showers don't sit in aluminium frames, the structural integrity needs to be much more significant. That's why they are made from substantially thicker glass, specially constructed to create a luxurious frameless design.