A quadrant shower can provide you with an enclosed haven within your bathroom in which you can shut yourself away from the world for a refreshing showering experience. Fitting neatly into the corner of your bathroom, a quadrant shower is the perfect solution for those with the snuggest of bathroom spaces.
Unlike square or rectangular enclosures, a quadrant shower has a smooth curved radius, making it a space-saving solution for bathrooms that are limited on space, without compromising on the internal shower space.
What is a quadrant shower?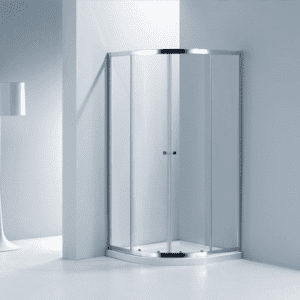 A quadrant shower offers a spacious showering experience, and their sliding doors make them super compact – perfect if you're limited on space. They are often found in small or ensuite bathrooms, or in spaces where a hinge door is not possible without opening into other fitting, such as the sink or toilet.
If you are redesigning a suite that isn't large enough for a bath, or if you simply don't want to bother with one, then a quadrant shower is an ideal solution. This way, you gain all the benefits of a spacious and relaxing cleansing experience without compromising on comfort or style.
How does a quadrant shower work?
Quadrant showers typically feature a compact sliding door and tough aluminium frame, which seals shut tightly – minimising on splashes as you enter or exit the shower. Frameless quadrant enclosures might have a hinge door, which opens outwards into the space. The curved radius of a quadrant shower leaves you more room both in and out of the shower, without encroaching on the floor space, allowing you to make the most of the space you have.
Both the sliding and hinge doors are made from thick, tempered glass, which makes the enclosure much less prone to breakage. Enclosures with sliding doors will typically have sprung bottom rollers to ensure a smooth gliding action as you open the door.
The rollers are designed for easy release, which makes it less of a headache when it comes to doing that all-important spring clean!
What's the difference between a quadrant shower and other types of shower?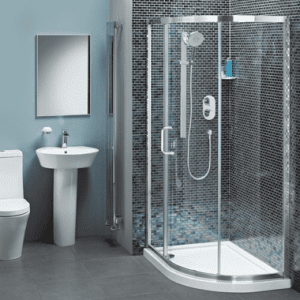 Most other enclosed showers will feature an outward opening door, whereas the quadrant design has a sliding door supported on sprung bottom rollers. A quadrant shower is shaped to fit in the corner of a bathroom suite and has a curved shape, giving you more space inside the enclosure. Unlike frameless or walk-in showers, the quadrant is completely enclosed unit allowing you to slide the door shut and enjoy complete solitude.
Don't know which shower is right for you? In this article you'll find all the information you need to make up your mind.