Every bathroom is different and choosing the right shower enclosure to suit both your needs and the space can be complicated – particularly if you've got an awkwardly shaped room to work with.
So whether you're designing a contemporary shower room or putting in a separate bath and shower in a large room where there's space to share, but you're not sure where to start, we've got the answers here!
What type of shower enclosure is right for me?
With a wide range of shower enclosures to choose from, the choice can be a little overwhelming. As a starting point, it's a good idea to think about your needs and how much space you're working with.
Of course, it won't just be the shape and design of the shower tray you'll need to take into consideration, as the door can impact the space and other fittings in your bathroom. Smaller spaces might need a folding door, rather than a hinge door, whereas a corner unit such as a quadrant or offset quadrant will probably require sliding doors. If you want to create the illusion of space, a luxurious frameless shower enclosure will make a sleek addition to your space.
One of the main benefits of shower enclosures is that the steam is contained within the enclosure, creating a microclimate – keeping you warm for the duration of your shower!
What type of shower enclosure is best for a small or awkwardly-shaped bathroom?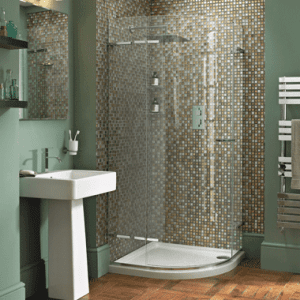 Large, square bathrooms are a rare find these days. Smaller, more compact spaces tend to be the norm, but there are loads of clever design tricks which can transform a small bathroom into a stylish and spacious shower room.
The quadrant and offset quadrant showers are the perfect choices for either smaller bathrooms or ensuites. Angled to slot into any right-angle corner, the curved enclosure with sliding doors provides plenty of showering space without impacting the space for other bathroom fittings. Quadrant showers typically have a width and depth of 800mm, so they slot nicely into a room whilst still providing plenty of space in the shower.
Alternatively, a square or rectangular shaped enclosure will work perfectly as a corner unit, and promotes a contemporary and designer finish. Again, a sliding door is a great option for saving space, but hinge and infold doors also make stylish and compact addition to any modern bathroom.
Rooms that are small or awkwardly shaped can benefit hugely from a bit of creative thinking. A room with alcoves and recesses may seem to hinder the space, but these are actually the perfect places for your shower. A square or rectangular shower tray is ideal for a recess or alcove. Depending on the size and shape of the space, you may only need to use a sliding, hinged or infold door to complete the enclosure, using the three walls of the alcove to form the enclosure.
What type of shower enclosure is best for a large bathroom with space for a separate bath and shower unit?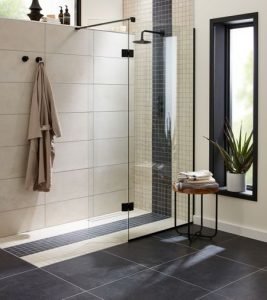 If you've got a bathroom that's generously sized, then opting for separate bath and shower units might be the best use of the space. If you've got plenty of space to play with, then you can take your pick of shower units. A D shape shower unit might be best for awkwardly shaped rooms, where fitting a unit into a corner isn't possible. Alternatively, you might opt for a spacious wet room, or if you don't fancy waterproofing the full room, then a walk-through or frameless shower is the perfect way to create a spacious, contemporary bathroom.
A frameless shower brings a touch of luxury to any bathroom. Slick in design, a frameless shower is ideal for creating either a wet room or a walk-in or walk-through shower. These modern designed showers mean you don't need to worry about doors, simply step in and enjoy a spacious and open shower.
Want to find out more about frameless showers? Then click here!