The ideal space saver, underfloor heating is becoming an increasingly popular choice for bathroom heating. Having the main heat source at the lowest point in the room is very efficient as heat rises, giving you the pleasure of stepping onto a lovely warm floor after a bath or shower.
While the upfront cost might typically be more expensive than other heating solutions, underfloor heating has comparatively low running costs. Installation costs and the necessity of replacing the flooring makes it a less viable option if you're working to a strict budget, but otherwise, underfloor heating is a great investment which can save you money on your energy bills.
As a streamlined alternative to standard radiators, underfloor heating can be the perfect solution to contemporary and minimalist bathroom designs. If you're thinking of fitting underfloor heating in your new bathroom, then you'll find everything you need to know here.
Wet systems and wire systems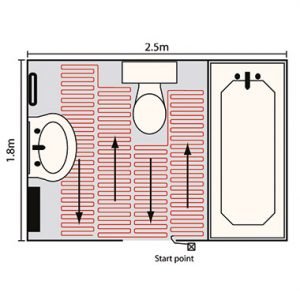 There are two main types of underfloor heating available: wet systems and wire systems. In a wet system, a series of plastic pipes are laid on a sub-floor before the final surface is laid over the top. These pipes are connected to the central heating system and hot water is then pumped through the pipes warming the floor above.
In a wire system, open-weave mesh mats with cables are placed beneath the existing floor and connected to the mains electricity supply. Wet systems are generally more expensive to install, whereas electric wire systems tend to be more affordable.
Installation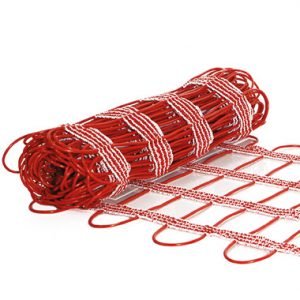 Fitting underfloor heating is a more complex and time consuming process compared to other heating systems. The amount of time it takes to install the system varies according to the scale of the project, the type of system chosen and the existing facilities. To achieve the full benefits of underfloor heating of either type, the floor must be properly insulated to prevent energy being wasted in heating the concrete or timber substrate below unnecessarily.
Underfloor heating can be installed under most floor types, although certain types of vinyl and laminate flooring are not compatible. Other floor types might be suitable but could lessen the benefits of underfloor heating.
A room with thick carpet, for example, would not benefit nearly as much from underfloor heating as one which is tiled. Your underfloor heating installer will advise you about what type of flooring is compatible and which will work best with your underfloor heating system.
Different flooring types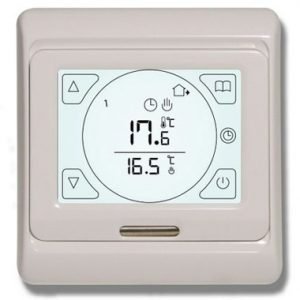 Tiles made from stone, slate, ceramic or terracotta are perhaps the most ideal flooring, and as bathrooms are most likely to be tiled, they are the ideal place to reap the full benefits of underfloor heating. The thickness of the tiles will affect the amount of time it takes to warm to optimum temperature, but once heated, the tile thickness makes no difference to the temperature of the room.
While some types of carpet can be installed over underfloor heating, thick carpets will absorb most of the heat and eradicate energy efficiency. Look for carpet and underlay combinations which have a thermal resistance of less than 2.5tog to reap the benefits.
Many high quality laminates and vinyls are suitable for use with underfloor heating but it is always best to check with the heating system manufacturer, who will be able to recommend those types which are most suitable for your particular heat system.
Timber flooring requires special consideration but is not out of the question. Again, check with the installer for which type of timber flooring will be suitable for your system.
The cost of underfloor heating
The purchase and installation costs of underfloor heating for bathrooms vary greatly depending on the type of system chosen, the condition of the existing flooring and whether or not insulation also needs installing.
Prices range from approximately £200 for a simple do-it-yourself electric matting kit, to around £5,000 for a wet system plus insulation (based on average house sizes in the UK). While the upfront cost can seem expensive, you'll typically expect to save on your energy bills throughout the lifespan of the heating system, in the majority of cases, making that money back over the years.
Underfloor heating is the ultimate deluxe heating system for your bathroom. Subtly bringing the room to temperature, you'll love stepping out of the bath or shower in to a warm room. While the upfront costs can be steep compared to other bathroom heating systems, you're likely to reap savings during the lifespan of the system owing to lower running costs.