Having a vanity unit in your bathroom can be a really effective way of saving space as well as creating extra storage room. They are available in a number of sizes and shapes, which means that there is one to suit any bathroom suite, no matter how much space you have to work with. They most frequently come with a basin (either fully or semi-inset), so you can combine a bathroom necessity with the luxury of extra storage. It can be tricky figuring out which vanity unit is best for you, but this article should help you make the choice.
Style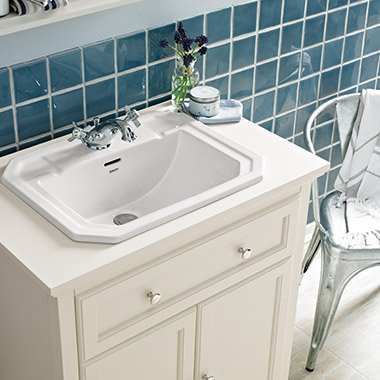 Bathroom vanity cabinets can be modern-looking, or they can be more traditional. The modern ones are more likely to have sharp, defined lines and will come in bolder, more adventurous colours. Traditional vanity cabinets will more often than not be either white or off-white and are more rounded than the contemporary units. Furthermore, modern cabinets usually come with drawers or cupboards with soft-closing doors, which don't have any handles, whereas traditional ones are opened or closed using a handle.
To determine which style is best for your bathroom, assess the overall look of the suite – if the whole room is geared towards the more traditional look, then a modern vanity cabinet may not match.
Bathroom vanity cabinets combine functionality with an aesthetic appeal. More often than not, they have a basin fitted into the top, either fully or semi-inset. The benefit of this is that you can save space by having both in the same unit, which makes a vanity unit perfect for a smaller space, like a cloakroom. This is particularly true of wall-mounted vanity cabinets, since these do not take up floor space and are therefore a perfectly compact solution.
Colour and Material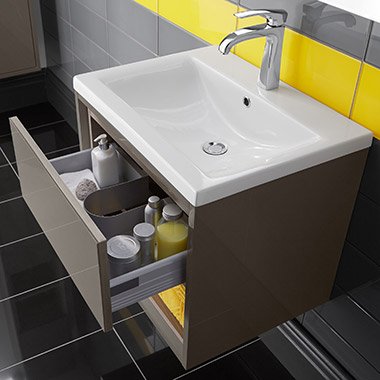 Vanity units come in a number of colours – the bolder colours are usually reserved for more contemporary cabinets. White is the most common colour for bathroom vanity cabinets, but other colours include grey, black, mahogany, oak and cream.
In terms of materials, you can expect to find units made from MDF (medium-density fibreboard), MFC (melamine faced chipboard) or plywood. MDF is a composite material, usually made in white. MFC can come in a range of wooden tones, such as this oak. Plywood, on the other hand, is often combined with lacquered birch, creating a sturdy unit which is well suited to a traditional bathroom suite.
Size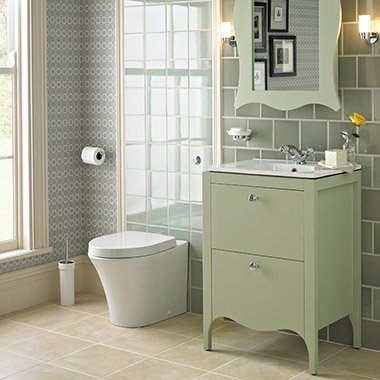 The size of each vanity cabinet will vary and there is no hard and fast rule about how big or small you can expect them to be. Generally speaking, wall-mounted units are smaller than freestanding, but there are exceptions. Freestanding units can measure up to a metre high and wide, and act as a fantastic storage solution, with room for a number of cupboards. These units are of course more appropriate for a larger space.
Alternatively, freestanding units can also be relatively small, fitted with just a basin and a small cupboard. Most freestanding basin units are around a metre tall or just under – this is to ensure that they are a perfect height for anyone to use the basin, including children. Therefore, the smaller freestanding vanity units are usually just as tall as the larger ones, but can be as little as 400mm wide.
Wall-mounted vanity units, on the other hand, do not have to be any particular height, since you can fit them to the wall at the exact height you need them in order to make good use of the basin. These frequently fall into two categories – short and square, with a basin and a drawer, or long and thin with a basin and a cupboard.
Without taking up a lot of room, vanity cabinets can combine storage and a basin in one handy unit, giving you room to house your bathroom essentials. Whether freestanding or wall-mounted, traditional or contemporary, there is a vanity cabinet available that will look right at home in your bathroom suite, and will help you keep everything looking neat, tidy, and stylish.