A wet room is the ultimate deluxe, contemporary bathroom, almost guaranteed to add value to your home. Taking inspiration from continental-style bathrooms, a wet room is a spacious and open plan shower room that's easy to use, easy to clean and will continue to look stylish and elegant for years to come.
What are the main benefits of having a wet room?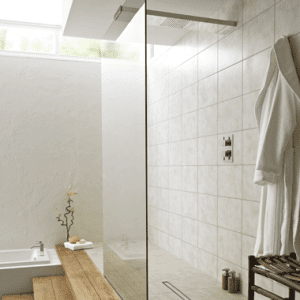 Wet rooms are becoming increasingly popular throughout the UK, as more people who are serious about showering invest in creating a spacious shower room. Without the shower enclosures taking up space in the room, a wet room promotes a truly open plan and minimalist design.
By design, a wet room is easily accessible, which can be a real plus for those with restricted mobility. As there is no enclosure or door to open, a wet room can make showering a much simpler option.
How does a wet room work?
Unlike more traditional bathroom designs, which usually comprise a bath, shower, toilet and basin, a wet room is fully waterproof and doesn't have a shower enclosure fitted, giving you the maximum amount of space for your shower.
You can either create your wet room by amending the gradient (fall) in the floor to allow the water from the shower to drain away, or by installing super-slim, low-profile shower tray, which will sit level with the floor. Alternatively, you can fit sloping shower former (which looks like a large shower tray) which will sit in the floor and be tiled over.
Not all wet rooms have shower screens or curtains, but in some cases, this might be necessary to prevent other bathroom furniture or fittings from getting wet.
What spaces would be best for a wet room?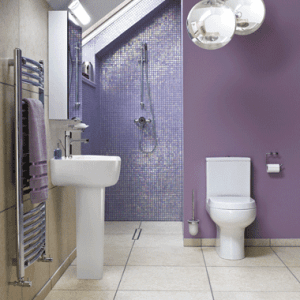 Wet rooms can be fitted in either large or moderately sized bathrooms. If you've got a particularly generously sized room to work with, then a wet room is well worth the investment.
A wet room also works perfectly well in moderately sized bathroom, if you're forgoing the bathtub in favour of a contemporary, deluxe shower room, then a wet room is definitely worth considering.
If your bathroom is a little on the small side, then a wet room may not be the best solution. Because they're open plan, wet rooms generally work better where there's lots of space. Moreover, a wet room is less likely to work in smaller bathrooms, as it's more likely that other fittings and furniture will get wet from the shower.
However, you can still create a designer and contemporary shower room if you've got less space to play with.