So you've decided on your ideal basin, and it fits into your new bathroom just perfectly – but what about the finding the right tap? Although this may not have been high on your priority list when you planned your design, it is still important to get those final finishing touches spot-on in order to complete your perfect haven.
There's a wide range of basin taps on the market, available in a variety of styles, designs and finishes, from traditional to minimalist and contemporary. When making the final decision, you must take into account the rest of your fittings and furniture of course, but also ensure the tap you choose is compatible with your basin of choice.
All bathstore taps are built to last and are manufactured using solid brass. They are all coated in a layer of chrome which not only gives them a stylish, mirrored finish, but also prevents them from rusting.
Our guide will help you narrow down the search and allow you to sprinkle the magical finishing touch to your dream bathroom.
Mixer basin taps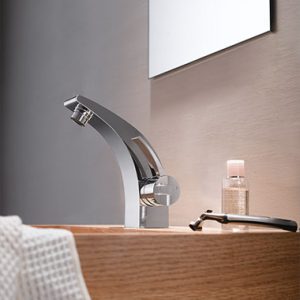 A mixer tap is the ideal option if you have a free-standing basin and your water supply comes through one pipe. The single-body mixes hot and cold water at the flip of a handle, making it a fast and fuss-free way to reach the desired temperature. Mixer taps work well in households that have medium to high water pressure.
Although a lot of tap designs on the market tend to be a modern, mixer style with one handle, there are several on the market which incorporate separate hot and cold tap handles to give your suite a spot of retro-cool. Our Bensham long nose basin taps really add a splash of vintage luxury to a suite and are finished off with traditional white 'hot' and cold' labelled handles.
Wall-mounted basin taps
If you're looking for a basin tap that is fast-flowing, elegant and modern, then you might want to seek out a wall-mounted model. There are a number of designs and finishes to choose from, all incorporating the same ergonomic tap lever functionality and minimalist look that keeps the pipework hidden away in your bathroom walls.
Waterfall basin taps
If you want to make your basin something akin to a water feature, then a waterfall basin tap could be just the solution to add a touch of luxury to your new bathroom. Their open spouts allow a thick stream of water to fill your basin, giving your designer suite a dash of spa-like indulgence.
Basin pillar taps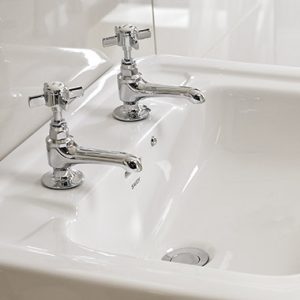 Basin pillar taps are ideal for anyone looking to re-design their suite with a more traditional look in mind. With two separate faucets for hot and cold water, they offer you complete control in finding the desired temperature of water in your basin.
Although considered an old-fashioned style of tap, they are available in a range of different designs and colours. If you want to achieve a more vintage look, then you might want to consider a gold or even bronze colour, which can really add a touch of class to your suite.
Washbowl taps
Enhance the overall appearance of your ultra-modern washbowl with a sleek and practical washbowl tap. Often seen in restrooms of trendy boutiques, bars and restaurants, this up-to-date design has grown in popularity and has now made its way into the home, becoming a big hit with those with an eye for the most contemporary of looks. Tall and elegant, they are versatile too, can be used with most washbowls and are compatible with any UK water system.
So now you know your pillars from your mixers and your washbowl from your waterfall, you are one step closer to finding the perfect tap to complete the look of your dream bathroom.