Storage and style are two of the most important elements for any wetroom, and bathroom cabinets are the perfect way of enjoying both at the same time. With a wide range of colours, designs and finishes to choose from, it's easy to find the furniture that will help elevate your bathroom's look. Best of all, we've rounded up all the best bathroom cabinet ideas in one place – right here!
Combine stylish storage and reflections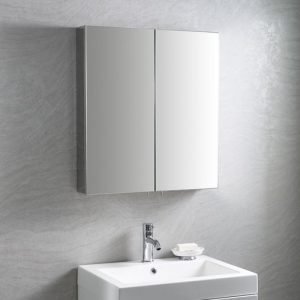 Staying sharp while keeping your bathroom tidy? Sounds like the perfect combination to us. Enjoying the best of both worlds doesn't have to be difficult – it's time to discover our range of mirrored bathroom cabinets.
From Savoy in Navy Blue to Linen Grey and Stainless Steel, our cupboards come in a selection of shades and designs. Wall-hung for convenience, there's plenty of space inside for toiletries, and a mirrored finish to brighten up your bathroom. So, if you're ready to reflect on the latest styles, we've got plenty to choose from.
Inspire industrial bathroom interiors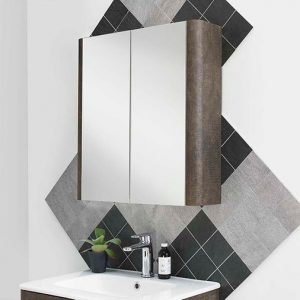 Urban designs are all the rage at the moment, and bathroom cabinets are the perfect way to showcase this industrial style in an inspiring way. Concrete and cement are popular picks for walls and floors, but when it comes to bathroom cabinet ideas – we're big fans of the Rust effect.
Whether mirrored or wall mounted, our contemporary Linen cupboards have a warm and welcoming metallic shade wrapped round the outside – ideal for making a standout statement or pairing with your bathroom's minimalist feel. What's more, you can even pair the two looks together for maximum style and storage.
Let there be even more light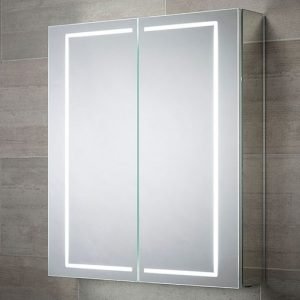 Sometimes a beautifully bright bathroom isn't possible with natural light, but we've got exactly what you need to give yours a helping hand. Illuminated bathroom cabinets are a growing trend for wide wetrooms and small ensuites alike, offering the ideal way to add some extra glow to the dullest of spaces.
For long-lasting lighting, all our illuminated Hydra and Castor cabinets use LEDs. What's more, they all come with pre-installed demister pads and charger sockets as well, meaning your lights and mirror will stay unfogged after a shower. Need some music to get your morning going? Our Hydra models come with built-in speakers too!
Discover storage with added cleaning 
If you feel like your bathroom cabinets don't have enough extra features, we're here to help. Discover an all-new dimension for your bathroom storage with our elegant sink units, ready to add a convenient basin to any space alongside, on top of or underneath your cabinets.
One of Bathstore's most beautiful bathroom cabinet ideas is our Savoy floorstanding unit, made from solid birch in a stylish old English white finish. With the option for extra shelves inside, it's perfect for storing all your bathroom essentials in one cabinet, all while offering a chic and compact washing space too.
Hit the heights with tall cabinets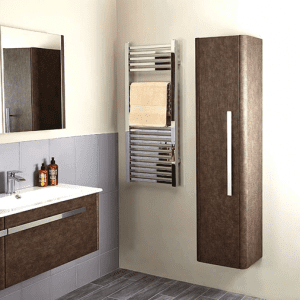 The most popular bathroom fittings are often cabinets that spread out sideways, but tall cabinets have making a real comeback lately – powered by wetrooms that have more space in height than in floorspace.
Our wall-mounted Linen range is the ideal way to take advantage of your bathroom's floor to ceiling, offering inspirational cabinet ideas in both mini and full-length sizes for a true boutique feel. What's more, they're only 400mm wide too, meaning they can fit in alongside the rest of your bathroom essentials like basins, baths and furniture.
Create a classic cottage feel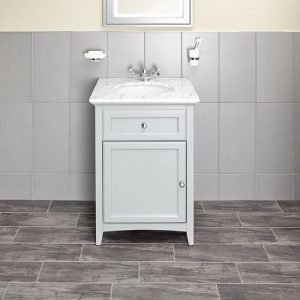 Packed with classic charm, cottage-style bathroom cabinets are the perfect way to combine vintage décor with practical storage, all in one piece of furniture. Towels, toothbrushes and the rest of your day-to-day essentials can sit neatly on the exposed bottom shelf, which frees up space for smaller bits and bobs inside.
When it comes to cottage style, our cabinet colours will pair perfectly with your bathroom's décor ideas – whether that's a freestanding bath or wall paint. Choose from Gun Metal, Navy Blue, Charcoal or Old English White finishes, all available with Bathstore's beautiful Savoy range.
Enjoy three times the storage space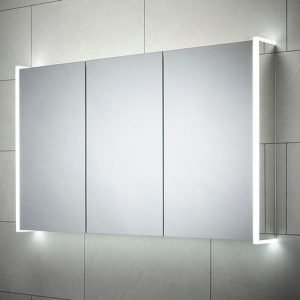 Ready to treat your bathroom to spacious storage? Many choose double door bathroom cabinets over single door for the added clutter-free potential. But we say, if you've got the wall space- why not go all the way? From shampoo to sponges, triple door bathroom cabinets can conjure up ideas of expansive luxury by filling your wall with cupboard space to hold all your essentials. Plus, with Bathstore's Hydra Triple Door Mirror Cabinet, it can act a light, a mirror, and a speaker too. Three times the space, three times the features!
Do more with floor cabinets 
Who says bathroom cabinets have to be wall-mounted? Combining space and style are just as easy with a floorstanding unit, especially with Bathstore's stunning range of sizes, colours and features too. Keep your toiletries and spare loo rolls somewhere safe with our beautiful tall or short Savoy sanitaryware in Navy Blue, available with granite or marble tops for that extra luxurious finish. And if you want to really push the boat out, don't forget – one of our favourite ideas is adding a basin to the top of your bathroom cabinet for maximum versatility too.