Imagine going into your bathroom to get ready on a dark morning with dim lighting or stepping into a relaxing bath under the glare of a ceiling full of spotlights. Maybe your bathroom lights look out of date and unstylish? Or it could be that a lack of natural light means your bathroom is a dark, gloomy and unenjoyable space. 
Whether you're creating a new dream bathroom interior or updating your current room, lighting is definitely not an area to overlook. From spotlights and chandeliers to mirror lights and plinth lights, let's take a look at bathroom lighting ideas to brighten up your bathroom.
What lights do I need in my bathroom?
Before we look at style ideas, let's take a step back. Bathrooms, wet rooms, shower rooms and ensuites all have different roles in a home. It could be a busy family space where you bathe the kids or a luxurious wet room for a spa-inspired experience. Maybe you have a compact yet dark ensuite or a functional shower room for washing after sport. The bathroom lights you choose need to work with your bathroom's specific style and demands.
Consider what you do in your bathroom. Do you like to read in the bath? Do you put your makeup on in front of the mirror? Think about tasking lighting that focuses on a particular area. Is your bathroom your personal sanctuary away from the family? Bathroom mood lights are key to getting the atmosphere right. Do you want to recreate a gorgeous luxury bathroom from a hotel where you can pamper yourself in style? You'll want to inject an indulgent feel with special lighting that adds a sense of sophistication.
Go for glamour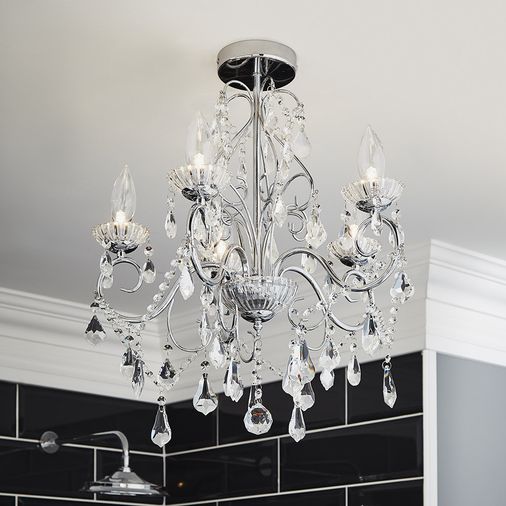 Creating a luxurious bathroom, where you can escape the everyday and feel pampered, is easy with roll top baths and gorgeous tiles. But don't forget the bathroom lights. You could add an opulent chandelier into your design, like Bathstore's Savoy, which comes in a range of sizes. Or a pendant light, like the Icon Crystal with a high-end look and feel. Your bathroom will sparkle and shine with uncompromising glamour.
You can also mix and match Savoy with chandelier style or glass shade wall lights. The latter are easy to clean with a polished solid chrome bracket for added refinement. Wall lights are great next to a mirror or mirrored cabinet for a touch of extra light where you need it most.
Put yourself in the spotlight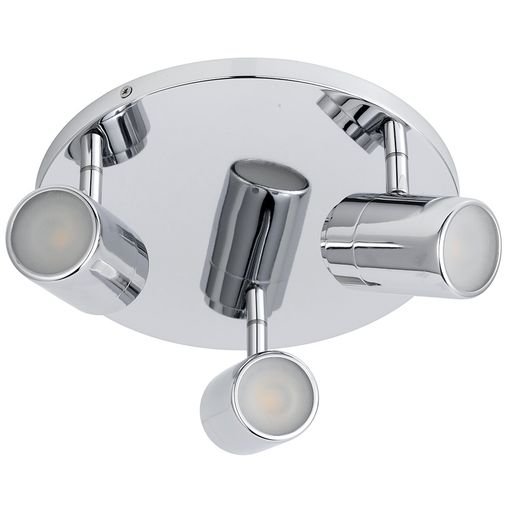 For smaller bathrooms, rooms with low ceilings or for achieving a clean and minimal look, simple spotlights and downlights are a tried-and-tested bathroom lighting idea. You can position them exactly where you need light – including within a shower cubicle – for a bright and even lighting effect.
Spotlights come in a range of finishes to complete the look. From chrome to clear and smoked glass – in round or square formats. Better still, new technology can allow you to switch between cool, natural and warm white light. You can adjust the mood of the room from family teeth cleaning time to relaxing 'me time'. They can also be dimmable for extra ambience.
Versatile fan lights save space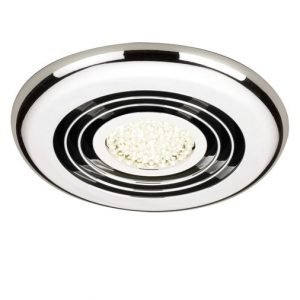 If ceiling space is an issue or you're looking to create a minimal and clutter-free look in your bathroom or shower room, a combined extractor fan with LED bathroom light is the perfect choice. These are ideal for wet rooms – allowing you to clear the steam and illuminate your shower from one sleek ceiling fitting.
In white or chrome finishes, your two-in-one fan light can blend into your ceiling or complement the other fittings in your room. This is a great bathroom lighting idea that often goes overlooked, but can make all the difference to your experience.
Try task lighting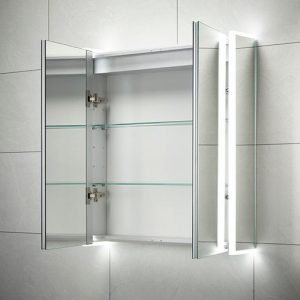 If your mirror is in a dark corner or your bathroom only has a small window, a specialist mirror light will be a huge advantage. It's great for shaving, putting on makeup or simply checking your hair. The beauty of task lighting in bathrooms is that you can choose which part of the room you want to illuminate.
Choose a simple T-bar design for unobtrusive yet very effective illumination. Or a stylish wall light that adds to the glamour of your room. Or try a mirror with built-in lighting for inviting sophistication.
Up the style stakes with mood lighting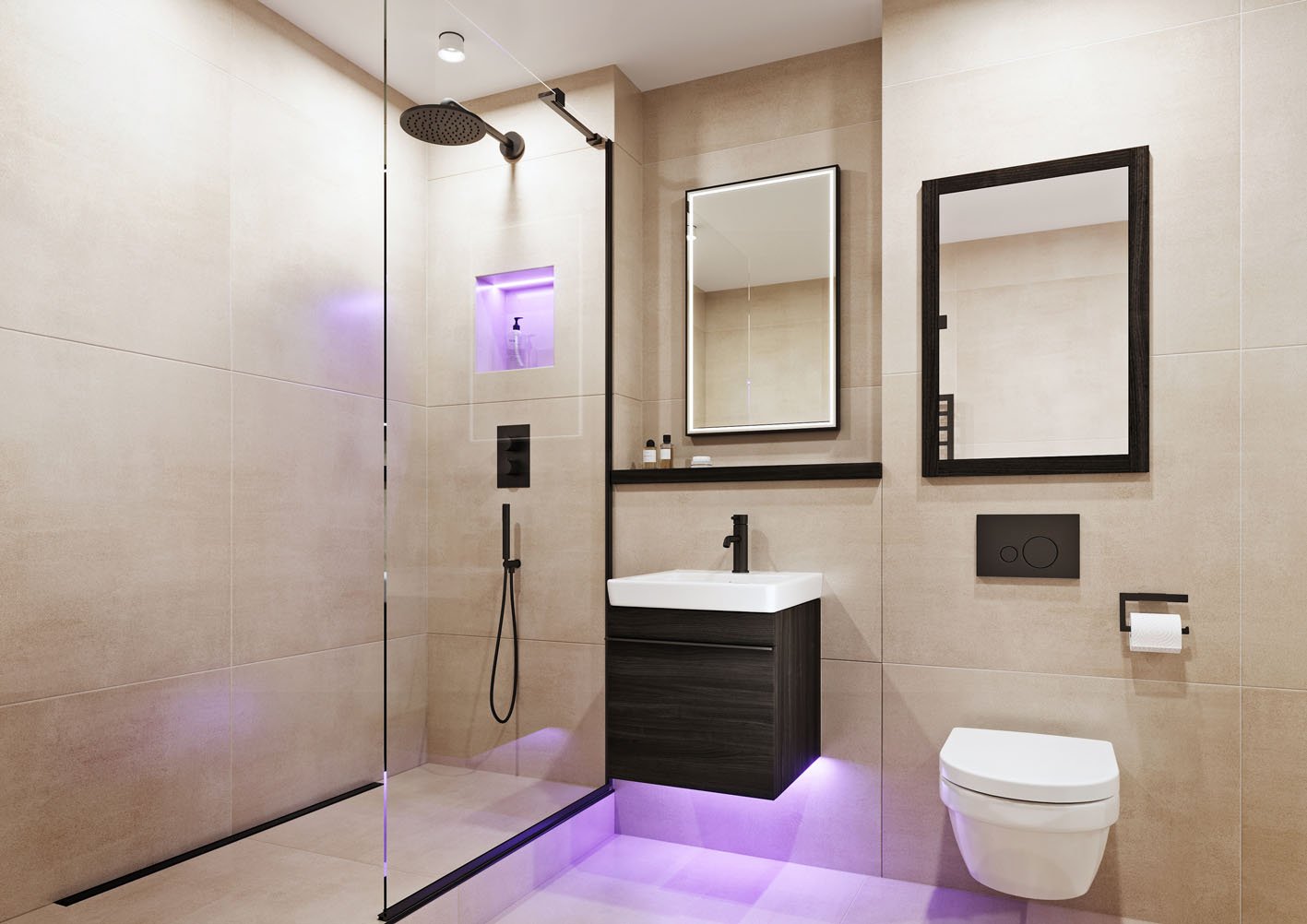 If you're looking for bathroom lighting ideas for an ultra-modern bathroom, look no further than mood lighting. LED plinth lights are a great place to start. These can be positioned at the base of cabinets, around the bath or set into the floor to create a luxurious hotel-feel in your bathroom or shower room.
These mini lights emit a bright glow but no heat, so they're completely safe and very effective. Imagine relaxing in a bath with the overhead bathroom lights dimmed and your plinth lights casting a relaxing glow.