When it comes to bathroom and ensuite ideas, it pays to be clever, as space is at more of a premium than ever. Making the most of it is clearly the priority, but luckily – there are plenty of ways to transform miniature bathroom spaces in no time, ranging from quick and simple hacks to larger scale projects. And best of all, we've rounded up the best of the best small ensuite ideas in one easy guide right here, ready for you to pick your favourite.
Try repeating patterns for a bigger floor feel 
One of the simplest ensuite ideas for creating the illusion of extra space, a repeating pattern is recommended by the best interior decorators for floors of all sizes – so why should your bathroom be any different? All you need to do is find a patterned tile design you love – preferably with a small print, and lay them edge to edge across the floor.
At Bathstore, one of our favourite tile pattern ideas is Bulevar's Décor tiles, which offer a gorgeous geometric grey design – perfect for bringing porcelain charm to the smallest of ensuites.
Make extra space with a wall hung toilet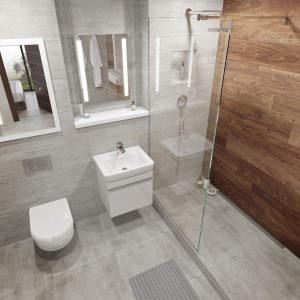 Searching for easy ensuite ideas to conjure up a sleek, modern feel? There are few simpler ways to save space and level up your luxury in a small bathroom than with a wall hung toilet. Even more streamlined than a close-coupled or back-to-wall toilet, these cleverly designed floating loos hide all the cistern and pipework behind the wall – leaving you nothing but a pan to worry about. There's even room underneath for low-level storage and toiletries too.
When it comes to wall hung toilets, Bathstore's ME by Starck offers a modern yet timeless ceramic design in a range of finishes – or keep your small ensuite ideas completely contemporary with Cedar's stripped back and hygienic look.
Create standout storage with a splash of colour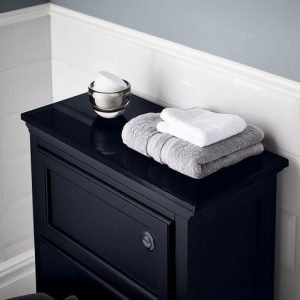 When it comes to cutting-edge décor for your bathroom, the monochromatic white or black look can feel a little old fashioned. That's why more and more people are choosing to shake things up by adding a pop of colour to their ensuite ideas. From bright, bold shades to more mellow but eye-catching tones, there's no shortage of inspiration about – with vibrant ideas that work especially well when paired with paler flooring in a small ensuite.
For those who want to make a statement in blue, Bathstore's rich Navy or Powder Blue units are the way to go. Alternatively, embrace the industrial aesthetic with our reflective and attention-grabbing Rust shades instead.
Bring your bath into the bedroom 
No room for a bath in your bathroom? Why not take a modern home twist on posh hotel styles and bring it into your bedroom instead…
The height of modern living, a bedroom bath is the perfect combination of practical but luxurious, with extra space to find design of your desires – and even the chance to install a smaller shower cubicle in the bathroom for extra space saving. Whether your heart's been stolen by our Evesham Roll Top Bath with Silver Feet, or something more streamlined like our Metropolitan Freestanding model, there's no shortage of inspirational ensuite ideas with our full bath range.
Enjoy accessories that suck, in a good way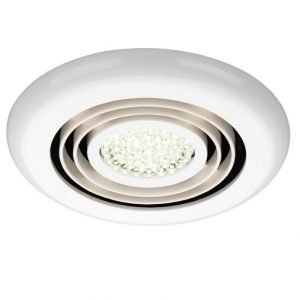 Good lighting is the secret to many a stylish bathroom. But the best lighting in the world isn't going to help if your ensuite insists on steaming up every time you have a shower. Thankfully, there is a simple solution that can help smaller bathrooms stay damp free without the risk of slippery floors – an extractor fan that adds light too!
With Rapide's Inline Ceiling Extractor Fan & LED Lighting from Bathstore, you'll find your ideal combination for keeping your mirrors and windows de-fogged while enjoying plenty of natural-looking light too.
Keep it open plan with open shelving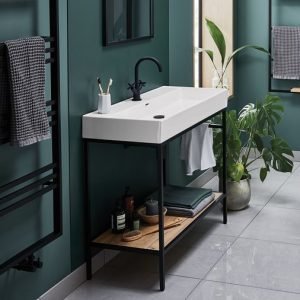 One of the fastest growing bathroom trends around, open shelving is a great way to maximise your space when it's at a premium with our small ensuite ideas. What's more, it plays perfectly into creating an open plan look for the rest of your bathroom too – especially with lighter coloured flooring.
Want to welcome a rustic feel with your open shelving? Check out our Noir Frame unit and basin, which uses an African oak shelf to add wooden warmth to the sleek and minimalist matt black aluminium frame – with the option of a streamlined basin above for added versatility in a small bathroom space too.
Save space in style with handless cabinets 
All bathrooms need storage space, from the largest wet room furniture to the smallest of wall-hung ensuite ideas. But there are plenty of ways to make your storage as streamlined as possible – helping to maximise your surface area by removing the most obtrusive of accessories. The simplest way to do this is by switching to handleless or integrated cabinets.
With Bathstore's glossy MyPlan Ceramic basin unit, or Vermont Floorstanding Vanity in Gloss Grey – you and your small ensuite can enjoy the dual benefits of extra space with recessed handles, as well as the inspirational clean line ideas they bring too.
Set the mood with LED lighting
You might expect the right flooring and furniture to expand your atmosphere, but one of the easiest ensuite ideas to enhance your bathroom's feel that you might not have thought of? The lighting. Natural light is always essential, but mood lighting in particular can add an ambience which transforms your wet room from pokey to relaxing.
Soft lighting is the best way to set the mood, so Bathstore's LED Plinth lights are one of our favourite ideas for adding extra glow to any small ensuite space. Want more of a statement piece? Try Icon's effortlessly elegant teardrop-style Pendant light instead.