A miniature bathroom shouldn't mean giving up on your dreams of a sanctuary space, especially with the recent explosion in small sink styles. With the right basin and vanity, you can transform any compact space into a perfectly proportioned paradise, one you'll be excited to use every day. From mini masterpieces to space-saving stunners, we've rounded up the best small sink to inspire your next bathroom refresh today.
Hug the wall with your small sink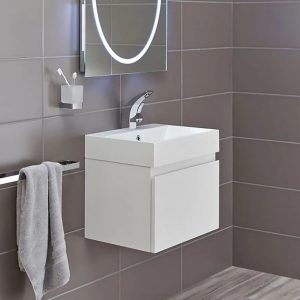 Let's start simple with one of the fastest-growing small bathroom trends – wall-mounted sinks. From extra storage space to a stripped back, minimalist look, there are plenty of reasons to take your basin off its pedestal, and just as many different styles to choose from too. Best of all, you'll find them all at Bathstore.
One of our most popular designs is the Mino Mounted Vanity Unit, which pairs a suitably shallow sink with soft closing, water-resistant drawers – perfect for any small bathroom. Alternatively, keep things plain and simple with our rounded Newton Semi Recessed Basin in pearly white, accented by a chic chrome tap.
Strip back your sink's everyday style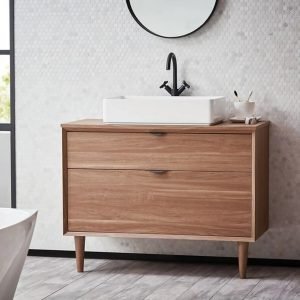 One of the best ways to ensure extra storage in a cramped bathroom space is by adopting a minimalist design, like a small console sink. Slim, sturdy and timelessly elegant, these pieces raise up crafted ceramic bathware on a long-lasting metallic frame – leaving plenty of room underneath for towels, toiletries and more.
For a perfect example of slimline style, try Bathstore's Noir 1000 design. Combining a skinny aluminium frame with a matt black finish, African oak effect shelf and a slimline basin – it incorporates all your bathroom's essential needs in a single small sink unit with a spacious basin.
Enjoy storage that suits your size
When it comes to creating space in your bathroom, many people assume they can't balance a small sink and cabinet in the same space – but they're wrong. With mini vanities, it's surprisingly simple to add in a storage unit alongside the rest of your cabinets, ready to suit all of your bathroom's needs – as well as a basin on top.
For inspirational ideas, look no further than our Sienna Floorstanding Basin. Finished in Gloss White, Gloss Grey or Matt Indigo, this unit measures just 460mm, meaning it can squeeze into even the smallest of gaps – topped off with a small but suitably stylish ceramic sink.
Your loo can be a sink too
If you're truly pressed for space, it's time to combine two of the most essential bathroom elements – your toilet and your basin. How? Simple, with combination or all-in-one units, which swaps out a standard toilet cistern lid for a small sink and tap, or a larger vanity – which instead places the loo and basin side by side, with extra storage underneath for a truly united solution. Smart, simple and environmentally-friendly, these chic combo pieces are growing in popularity, especially as it frees up the rest of your bathroom for larger, more luxurious items.
Turn your corner into a flawless feature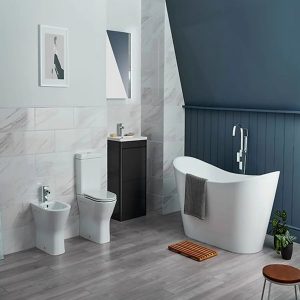 If you're backed into a corner by the size of your bathroom, why not use it to your advantage? A corner sink is a smart and stylish way to make the most of a small or narrow space with a compact design, which can become a beautiful decorative feature in its own right.
Available with a pedestal or without, Bathstore's Falcon Corner Basin delivers both style and space-saving features with a stripped back ceramic look and a neat symmetrical finish – ready to blend in seamlessly with the rest of your bathroom, no matter the design.
Enjoy drop in luxury with an inset sink
Bringing a fuss-free approach to mini bathrooms is now easier than ever with the elegant style of an inset small sink. Also known as "recessed", these basins are designed to be dropped right into your countertop, saving height and space all around without losing an inch of cutting-edge design.
Interested? We've got a wide range of options on offer, like the period features of our Savoy Old English, slid seamlessly into place alongside a black or marbled granite worktop for throwback luxury. Or for something more modern, check out our MyPlan basins – with built-in worktops on either the left or right hand side.
Make room for towels and more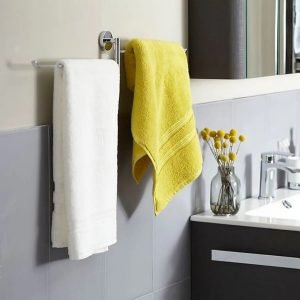 Small sinks don't just have to be somewhere handy to wash up, they can add a whole new dimension to your wetroom with a little extra storage too. Tired of tucking your towels and toiletries away in drawers and cupboards? Discover an all-in-one solution with Bathstore's wide range of towel rails, ready to combine with even the smallest of wall-hung sink units for extra convenience. Choose from bronze, chrome or stainless steel finishes, alongside classic Hanger designs or modern minimalist Swivel styles for a truly personal touch.
Discover the joys of a double sink
Small sink units are often designed to be single, self-contained pieces. But what if you're sharing the bathroom with someone else? Thanks to Bathstore's MyPlan Double Basin, fighting over the same small sink will be a thing of the past – combining two beautiful polymarble basins in a single strip for maximum effect and a compact style. Choose from white, wenge and oak finishes to add cool modern chic to any bathroom, with an adaptable vanity style waiting for your personal touch too.