Different bath styles and sizes can make you feel spoilt for choice when it comes to picking out a new tub. But there's a more practical element to this decision making process too, in terms of how much space you're working with and how you'll be using your new bathroom in the years to come.
When deciding between a shower bath and separate tub and shower enclosure, there are various things to take into consideration to ensure you get the fittings that will fit your lifestyle.
If you're weighing up the pros and cons of which fittings will be right for your new bathroom, then read this article to discover all the information you'll need to reach a decision.
Getting the best use of the space
If you've got a bathroom that's generously sized, then opting for a spacious freestanding tub and separate shower enclosure is almost a no-brainer. Large bathrooms are a dream to work with as the extra space allows you to have the very best of both worlds.
Small bathrooms are more problematic, as the limited space may allow for only one fitting. While many decide that a luxurious shower room is the way to go with a small bathroom, others prefer to have the option to have a bath, even if they'll use the shower for the most part. In these types of situations, shower baths often make the best compromise. The key is to choose the right products that will complement your lifestyle.
Refresh and relax
If you don't have a huge room to work with, but space isn't too much of an issue, then the option to have a separate bathtub and shower enclosure really depends on your lifestyle. A separate shower enclosure is ideal if you love nothing more than a refreshing shower to wake you up first thing in the morning.
Additionally, if you often enjoy a long soak in the tub, then it's important to choose a bath that's going to give you the maximum possible comfort. In this case, if you've got the space to accommodate a separate shower enclosure and bathtub, then choosing both fittings will be well worth the investment in the long run.
While a shower bath gives you the best of both worlds, in that it gives you the option to have either a bath or a shower, it might not be an ideal solution if you enjoy regular long soaks in the tub. A separate bath will give you the extra space for a luxurious and comfortable bathing experience, without the taps and shower screen inhibiting your space.
A room for the whole family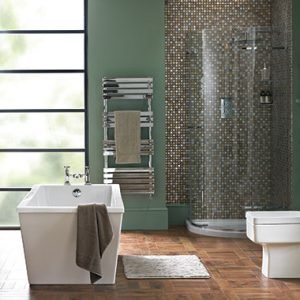 A bath is something of a necessity if you've got kids at home. A double ended bath is an ideal solution for washing the kids, but it's also perfect for enjoying a relaxing and luxurious soak.
If you share your bathroom with the rest of the family, then a separate shower enclosure is the best way to meet everyone's needs. This gives you the option to have a quick shower whenever you like, whilst also having a spacious tub to bathe the kids in.
However, space can prevent this from being an option. A shower bath is an excellent alternative, doubling up as a shower enclosure for adults and providing a spacious area to bathe the kids. Additionally, you'll have the option to have a bath whenever you fancy a long soak in the tub.
An inset bath with a bath shower mixer tap is an ideal solution for a family bathroom. The shower head will take hot and cold water from the bath tap, and is fitted on the wall over the bathtub.
Best bath showers
If you decide that a space saving and versatile shower bath is the way to get the best of both worlds, then there is a range of different styles designed specifically to create a spacious shower area in the tub.
L-shaped and P-shaped shower baths are designed to accommodate regular showers, but still give you a spacious bathing experience should you ever fancy having a relaxing soak. The P-shape is a sleek, modern design which has a curved edge with a shower screen to create a spacious area at one end of the bath.
The L-shape is similar, incorporating a built-in enclosure at one end of the bath, but is more angular and square in design. To find out more about L-shape and P-shape shower baths, check out our article here.