As more and more people turn to showers instead of bathing, we've seen wet rooms and walk in showers become a hugely popular bathroom installation – especially if you've got the right tray. Whether you're pairing yours with a minimalist glass shower panel or keeping it open plan in the corner of your wet room, we've got the sizes, styles and shades to suit your space with our handy walk in tray guide.
How does a walk in shower tray differ from a regular shower tray?
The biggest difference between walk in showers and regular showers is the lack of doors, hence the "walk-in" name – but what about the trays themselves? The priority is always about access, making sure it's as easy as possible to get in and out.
Regular trays are designed for classic cubicle showers, while walk in trays work to keep a low profile – meaning everything is on a more consistent level for heights and sizes, ranging from 40mm to 60mm.
What are the advantages of a walk in shower tray?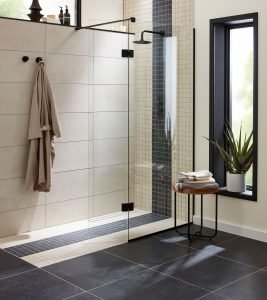 As we've already mentioned, walk in shower trays are often a lot lower than regular ones, making it easier to get in and out – whether that's because of reduced mobility, or just a case of preference, with slip-resistant finishes available too.
Additionally, the versatile nature of walk-in shower trays mean not only that they're easy-to-install, but the lack of cubicle around them means you can mix and match most tray sizes with your preferred style of shower – for a walk in designed your way.
What are the different types of walk in shower tray?
Much like regular shower trays, walk in shower trays come in a variety of sizes and styles too, so it's essential to choose the correct one for your bathroom.
Split trays 
For bigger shower spaces, split trays are one of the most popular walk in choices. They're divided into two halves, one to shower on and one to dry off on – helping to keep the rest of your bathroom free from wet footprints. Plus, most are designed with grooves that drain the water back towards the drain too, removing the need for a bath mat.
Square
The most versatile choice for smaller bathrooms, square walk in shower trays keep things simple, helping you maximise the number of shower screen panels and designs you can use with it. What's more, it's the easiest shape to fit anywhere in your wet room too.
Rectangular 
The most spacious of walk in showers, rectangular trays are the premium choice – often with premium materials and colours to match. For a sleek and stylish base to your walk in, Bathstore's RAK Slate shower tray comes in white or grey, and a range of sizes to help you find the perfect length for your space.