Choosing a new bath for your space is quite a task. With so many decisions to make about size, shape and style, the choice of tubs can be a little overwhelming. Of course, no bathroom is complete without accessories. There are a range of accessories that can really add that ever-important elegant finish to your bathroom.
If you're in the process of fitting a new bathroom and are wondering what other fittings and accessories you'll need to finish the job, you'll find everything you need to know here in our buyer's guide.
Bath taps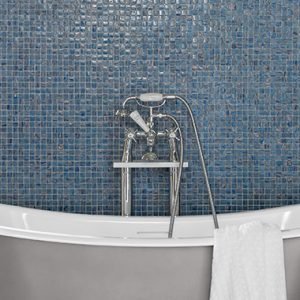 While you're planning your new bathroom, considering which bath is right for you, or where the fittings will work, it's easy to overlook the taps and brassware! A set of stylish taps over your tub and basin can add a real sense of panache and style to the room. However, while taps can make a stylish addition to your bathroom, it's equally important to choose something that's good quality, durable and practical.
You'll want to choose a set of bath taps that are effortless to use, give you complete control over water temperature and are manufactured from quality material to prevent against rusting, tarnishing and general wear and tear.
Additionally, you'll need to choose some taps that are right for your bath. For example, if your tub only has one tap hole,  you'll need to choose a mono mixer tap to fit. If you've got a freestanding tub, you might choose a classy set of floor standing taps.
Let's take a look at the different types of taps available:
Mono mixer: A space-saving tap that combines water from the hot and cold water supplies. This simplistic design is perfect for small, modern bathrooms.
Pillar: Separate taps which individually control hot and cold water. These are ideal if you've got more space to play with, and a two tap-hole bath.
Wall mounted: The perfect solution for a sleek, modern look. These concealed fittings are hidden in the wall and create an instantly minimalist look.
Deck mounted: These modern design bath taps are a popular choice for two-hole baths and work especially well in contemporary style bathrooms.
Bath shower mixer: The ideal solution for shower baths, where the tap unit controls both water to fill the bath and water to the shower.
Wall mounted bath shower mixer: Similar to a bath shower mixer only concealed for the ideal minimalist, modern look.
Floor standing: A decadent style to work with freestanding baths that don't have any tap holes.
Want to find out more about bath taps? Read this article to discover all the available options out there.
Bath panels
If you're buying a straight or inset bath, you might need to consider purchasing a bath panel as well. Inset baths typically sit flush to the wall, so a panel fits along the front edge to hide the side of the tub and pipework underneath. Many people choose to tile along this front edge – particularly where this is in-keeping with the style of the bathroom.
Bath panels are an excellent alternative, easily concealing the underside of the tub and plumbing and pipework. A sturdy panel can be an excellent finish to an inset bath, and provides easy access in case maintenance is needed in the future. Panels also come in a range of styles, such as oak and wenge, if you're after more of a stylish finish.
Shower screens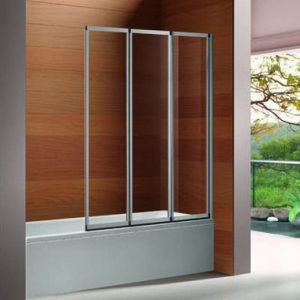 Shower baths are an excellent space-saving option if limited space restricts you from having a separate tub and shower enclosure. It's worth keeping in mind you'll need a stylish shower screen to go with it. An elegant glass shower screen is the perfect finish for your bathroom and also protects your other bathroom fittings from being splashed with water.
Bath wastes
Another often over-looked accessory is a bath waste. Bath wastes typically combine your bath plug, plug hole and overflow pipe. Most bath wastes fit with the majority of tubs, so you don't need to worry about the pipe being compatible with your bath. However, if you've got a double-ended tub you'll need the appropriate type of waste.
Bath shrouds
If you're opting for some very sophisticated floor standing taps for your freestanding tub, you'll also want to invest in some bath shrouds. You'll typically find that floor standing taps have exposed pipes connecting the deck mounted taps to the floor, so the shrouds will conceal the exposed hot and cold water pipes, giving an elegant finish.
Decorative touches can be the cherry on top of a designer bathroom scheme. Choosing accessories like vases, flowerpots, and candle holders can give your bathroom a detailed feel.
By choosing a few key pieces, you can take your bathroom to a whole new level. Look for quality features that have something special about them, and don't forget to pay attention to the details. For more bathroom inspiration, browse our full collection or visit a showroom near you.