Sometimes it's the smallest, simplest additions that are the all-important finishing touches to a perfect bathroom.
Bathroom accessories include everything from shelving and storage to towel rings and toothbrush holders. These often overlooked additions are something of a necessity to create the perfect functional bathroom, but practicality doesn't have to be boring.
From traditional and vintage to cutting edge and contemporary, we've got the best accessories to complement your bathroom's style. Find out everything you need to know about finding the right accessories for your space below.
Toilet accessories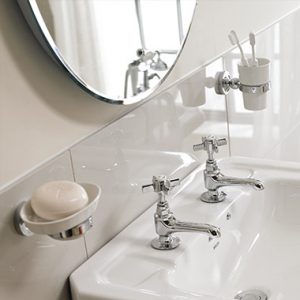 They're not the pinnacle of luxury, but these handy accessories are a necessity in any bathroom. Toilet accessories include toilet roll holders and spare roll holders (so you don't have your spare loo rolls cluttering up your space). Toilet roll holders come in a range of styles from angular and geometric designs to suit contemporary bathrooms, to smooth, elegant designs for more traditional styles.
Cheap toilet brushes can be an unsightly addition to your bathroom and can quickly look tatty and grubby. Fortunately, you can now choose from a range of sophisticated toilet brushes and holders which complement the style of your bathroom, rather than cause unnecessary clutter. Good quality ceramic holders with a chrome finish, for example, create a sophisticated addition to any space.
Find out everything you need to know about toilet accessories in our article here.
Towel rails and rings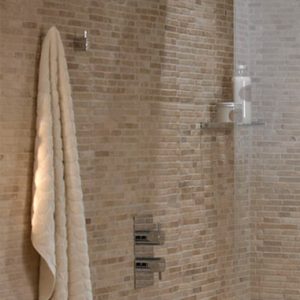 There's a variety of ways to organise your bathroom and towel rings and rails are the ideal way to add practical yet stylish solutions to your space. Towel rings are perfect for storing a hand towel close to the sink, so you can easily dry your hands after washing them.
Circular towel holders have a classic, timeless appeal, and will work well with any simple and timeless design. Square towel holders are the ideal choice for a more contemporary space, which complements the clean lines and minimalist aesthetic. Circular and square towel rings require the minimal amount of wall space, making them the ideal solution for small bathrooms, ensuites or cloakroom bathrooms.
Single rails are ideal for storing large towels. The length of the towel rail allows you to spread out your towel so that it doesn't remain damp after use. A more practical solution for family bathrooms might be the double towel rail – which offers plenty of hanging space for multiple towels.
These simple but functional towel rails are a sophisticated addition to any bathroom, with square design for contemporary bathrooms, or rounded design for a more classic, traditional appearance.
Baskets and shelves
It's very easy for bathrooms to become cluttered due to the amount of different products (shampoos, bath oils, shower gels etc.) that collect around the shower or bath. Baskets and shelves can be sturdy and stylish storage solutions, which tidy all your products and cosmetics away.
Corner baskets and shelves are perfect for storing shampoo bottles (and other shower products), putting them within easy reach when you take a shower or bath without cluttering up the shower floor.
If you don't have use of a corner, a wire basket is an equally practical solution, which fixes against the wall.
Shelves can be a nifty storage solution in the bathroom too. These are perfect for storing toothbrushes, cosmetics and soaps if you're a little shy on space around the basin. Glass shelves are stylish but sturdy and can really complement contemporary and designer spaces.
Mirrors
Mirrors are an all-important accessory in a bathroom. Functional and practical, they're a necessity for any morning and evening routine. A stylish mirror can really bring the room together and give a light and airy feel to small spaces or windowless rooms.
There are a range of mirrors to choose from. If you're looking for clever storage, a mirror cabinet might be the ideal solution. A sealed glass mirror functions as the cabinet door, giving you a functional mirror and space to store products and cosmetics.
If you're looking for a mirror that's going to improve your grooming and styling routine, you might think about looking for illuminated or LED mirrors. Illuminated mirrors provide excellent light for styling and applying make-up, and also include clever demisters to stop the mirror from fogging up after a steamy bath or shower.
Find out more about finding the perfect mirror for your bathroom in our article here.
There are lots of other accessories which can really help to organise all the items in your bathroom. Minimising clutter in your bathroom both helps make it a peaceful and relaxing sanctuary and easy to maintain and clean on a regular basis.