The bathroom is quite unlike most other rooms in the home as it has different requirements when it comes to keeping warm; it is usually damp and humid, we are often undressed in there, it is the first place we visit when we get up in the mornings, and it is smaller than other spaces in the home. All these factors – and more – make for some very specific heating requirements.
As such, many homeowners choose to purchase a separate bathroom heater of some description rather than simply relying on central heating as with the rest of the home. The choice of different bathroom heaters can be overwhelming, however.
There are many different types of heater available, only some of which may be suitable depending on the size, shape, style and usage of the bathroom in question. If you're thinking of fitting new bathroom heating, we've got all the advice and information you need to choose the right heating solution for you.
Types of bathroom heating
Underfloor heating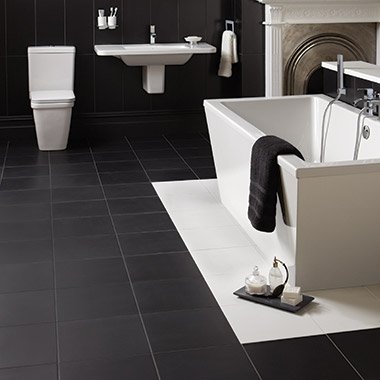 Underfloor heating is arguably the most luxurious type of heating for the bathroom. Nothing beats stepping out of the bath or shower in winter onto a beautifully heated floor. There are two types of underfloor heating; the dry system, which uses a series of electric wires to heat the floor above, or the wet system, which uses hot water pipes to heat the floor.
Aside from eradicating cold, tiled bathroom floors, underfloor heating also gently heats the room as a radiator or other heater would. Underfloor heating is a streamlined solution, making it an excellent choice for smaller spaces as well as for designs with a minimalist aesthetic.
However, it's worth keeping in mind that underfloor heating requires professional installation, and this can be expensive. Once installed, though, underfloor heating is surprisingly inexpensive to run, consuming approximately the same amount of energy as that used by three 100w light bulbs.
You can read more information about underfloor heating here.
Heated towel rails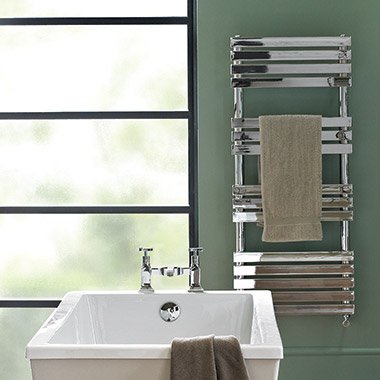 Another option which works wonderfully in most sized bathrooms, as well as in a smaller bathrooms and ensuites, is a heated towel rail. Not only are towel rails a more practical solution than standard radiators, as they'll keep your towels warm fluffy and dry, but they also make a stylish addition to any bathroom.
Heated towel rails tend to be the preferred option in modern, minimalist or contemporary bathrooms as they're more streamlined and timeless in appearance than standard radiators.
You'll need plenty of free wall space for your towel rail, as most are designed to take up a significant amount of space. However, they still make an excellent space-saving solution for smaller bathrooms, as they're typically fixed vertically to the wall, rather than standing proud of the wall like radiators.
Most heated towel rails will provide enough heat to warm the bathroom and also keep your towels fluffy and warm – ready for when you step out of the bath or shower. A larger bathroom, however, may require another source of heating to sufficiently warm the room.
Other heating solutions
There are a range of other heaters and heating solutions available for bathrooms, which might also be worth considering. Baseboard heaters are fitted directly into the bathroom baseboard and connect to the mains electricity. These aren't a wise choice for those on a budget, as they can take a long time to warm up and are not generally considered cost-effective.
Overhead heaters are a popular choice for smaller bathrooms as they do not take up any floor or wall space. Installation costs need to be factored into budget decisions but once installed overhead bulb heaters are fairly energy efficient and cheap to run.
Wall-mounted panel heaters save on floor space and are reasonably cheap to run, however a panel heater will use a significant area of wall space.
Considering your bathroom's size and shape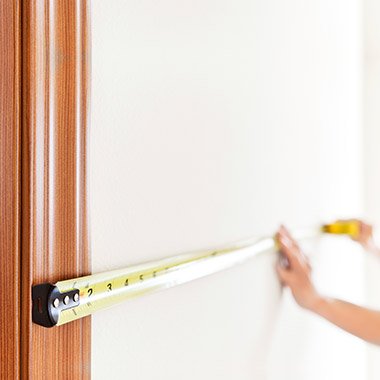 The size and shape of the bathroom needs to be taken into consideration when choosing which type of bathroom heating to install. While there are many options which are ideal when space is at a premium, not all bathroom heaters are suitable for use in smaller spaces without causing inconvenience.
For larger bathrooms, consideration of how effective the heater will be across the space should be the focus of attention, while for smaller rooms the best place for the heater which takes up the least space may be the more important factor.
Bathroom heaters to match your lifestyle
The usage of the bathroom also needs to be considered – a busy family bathroom, which is used daily, will require a more permanent heating solution than that of a guest bathroom in a second home, for example. Families with young children need to judge how safe their heating solution will be when curious young ones are around.
When remodelling a bathroom, style is also an important factor, so choosing a heater which matches the interior style is vital.
Purchase, installation and running costs
No matter how flexible your budget, the costs of installing heating can vary so widely, so it's worth considering all of them before making a final decision.
Energy efficiency is also an important factor. Saving money on purchase and installation in the short-term could result in far higher running costs, which quickly outweigh those savings in the long-term.
Thermostat or manual heating?
A bathroom which is used infrequently, or where the climate is mostly temperate, can easily be kept warm with a manual heating solution. A busy bathroom or one in an area where the climate is more often chilly may benefit from thermostat controlled heating which can be set to come on at certain times of day and maintain temperature throughout those times.
Timescales
Options such as underfloor heating take a lot more time and effort to install than a simple wall-mounted or free-standing heater. If you're doing a full bathroom renovation, then this is the perfect opportunity to install the underfloor heating. However, if the bathroom needs to be back in use fairly quickly, it might be worth considering other heating solutions.