When you buy a bathroom basin, there are a few extra things you will need to buy along with it. These include: a basin waste, taps, potentially a pedestal or unit, and if it's going to be wall-mounted you will need a bottle trap.
If you're investing in a new basin, here's a quick guide to help you find the additional items you'll need to complete your perfect bathroom.
Basin wastes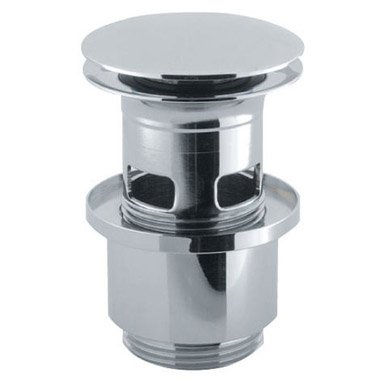 No matter what kind of basin you are buying, you will need a basin waste. This is an absolute essential, and different types of basins will require different wastes. For example, some wastes will not work in basins with an overflow hole, so be sure to check which wastes are compatible.
Basin wastes come in a variety of styles, from flip top – a streamlined and easy-to-use design – to the traditional plug and chain. You can also find wastes that have a click top feature, which are very easy to use and ideal for a bathroom that children will be using.
Most basin wastes are made from brass, which doesn't rust thus making them very durable, and are chrome-plated to give them a sleek finish. Many of them are adjustable to suit any basin size, and some of them do not close, which creates a constant drainage flow, so be sure to always check the waste before you buy it.
Wastes that don't close are often referred to as 'free flow', so look out for this phrase if you particularly want a non-closing basin waste.
Taps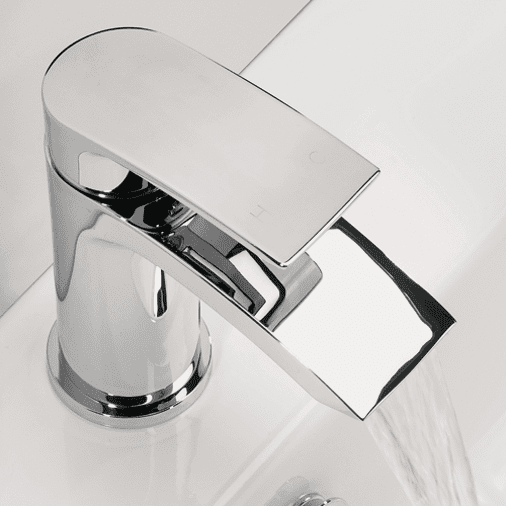 Taps are another essential part of your basin and are available in a wide range of different styles and sizes. Your basin will accommodate for either one or two tap holes, so always check how many taps you will need to buy. Single taps have a lever which gradually moves the temperature from hot to cold, as well as turning the water on and off – these are often flip tops. If a basin requires two taps, this is usually so you can have one hot and one cold.
Some taps are made in the style of old Victorian bathrooms, with twisty tops and a curved spout. This kind is more typical of a double tap, but some single taps come with two levers attached either side of the spout. More modern-looking taps can have long, cylindrical spouts that curve up and over the basin, whereas others have spouts that protrude straight outwards.
Some are quite angular, which may look great with an angular basin and others have a waterfall effect, where the water flows out over the top of the spout rather than from the underside. This adds a sense of spa-like luxury to your bathroom, since the water cascades out beautifully.
For a fully comprehensive guide to buying taps for your basin, check out our buyer's guide. 
Bottle traps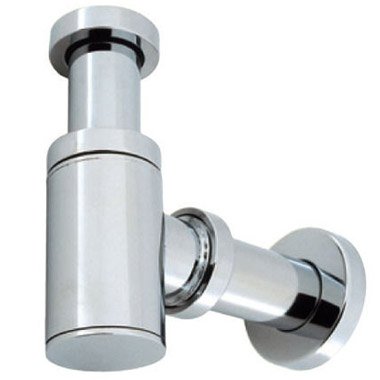 If you are planning to buy a wall-mounted basin, you will need a bottle trap. This is where the waste water goes after it has gone through the basin waste, before flowing through to the drainage pipe. They fit neatly underneath the basin, they are typically made from brass (which doesn't rust) and are chrome-plated.
Bottle traps are available to buy in a range of styles, which means you can buy ones to match the look of your basin. For example, if your basin is angular, you may want to pair this with a square-shaped bottle trap. Alternatively, to match a rounded basin, you can opt for a bottle trap that is more cylindrical. Bottle traps can be both practical and stylish, so they can fit nicely into the overall appearance of your bathroom suite.
Pedestals and units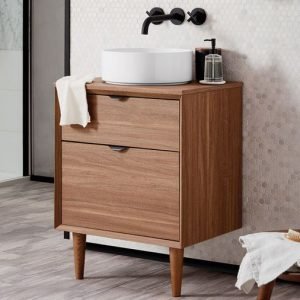 If you are not planning to buy a wall-mountable basin, you will need something for it to sit on. This can be a pedestal or a large cabinet-style unit.
Pedestals can be either floor-length or semi, depending on how much space you have to play with, since semi-pedestals tuck neatly into the wall. They are typically made of porcelain. These, too, can be bought to match the other bathroom fittings – they can be square or rounded and should match the basin.
As an alternative to a pedestal, you can choose a unit for the basin to sit on. Such units are often cabinets fitted with either cupboards or drawers, and can be wall-mounted or placed on the floor – just make sure you consider height! Bathroom cabinets can be a good storage option, since you can ensure that your bathroom has enough drawers to house your essential items, as well as providing plenty of space on top for soap trays and toothbrush holders.
This is typically the better option for large washbowl basins, since these are not wall-mountable and do not usually have any space themselves for storing any items.
Fixing bolts
This is something else to consider if you are planning to buy a wall-mounted basin. To keep the basin fixed securely, you will need a number of bolts and frames. This can be done as a spot of DIY, but can also be done by a professional.
Picking out good quality accessories and fittings will give your bathroom basin the finish that it deserves. It is always better to invest in quality items, from the basin itself to the bolts and frames that go with it, as cutting costs initially may end up costing you more in the long run, should any of the fittings break and, potentially, cause more damage to the bathroom. A basin can be a real feature of any bathroom and the right accessories add the all-important elegant finishing touch.