When it comes to choosing a shower, there are lots of things to consider when making your final decision. You'll need to choose a type of shower system that will work well with your plumbing system at home to ensure you get the very best showering experience.
Fixed shower heads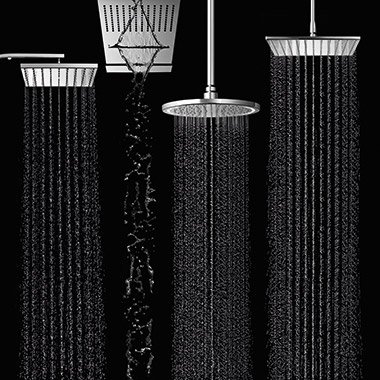 A fixed shower head is mounted directly to the wall or the ceiling and remains rigid in one position, although some heads can have the pipework concealed within the ceiling or wall.  Fixed shower heads come in a range of sizes and have an angled or long projection to suit your bathroom. If you're serious about showering, you'll find that a fixed shower head is typically larger in size than a shower handset, so you'll get a more luxurious cascade of water!
Shower handset
A shower handset is generally smaller than a fitted shower head so that it can comfortably fit in your hand. The handset and flexible hose is connected to a wall bracket for use in a shower bath, or can be deck mounted on freestanding or roll top baths, where a wall bracket isn't possible. Shower handsets are single or multi-functional and the detachable shower head can be removed from the bracket and used to redirect water as required.
Shower kits
Shower kits come in a range of styles to suit a variety of bathroom designs. A shower kit typically comprises a fitting rail, shower handset, hose and some include an outlet elbow. The rail fits to the wall where the shower handset can be mounted, and can be adjusted to the appropriate height.
Shower rails are ideal for detachable shower heads as they not only fix the shower head to the wall, but allow you to adjust the height of the shower head as well (this isn't the case with fixed shower heads). The shower head can also swivel on the rail and be tilted to suit your height, or the direction you want the flow of water to go in.
Luxurious and practical, shower systems will give you the best of both worlds as they include the fixed shower head as well as a flexible handset. The diverter simply switches the flow of the water between one and the other – perfect if you want to enjoy a luxurious overhead drenching once in a while but still need the practical handset to wash the kids, the dog or just your hair when you don't have time for a full shower!
Shower valves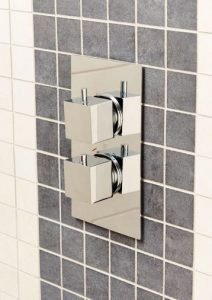 It may sound obvious, but a shower valve is a crucial part of your shower as it allows you to control the flow and pressure of water. There are a variety of different shower valves available:
Manual – The simplest style of shower valve, usually designed for mixer showers, which controls temperature by adjusting left or right for cold and hot temperatures. Manual valves have one handle, which controls both temperature and water pressure.
Thermostatic – More technologically advanced, the thermostatic shower valve gives you more control over the temperature, and can be digitally controlled. The main benefit of thermostatic showers is that the temperature will remain constant, even with changes in the hot and cold water flow – so no more shocking blasts of cold water if someone flushes the loo whilst you're taking a shower.
Exposed – Excellent for more traditional style of showers (such as a watercan shower head), an exposed shower valve is wall-mounted and works with rigid risers.
Concealed – The pipework and mechanics are hidden away behind the wall, creating sleek minimalist look. Unlike exposed valves, you have more flexibility with where you choose the valve to go, as it does not have to be located close to the shower kit.
Wet room fittings
While simple and minimal in appearance, wet rooms require their fair share of fittings. Most of these fittings will be hidden away within the walls and floors of the wet room.
Wet rooms will need fully tanking before they are fitted out. It's recommended to use a professional to safeguard against any leaks in the future. Tanking kits are used in the waterproofing process to protect plasterboard against leaks and moisture.
Special trays and gulleys are also needed so that waste water can be drained away. The gulley can be covered with a grate to prevent anything being dropped in the shower from immediately flowing down into the waste pipe!
Extractor fans
Ventilation is key to keeping any bathroom looking as good as new and stopping mould and mildew from growing on damp surfaces. Opening the window for thirty minutes after a shower is ideal to let the steam out of the bathroom and allowing cool air to be circulated, dissipating the moisture.
However, bathrooms, such as some ensuites or other bathrooms built between rooms, are unlikely to have a window. In this case, an extractor fan is needed to properly ventilate the room, and to prevent moisture in the air from causing fixtures and fittings to rust or deteriorate. Building regulations are quite strict on having sufficient ventilation in bathrooms, as the moisture in the air creates the perfect environment for mould to grow. If you're fitting a new ensuite, you'll need to get building regulations approval to ensure you have a permanent source of ventilation.