When buying a toilet for your bathroom suite, you will need more than just the toilet itself. Many toilets require you to purchase the seat separately and, if you are looking to mount it onto the wall, you will need a wall frame to keep it totally secure. Also, your toilet must be paired with a cistern and if not included in the purchase, you will need to make sure you get the right one.
This guide should point you in the right direction and help you get all the added extras to go with your toilet.
Toilet seats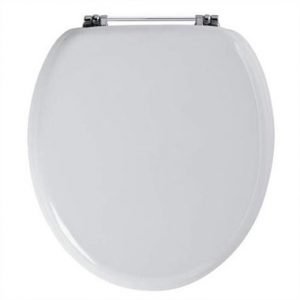 Toilet seats are, of course, an absolute essential. They keep your toilet looking neat and tidy and can also look very stylish themselves. There are a range of styles available, which means you can pick a seat to match the overall appeal of the room. Much like other bathroom fixtures, such as basins or baths, toilet seats can be curved, almost like an oval, or rectangular.
Somewhere in between the two options you find a third, with toilet bowls looking almost like a capital 'D'; very flat at one edge before sweeping round at the other end. Which toilet seat you choose will of course depend a lot on the shape of your toilet, so make sure you check carefully to see that the two match up!
Some toilet seats have an elegant wrap over effect and most have a concealing panel over the hinges to prevent them from rusting. If you're after something really compact and minimalist, you can find ultra-thin seats which are much slimmer than regular ones. Some bathstore toilet seats have a quick release mechanism, which makes a very easy task of cleaning. Quick release means that you press a button next to both hinges, and the seat lifts off with ease. Many seats also have soft-closing hinges, so the seat will not just drop down, but will gradually come to a close. This is a great way of preventing unnecessary noise.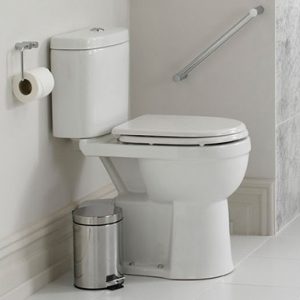 A large proportion of toilet seats are white, although if you are interested, you can find toilet seats of almost any colour or pattern. A typical alternative is black, but the possibilities are pretty much endless when it comes to design (check out this glossy black one!. This could be a really cool and quirky feature in your bathroom if you want something unusual and outstanding. In terms of the finish, they can be very glossy or, at the other end of the spectrum, they can have a matt effect.
Most toilet seats are made with a specific type of toilet in mind – be sure to check whether the seat you are buying is suitable for a back to wall, wall-hung or close coupled toilet, just to be sure that you're getting the right one.
Where cost is concerned, you can spend as little as £15 on a good quality toilet seat. The majority of bathstore toilet seats cost around £40 and, at the higher end of the price spectrum, you may pay up to £70.
A big variant when it comes to cost is material. Two materials are typically used to make toilet seats – Thermoplast and Thermoset – with Thermoplast usually being cheaper. Thermoplast has uniquely thermal properties, which means it is a much warmer seat, as well as being somewhat softer. Thermoset on the other hand is usually considered to be the more durable of the two options and is often more expensive. All bathstore toilet seats are made to a high quality, however, so whichever one you buy should be secure and reliable.
Wall-hung frames
If you are opting for a wall-hung toilet, you will definitely need a wall-hung frame on which to mount it. Without this, you simply will not be able to mount your toilet onto the wall.
These are typically made of metal and are fitted to the wall so securely that you need never worry about the stability of your toilet. With the help of a frame, your wall-hung toilet will be able to withstand up to 200kg, and the 10-year guarantee from bathstore means that you can be sure of the reliability and durability of these metal frames.
Cisterns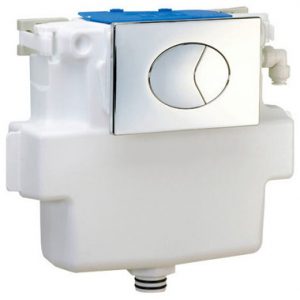 A cistern is sometimes included in the purchase of a toilet but if not, you will need to make sure you buy a suitable one. This is most usually the case with back to wall or wall-hung toilets, the cistern of which is separate and often concealed within either a toilet unit or the wall itself. You will need to make sure that the cistern you buy matches up with the style of toilet, so it is best to investigate the two at the same time to avoid confusion! In terms of price, cisterns can cost anything between £80 and £200.
When you buy a new toilet for a bathroom suite, make sure you consider all the additional features as well as the toilet itself. A seat is an absolute must-have and with so many options available, you have the chance to really add some character and personality to your bathroom. You must also consider the cistern and frame (if you're having a wall-hung toilet), and you can ensure that your toilet is completely equipped and ready for use.
If you want more information, check out our guide to toilet accessories in the bathroom accessories buyer's guide.