Not everyone has the luxury of having a large expansive bathroom with space for a freestanding tub and walk-in shower. The majority of bathrooms in the UK don't allow space for both a bath and separate shower to be fitted, but there are many solutions that can create an equally stylish and functional bathroom.
If you've got a small space to work with and you're looking for ideas to create a functional but stylish bathroom, then… keep reading!
Inset baths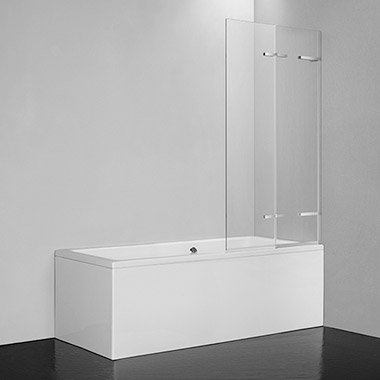 Small bathrooms can be difficult to work with, but some careful planning and a little playing around with the layout can pay dividends in the end. Inset baths are ideal for small spaces as they're specifically designed to fit flush against wall. If you've got any recesses or alcoves then this is the perfect place to fit an inset bath.
Additionally, an inset bath is ideal for rooms with a fairly narrow width, as the bath is enclosed by three walls. An inset bath is an excellent space-saving solution, and by fitting into alcoves can easily maximise the space in the bathroom.
Shower baths
Many bathrooms in the UK are a little limited on space and don't allow adequate room for a separate tub and shower enclosure. Shower baths are a perfect solution to the 'shower vs bath' conundrum. While many may opt to fit a generously sized shower enclosure, many people prefer to still have the option of a bath.
In this case, a shower bath is an ideal solution to give the best of both worlds. Many shower baths are designed as inset baths, so will fit flush against the wall leaving adequate space in the rest of the room for other fittings and storage. Additionally, L-shaped and P-shaped baths are designed specifically to provide ample space for showering. You can find out more about L-shaped and P-shaped baths in our buyer's guide, here.
Compact baths
In some cases, a small bathroom has such limited space that a full length bath simply isn't possible. Whilst creating a luxurious shower room is one option, many prefer to have the flexibility that comes with having a bath.
If your space doesn't allow for a full-sized bath then fitting a compact bath is an excellent alternative. Compact baths are reduced in their length to fit into smaller, narrower spaces. However, the internal bathing space accommodates for what is lost in length. Typically, you'll expect to find steeper edges in a compact bath, creating additional depth for an equally luxurious bathing experience as a standard full-sized bath.
Corner baths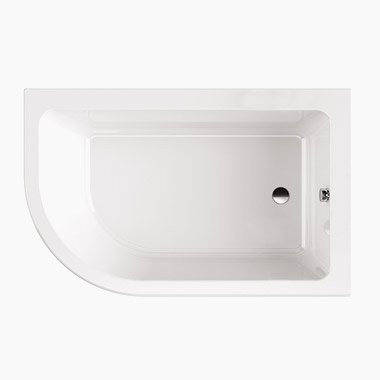 Many bathrooms aren't only limited on space, but can be awkwardly shaped, making bathroom layout something of an issue. A sweeping corner bath is another option for small bathrooms as it slots into a corner space, fitting flush to the wall. Unlike straight edge baths, the rounded corner doesn't protrude into the space.
This subtle corner saves on precious floor space, providing extra space to walk around your bathroom. Corner baths come as left hand or right hand fittings, so you can fit into the best corner for your bathroom.
Freestanding
It might be surprising to know that you can get compact versions of freestanding baths. These are perfect if you don't want your limited space to hinder your design. A freestanding bath adds a luxurious feel and a certain sense of panache to any space. So if you still want a separate tub and shower enclosure in your bathroom, but don't quite have the space to get away with it, then a compact freestanding tub might be just what you need.
A compact freestanding tub is the ideal focal point if you're creating a stylish bathroom. Taking centre stage in your room, you'll need to incorporate some clever design tactics to have plenty of space for other fittings. Wall-hung toilets and sinks are a great space-saving solution.