If you are working with a limited space, that doesn't mean you can't find a storage solution to suit you. There is a wide range of bathroom furniture that is perfect for maximising space in a small bathroom or cloakroom, so you need never feel like there's not enough room for all your essentials.
There are many tricks to making the most of the areas available and this guide aims to help you transform your small bathroom into a well-furnished space.
Wall-mounted storage units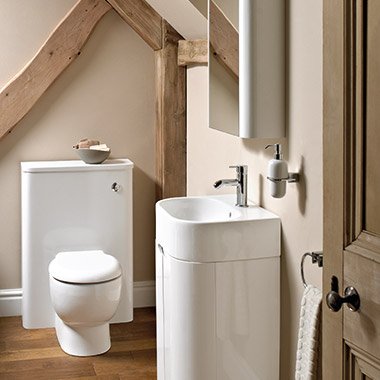 In a room where floor space is not in abundance, wall-mounted furniture may be the answer. These units come in a variety of shapes and sizes, so you can pick one to make the most of the room you have available. Wall-mounted cabinets and units are mostly rectangular, so they sit flat against the wall and do not curve outwards at the front.
The average height of our wall mounted units is 850mm, but there are a number of smaller units for tight spaces measuring as little 525mm in height. For larger spaces, you might consider opting for a tall wall hung unit, which measures as high as 1400mm.
Most wall-mounted basin units are pretty uniform in height, since the basin has to come up to where most people's hands are in order to be fit for use.
For more information about wall-mounted basin units that work in a small space, see our comprehensive guide on basins for small bathrooms.
Floor standing bathroom cabinets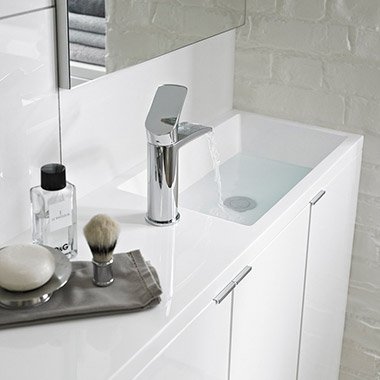 Floor standing units don't need to take up too much of your valuable space. There are even special slimline units available from bathstore that really work to maximise the room available. While our slimline units don't typically exceed 305mm in depth, you can really pack a lot into them, making them incredibly practical in a bathroom with limited space.
Many units come with basins built in, and these can be either fully inset or semi-inset. Fully inset basins are fitted neatly within the countertop and do not protrude at the front, whereas semi-inset curve outwards from the worktop at the front. Having a basin unit will be both neat and space-saving. If there is a spare chunk of wall in your bathroom or cloakroom, you may well benefit from using it for your basin and storage. In terms of size, they vary greatly, but they usually measure around 300mm deep, so they can fit into even the smallest of bathrooms.
Corner bathroom cabinets
An ideal way of saving space is to have a cabinet or unit fitted into a corner space. The corners of a bathroom are rarely used up, and so you can put them to great use with a corner cabinet. These do the exact same job as other cabinets, fitting neatly into the corner of the room with a basin and cupboards or drawers. As well as being very practical, most corner units are very sleek and stylish, and can be an excellent addition to your bathroom or cloakroom.
Shelves and shower caddies
Shelving is key! Typically, once all the essential bathroom fixtures have been fitted, there is a lot of wall space left over, so by having one or two shelves fitted around the room, you will create more space to store essential items like shampoo bottles, extra soaps or even toilet paper.
You can also use wicker baskets if you prefer a touch of shabby chic – mount these onto the wall, and this will create lots more room. Most baskets have slightly diagonal edges, and so if you have the back mounted flat against the wall, the basket will tilt slightly forward at the front, making the objects inside easier to reach, especially if the basket is high up. This is ideal for bigger items like flannels or toilet rolls.
To browse bathstore's range of shelves and baskets, please click here.
Another great trick is using shower caddies in places other than the shower. These usually fit neatly into cupboards, so if you don't think the cupboards under your basin are being used to their full potential, stick a couple of shower caddies in there to create some extra shelving!
Even in the smallest of bathrooms, there are many options available to help you make the most of your space. Employ a few of our space-saving devices, and look out for cabinets that can fit into small, tricky spaces, and you will find that there is room for everything you need.