There's nothing more satisfying than ripping out an old, sub-par bathroom for a new, contemporary design that offers a luxurious showering experience. So if you're putting in a fabulous new shower, you don't want to end up standing under a trickle of water, or washing in water that's either boiling hot or freezing cold. That's why it's important to install the right shower system for your design, which will give your new shower the very best performance.
You'll also need to think about what shower system is going to work with your plumbing system at home. At bathstore, we know that every home is different, and could have one of the three different plumbing systems installed: gravity system, pressurised system or a combination (combi) boiler system. Whatever plumbing system you have fitted in your home, there's a shower system to suit, but it's always best to check what type of shower would work best before you decide on what shower to install.
What are the different shower systems?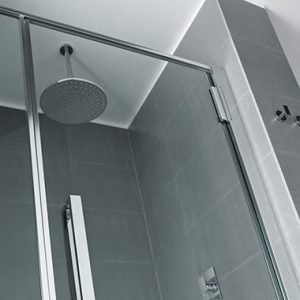 There are many different types of shower systems: these are electric, digital, water saving airdrop and power showers as well as thermostatic showers and your normal mixer showers. You might also like to consider the different functionalities of your shower system as many shower handsets and heads can be single or multifunctional.
Multifunctional shower heads can include different modes, from a refreshing drench setting to a relaxing massage. Alternatively, you might want to wash away your worries with an invigorating rain setting.
The type of system you choose depends on the type of plumbing system in your home and the type of shower fitting you are planning on installing in your bath or shower room.
What do I need to know about manual mixer showers?
A manual mixer shower is a shower system that most people will be familiar with. As the name suggests, this shower takes water from the existing hot and cold water supplies which is then combined within the unit. Mixer showers can come as a deck mounted unit with an integrated shower handset, which can be attached to the wall with a rail and bracket – making them a popular choice for shower baths. Simply turn the taps on (as you would to fill a bath) pull the diverter switch and the water will flow through the shower head instead.
While manual mixer showers are the ideal solution for shower baths, they can also be fitted for a single shower enclosure too. Most mixer showers can work with any plumbing system, but it's worth keeping in mind that because they take water from your existing water supply they will not increase the flow of water to the shower. So if you have poor water flowing from your taps, the same will go for your shower.
What do I need to know about thermostatic showers?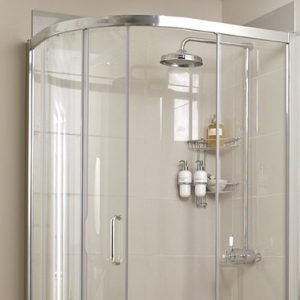 Thermostatic showers give you complete control over the temperature. Similar to a manual mixer shower, a thermostatic shower takes water from the existing supply, but unlike the normal mixer unit, it incorporates a pre-set thermostat to keep the water temperature consistent – even when a tap is used elsewhere in the house!
Thermostatic showers can be deck mounted for use in a shower bath or work as part of a concealed or exposed unit. For more information about the different types of shower valves, check out our article here.
What do I need to know about power showers?
A power shower is similar to a standard mixer shower, which uses water from both the hot and cold water taps, combining to create the ample temperature. As mixer showers are usually installed into homes which typically have a low-pressure water system (such as a gravity system), many people install an additional booster pump, which creates more significant pressure from the shower. These are typically known as 'power showers'.
There are two types of shower pumps available, plastic and brass. Plastic bodied pumps are reliable and quite a bit cheaper than the brass alternative. However, these can be a little noisier when they're in operation and are likely to require more maintenance than brass pumps.
Brass pumps might be a bit more expensive, but they're a heavy duty piece of equipment that's quieter when in use, and more likely to stand the test of time.
What do I need to know about electric showers?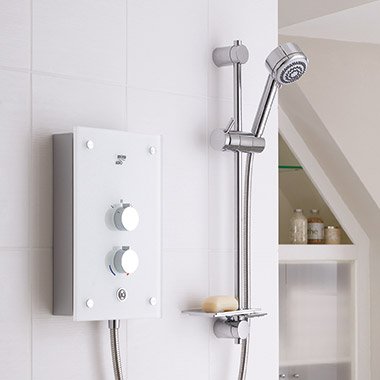 Electric showers are usually the shower of choice for households where hot water created by the boiler is in short supply. Unlike mixer and power showers, electric showers take water from the cold water supply, where it is heated by the heating elements inside the shower unit.
As an electric shower unit is completely separate from your hot water system, you can have hot water in an instant (unlike many mixer or power showers which take hot water from the hot water supply). That means an electric shower is ready to use around the clock, so you don't have to worry about switching the hot water on, half an hour before you want a shower.
Electric showers can be used in any home, regardless of the plumbing system, as the shower unit takes water from the cold water supply and heats it inside the unit itself. However, if you've got a gravity system, you're likely to get much better water pressure from your electric shower system.
What do I need to know about digital showers?
A digital shower is something of revolution in shower technology. It works in a very similar way to mixer or power showers, but allows you more control over the temperature.
A standard power or mixer shower requires adjusting the flow of either hot or cold water from the taps into the shower head, to achieve the right temperature. A digital shower, however, allows you to set the right temperature on the wireless digital shower panel installed in the shower.
Because they're programmable, you can set the shower to a warm up mode, which gently heats the water to your preferred temperature before you step in – so no need to dip your toe in or to stand against the wall to avoid the freezing jets of water! The wireless digital panel gives you complete control over both temperature and water flow, so you can programme it to suit your personal preferences.
Digital showers are a great modern choice of shower that brings a touch of luxury and convenience to any home. They're also the ideal shower solution for houses with no showering facilities, such as old houses. As the pipework and pump can be installed into the loft space above the bathroom, with the shower head coming through the ceiling, you can avoid running electricity and plumbing through the house to the bathroom or fit false walls to conceal the pipework.
What do I need to know about water-saving airdrop showers?
At bathstore, we understand that more and more people are becoming aware of the environment and are trying to live greener lifestyles. That's why we teamed up with Nikles and Neoperl to design a new and innovative water saving shower system, for those who want to reduce their water usage.
Large quantities of water are used for personal hygiene all over the world, and as more people are becoming increasingly environmentally conscious, we're proud to offer a water-saving alternative.
Designed to suck air into the water, our Airdrop shower system actively reduces the amount of water used by your shower whilst also providing a truly refreshing and invigorating shower experience!