Where would we be without showers? Showers are a modern convenience we've come to know, love and let's face it, depend on to get us through the busy and stressful weeks. Gone are the days of piling into the tub for a weekly bath, instead, we've come to love starting the day by hopping into a refreshing cascade of water.
Stylish, speedy and refreshing, it goes without saying that a shower is an asset to every home. Additionally, a shower is an economic and environmentally friendly choice, as you'll typically find that a quick shower is likely to use much less water than a bath.
At bathstore, we understand that everyone has different needs, so whether you're creating a versatile family bathroom, a stylish ensuite or seeking solutions for the all too tricky small bathroom, we've got all the advice you need to choose a shower that's right for you.
Space saving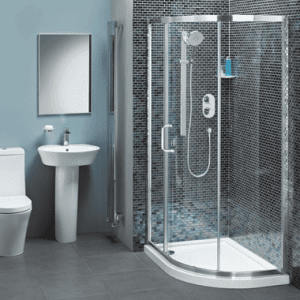 Small bathrooms can be difficult to work with and a bath or shower bath might encroach on the all-important and limited space. Shower baths are the perfect solution if the space in the bathroom doesn't allow you to have both. On the other hand, if you're serious about showers and less bothered about taking an occasional swim in the tub, then a shower is the perfect way to maximise the space in the room.
There are loads of versatile options, such as corner enclosures and walk-in showers, which provide you with plenty of additional floor and wall space for other fittings and furniture.
Versatile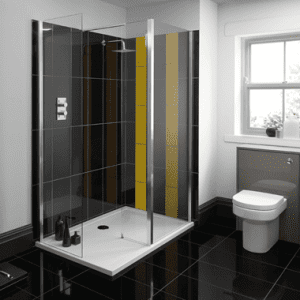 The perfectly square bathroom is a rare find these days. In fact, bathrooms come in many shapes and sizes, so whatever space you have, there's a shower designed to work perfectly for you. Some shower enclosures are designed to slot into the corners or recesses of room. Alternatively, your room might work better without an enclosure, and be better suited to a frameless or walk-in design.
Many shower designs can be customised to suit your needs – for example, if you're a little short on space, you can replace a traditional hinge door with a sliding door. No matter what sized space we're working with, you'll still have loads of stylish options available to you.
Alternatively, if you've currently got a tub in your bathroom and are considering replacing it with a shower, then you can make an easy swap for a shower enclosure without needing to make too many additional changes to the space.
Luxurious
While many people prefer to relax and unwind in the tub after a long day at work, the right type of shower can offer just as much luxury and relaxation too. So whether you're styling up your old bathroom to be a chic wet room, or if you've got big plans for a deluxe ensuite, then there are loads of ways to transform your former bathroom into your own five-star spa.
Wondering which style of shower is right for you? Why not check out our article on shower trays?