The art deco movement was a design revolution that influenced everything from architecture to household appliances. Most popular throughout the 1920s and 1930s, it was all about injecting luxury, glamour, and art into everyday things.
Embrace your inner Gatsby and add a splash of art deco to your bathroom – we show you our favourite pieces and offer tips on how to bring the Jazz Age into your home.
Create symmetry with 'his and hers' features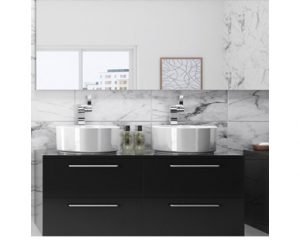 Symmetry is a staple of art deco architecture, and you can create a high-end hotel inspired atmosphere in your bathroom by incorporating 'his and hers' features across your scheme.
Double basins
Beyond oozing art-deco cool, a double basin will transform your daily routine, making it easier to navigate the morning rush and wind down before bed. Choose an integrated design for a minimalist effect, or style washbowl basins side-by-side to give off a luxury vibe.
Double details
As well as dramatic designs, the art deco movement is known for getting the details just right. Carry the symmetrical theme through to the finer things, with features like a double mug holder or double robe hook, which will look classy and add functionality.
Check out our range of bathroom accessories and see what we have on offer.
Embrace angles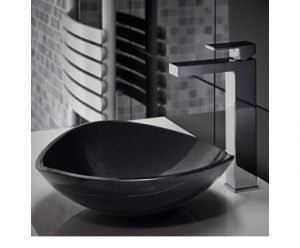 When studying everything from art deco buildings to posters to jewellery, you'll notice how straight and curved lines are used together to create bold patterns. Bring this concept into your bathroom by choosing furniture and features in interesting and unusual shapes.
Squares and rectangles
You can't do art deco without incorporating squares and rectangles into your layout. Choose angular features like a square basin or straight bath for an easy way to embrace the art deco theme. To amp up the effect, look for pieces that use detailed lines throughout their design.
Unusual shapes
If you want to really channel the 'art' in art deco, choose features that will bring something unusual to your bathroom. The Blade taps range has a dramatic appeal, with sharp edges and exaggerated shapes, while a corner basin showcases a unique feature and saves room.
All about ambiance
Beyond looking classy, the art deco era was all about creating an atmosphere that just felt cool. And you don't have to be a New York City cocktail bar to channel the vibe – there are many ways you can create a classy and relaxed feel in your bathroom.
Hotel lights
Using hotel lights on either side of a mirror or along your bathroom walls will contribute to a layered lighting scheme, which is key to making your bathroom feel cosy and calm. With both square and circular designs available, it's an easy way to add art deco symmetry, style, and substance to your layout.
Candles
Every bathroom can benefit from the warm glow of candles, and choosing vintage-inspired designs and scents will help to transport your bathroom back into the 1920s.
Artsy patterns and colours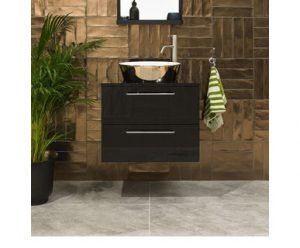 The art deco era didn't shy away from using bold colours and patterns. Whether you're a fan of rainbow brights or a monotone effect, you can combine different shades and designs to create an impact in your bathroom.
Black, white, and gold
Pack a punch in your bathroom with the classic art deco pallet – the combination of black, white, and gold is irresistibly glamorous and will give your bathroom instant vintage appeal. Create a checkerboard-effect floor with tiles or go all out with a gold feature wall contrasted against black furniture for true Jazz Age dazzle.
Bohemian florals
For a more romantic spin on the art deco look, choose floral, bohemian designs that have a feminine twist. Patterns in pale shades will add depth and texture while still looking subtle. For more of a statement, choose green and blue jewel tones.
By getting playful with shapes and looking for retro-inspired patterns, you can create an art deco bathroom that oozes 1920s glamour and class. Browse our other design guides for more inspiration, and find your nearest showroom to explore the options up close.