When you're designing your dream bathroom, it's easy to focus on fittings and fixtures for washing, bathing and showing. But making sure it's a comfortable space to be in is an equally important consideration – and that includes how warm it is.
But if space is at a premium or you're aiming to achieve a particular look, how do you choose the right heating that blends practicality and style? Our experts have put together a buying guide covering everything from underfloor heating to towel radiators, to help make your decisions a little easier.
Why is a warm bathroom important?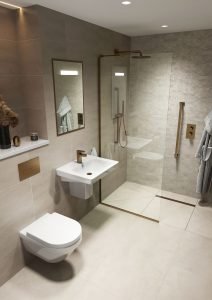 Nobody wants to get up on a dark winter's morning, faced with a cold bathroom with freezing tiles under foot and a towel that's still damp from the day before. But aside from the obvious, a cold bathroom can also mean a damp bathroom – and this can lead to mould and other unhealthy pathogens developing. So, ensuring your bathroom is warm and well ventilated can help avoid this.
What are the different bathroom heating options?
The three main solutions for heating a bathroom are traditional radiators, heated towel rail radiators and underfloor heating. Which you go for depends on a range of things – from the space you have available and your budget to the style you're after. Let's start by looking at one of the most popular solutions for heating bathrooms, shower rooms and wet rooms – and that's underfloor heating mats.
What are the benefits of underfloor heating?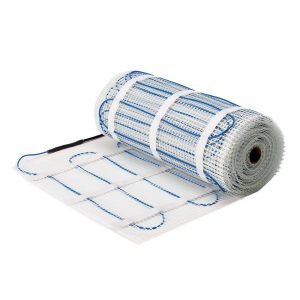 Installing underfloor heating mats under your bathroom flooring is a popular option for a number of reasons. It's a discreet option that doesn't take up wall space, and it's easy to tailor the temperature to your needs. Another positive of under floor heating is that your floor is not just warm under foot, but wet footprints also dry quickly – ideal for family bathrooms and wet rooms. However, as the mats need to be laid under your flooring, it's best to make this decision at the time you're putting in a new bathroom or renovating your old one. Speak to a heating expert to find out what type of flooring is best for this kind of bathroom heating.
What's the best type of underfloor heating for my bathroom?
If your room is an irregular shape, loose wire underfloor heating is the best option, as it allows you to lay heating to fit your specific room shape, thanks to the flexible wire included. You can choose whether to install it throughout your bathroom or pick a zone. However if you have a regular shaped bathroom, an under floor heating mat is simpler to lay and makes a very effective solution.
Are underfloor heating mats easy to install?
If you decide that underfloor heating is right for your bathroom, heating mats are an easy and convenient option. Designed for use under stone and ceramic tiles, the wire is fixed to a glass fibre mesh. You choose what size you buy, so mats work for small or large bathrooms. Better still, the mesh (but not the wire), can be cut to fit the room so you can get your perfect shape. These kits also include insulation boards, which can save you up to 50% on your running costs. These boards are a highly efficient thermal barrier to cold rising from the subfloor and reflect the heat upwards into the floor instead of losing heat to the subfloor, so the floor will warm up faster and retain heat longer.
Is underfloor heating energy efficient?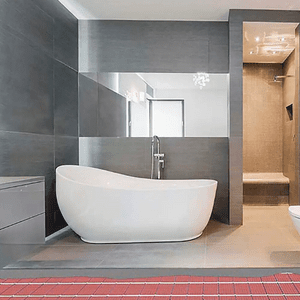 Underfloor heating puts you in control and provides rapid heat-up and high efficiency heating. It requires significantly less energy as you are not heating the ceiling area – plus it enables the temperature to be accurately controlled as needed, allowing you to heat the room you want, with no energy wasted. Because underfloor heating uses a lower temperature than standard radiators, heating costs are reduced and energy usage savings of 10% can be achieved, too.
Is underfloor heating right for my ultra-modern bathroom?
If you're going for a sleek and contemporary or spa-inspired bathroom, underfloor heating mats beneath your tiles will ensure you maintain the minimal look. Your control panel can be outside of the bathroom too, so you'll enjoy warmth without any clutter in the bathroom itself. What could be better than heating that's hidden discreetly out of sight, for the ultimate in modern convenience?
My bathroom is very small- can I use underfloor heating?
For the 'smallest room in the house', underfloor heating is a great option. You can choose the heating mat size to fit your floor from as small as 1 metre square – and the mesh can be cut to size, too. This can free up wall and floor space, great for compact ensuites and shower rooms, which don't have the room for radiators.
How can I heat my bathroom evenly? 
Underfloor heating warms your room evenly, right across the floor, with no cold spots, from the floor upwards. And because you can set the temperature you want, you can create a room that feels right, whatever time of year it is. Unlike a radiator, which gives off heat from one part of a room, underfloor heating is ideal for a large bathroom, where you want all areas to benefit from the heat.
I want to heat my bathroom in a way that's safe for my kids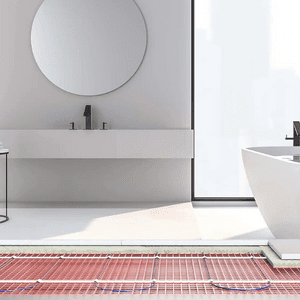 Underfloor heating creates a family-friendly and safe environment. There are no low level hot surfaces or hard metal edges that come with a radiator system, creating a potentially unsafe and dangerous environment for small children, the elderly or people at risk. Electric underfloor heating is a 'no maintenance' choice, too, for ease.
How do I control my underfloor heating?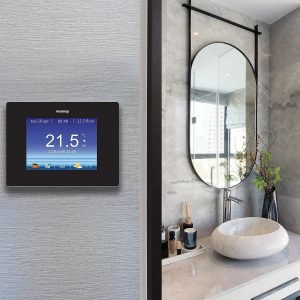 Thanks to touch screen technology, you can stay in complete control of your underfloor heating. A touch screen thermostat actively controls the temperature of the floor, preventing energy from being wasted – saving you money and creating the optimum climate in your bathroom. Plus with wifi, you can control your bathroom floor heating from your phone, too – so it's nice and warm when you get in from work or a night out.
Is a radiator best for my bathroom?
If you're looking for an alternative to underfloor heating mats, there are other, more traditional solutions. Radiators are part of your central heating system, and with an integrated thermostat, you can control when they come on and off. From Victorian-style radiators to modern look designs, these are a guaranteed way to make sure your bathroom looks great. You can also choose a radiator with a towel rail built in – great for a small bathroom or cloakroom. But make sure you have a large enough radiator by checking you have the correct size in terms of BTU rating to heat your bathroom.
Why would a heated towel rail be best for me?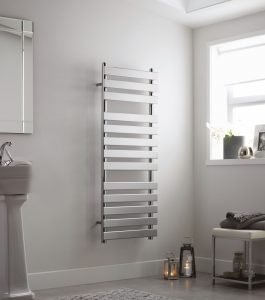 If you look forward to a warm, fluffy towel after your shower or bath – as well as a bathroom that's toasty – a heated towel rail radiator is a great option. These come in a wide range of styles and finishes, from classic chrome to on-trend black and can save space if you want a heater that doubles up as a place to hang your towel. Larger bathrooms may not find these give out enough heat, but they are definitely a good choice for small or medium sized rooms.