Choosing flooring for your bathroom, shower room or wet room isn't just about aesthetics. It's about practicality, too. Bathrooms are busy spaces and you need flooring that's easy to clean and durable as well as great looking. This is why bathroom floor tiles have remained a popular choice for so long – and show no sign of going anywhere.
If you're having your dream bathroom fitted, and are short of ideas for bathroom floor tiles, our guide is here to fuel your imagination. But let's start with five reasons why tiles are such a good choice for bathrooms.
Tiles are easy to clean & fuss free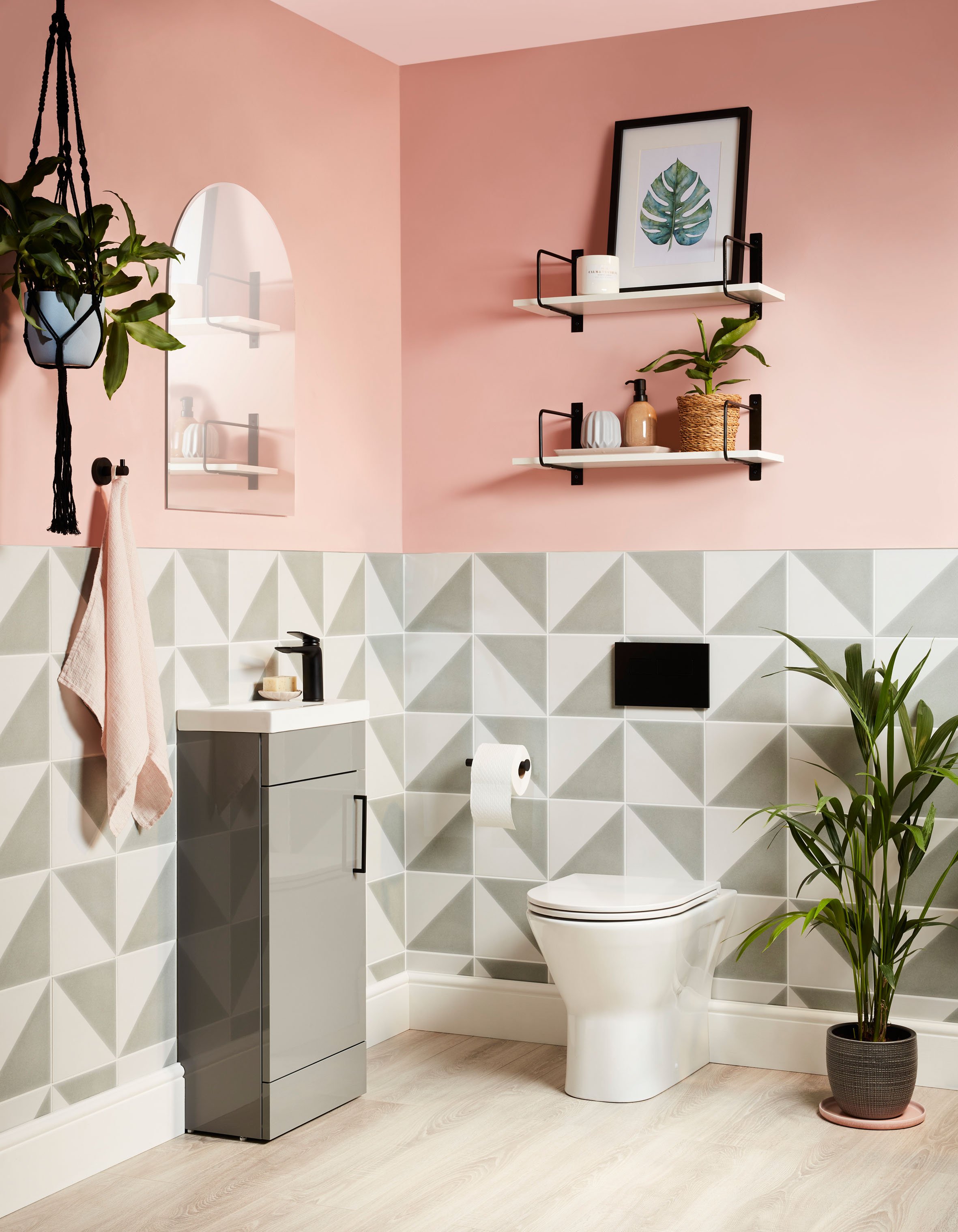 Bathroom floor tiles come in a range of finishes, from natural stone and marble to ceramic and porcelain. But what all of these share is how low maintenance they are. A quick run over with a mop removes excess water and everyday mess, so you can keep your bathroom clean and hygienic with the minimum of effort.
Tiles offer practical water resistance 
The beauty of tiles is also how durable they are. Offering the best in water resistance, as long as they are laid properly, they will prevent water from seeping into your floorboards. And they really come into their own if you have a wet room – or your bathroom has to withstand the splashes and spills of kids' bath time – tiles offer that perfect blend of practicality and style.
Tiles create 'zones' in your room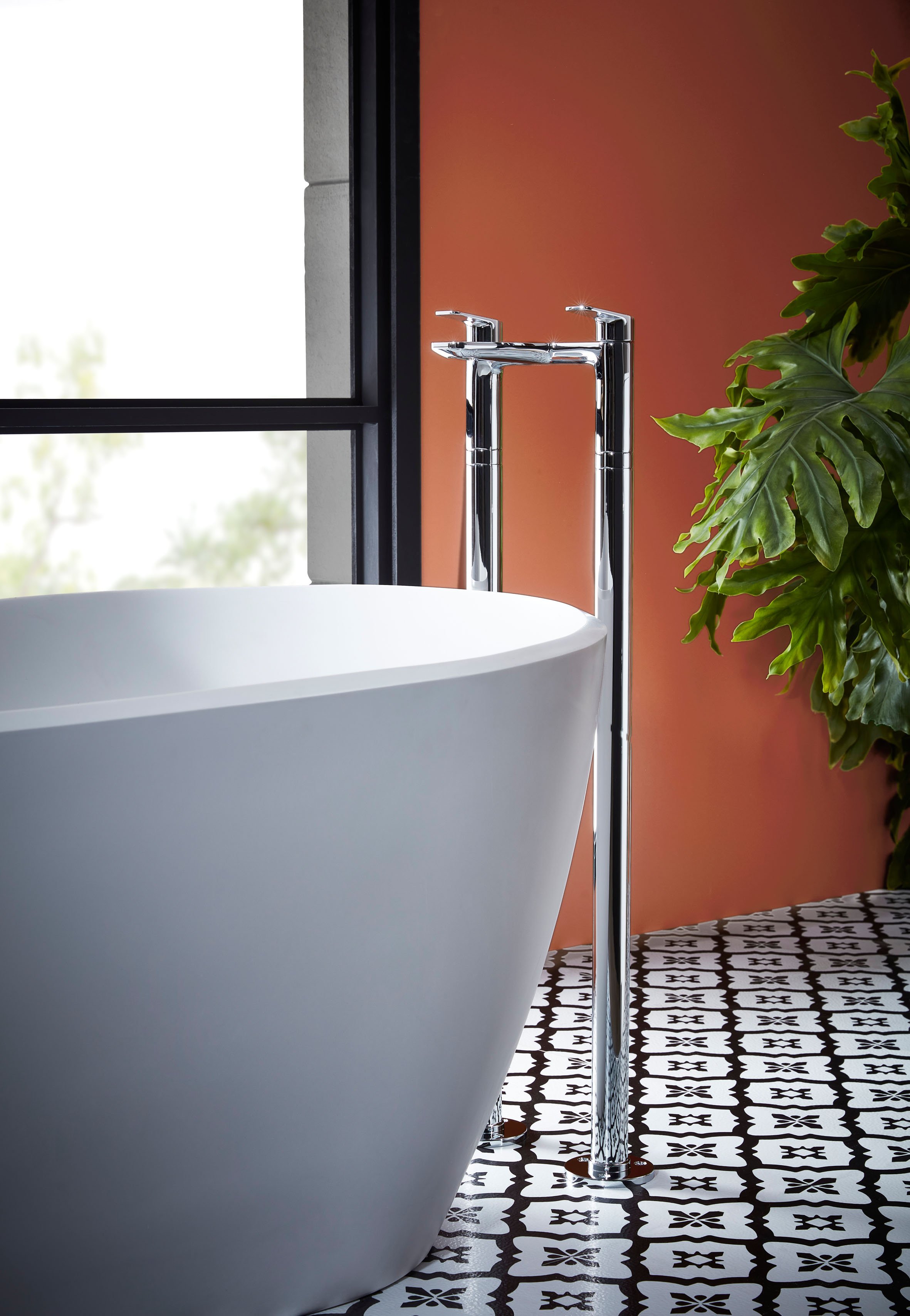 If you have a wet room or a bathroom with shower enclosure, floor tiles do a great job at differentiating zones. Whether you change the colour, pattern or size, tiling the floor of your shower with contrasting or coordinating tiles is effective and striking. This also works if you have a freestanding bath – tiling the area beneath it in a distinctive design can really accentuate the impact your bath makes.
Tiles come in formats for all room sizes 
Whether you have a small ensuite or a large family bathroom, there's a bathroom floor tile for you. Small rooms work better with a smaller tile – creating the illusion of a bigger floor space. Whereas a larger bathroom can take a large format, especially if you continue your tiling up the walls for a seamless look. Tiles shaped like planks of wood can elongate a narrow room, while sheets of mosaic look tiles are an easy to lay alternative to their individual counterparts.
They are versa'tile! 
From spa-style to boutique-hotel-luxe and from heritage to retro, the sheer variety of tiles available gives you the choice you need to get your design just right. Classic white floor tiles ensure a clean, minimal space while dark granite-effect floor tiles are dramatic. Coloured and patterned floors tiles add fun and vibrancy while natural stone or marble tiles create a sense of calm and relaxation. There really are bathroom floor tile ideas for every home.
If it's design inspiration for bathroom floor tiles that you're after, here are a few ideas:
Discover innovative shapes
For a bathroom with a design-led feel, check out collections of floor tiles in new shapes, like hexagons. You're not restricted to square or rectangular tiles if you want to create a look with more wow factor. Striking hexagonal tiles come in a range of finishes and colours, too, from terrazzo-look and geometric patterns to on-trend matt tones.
Wood look without the worry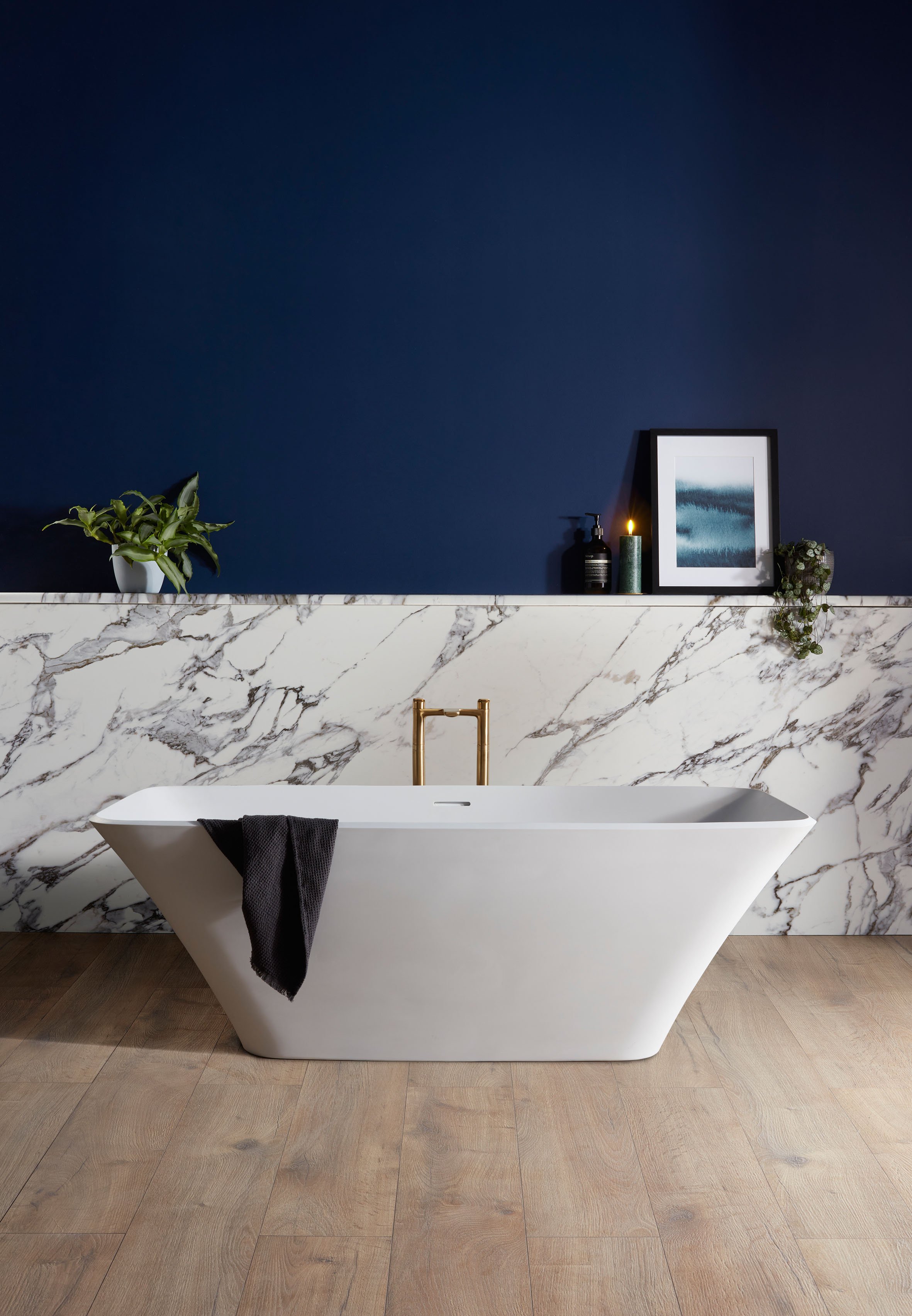 While natural wood looks warm and inviting, it's not the best option for a bathroom where water and steam can warp and damage it. That's where wood-effect bathroom floor tiles come into their own. In a range of wood-look finishes, from oak to beech, they have the same grain character and plank format, but they offer all the benefits of ceramic tiles, being durable, easy to clean and water resistant.
Go for gloss or more drawn to matt? 
For a small or dark bathroom, gloss ceramic tiles are a great choice. They bounce the light back into the room, making it feel light, bright and spacious. Glossy surfaces can add to the glamour, too. However shiny floors can be slippery so that's worth factoring in. Matt tiles have a contemporary feel but their real beauty lies in the fact that they can hide streaks, making cleaning an easier job – great for busy family bathrooms. And if you opt for matt tiles with a textured finish, you'll have the peace of mind that your bathroom floor tiles create a non-slip surface, too.