Associated with sunshine, sand, and summer time, a yellow colour palette is the perfect choice if you're looking to bring light and happiness into your bathroom. With a multitude of shades ranging from lemon through to butterscotch and gold, its versatility allows you to alter the ambience of your room and create both classic and contemporary suites that will always be a pleasure to spend time in.
To highlight the brilliance of the various golden hues available today, we showcase some of our favourite yellow bathroom design ideas, ranging from accessories through to tiles.
Mellow yellow
Incorporating yellow into your bathroom colour scheme in a subtle manner can create a light, airy space that's both calming and opulent. Achieve this boutique aesthetic by placing caramel coloured wall units and cupboards in a suite that features pearlescent mosaic wall tiles, natural stone flooring, and a freestanding bathtub.
By day, natural lighting will help this colour palette to sing, making the room feel more spacious, while soft lighting in the evening will create a warm ambience. Enhance the vintage charm of your suite by using traditional taps in your bathtub and basin.
Pop art yellow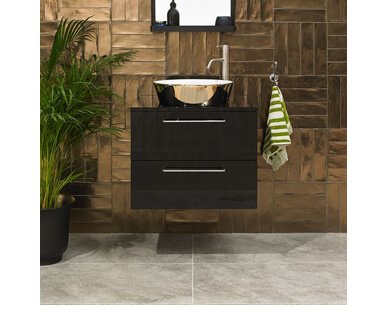 Create an ultra-modern penthouse style bathroom by mixing up a monochromatic colour palette with flashes of bright, pop art yellow. Try tiling the walls with glossy grey tiles and white grouting, and then adding in a pop of colour with some strategically placed ornaments, accessories, and furniture.
This look can be achieved with the addition of bright yellow towels, plant pots, and other accessories. Continue the contemporary vibe by opting for a luxurious walk-in shower over a bath, and complete the look with a dark stained-oak floor to give the room an earthy finish.
Autumnal yellow
Autumn brings with it a multitude of eye-catching golden tones, and blending these seasonal colours into your bathroom brings endless design possibilities.
Create a feature wall behind your bath using some decadent mosaic tiles, which feature colours ranging from mustard yellow through to burnt orange. Reminiscent of lavish 19th century Turkish baths, this irresistible colour combination brings an air of decadence that will transport you to the spa every time you take a soak in the tub.
Complement the look by using honey coloured tiles on the wall surrounding your basin, and the addition of a rust coloured linen unit for storing away towels and accessories.
The Midas touch
Used wisely, gold can give your bathroom a modern yet industrial feel, that has a luxe aesthetic without being overly flashy. These stunning Piccadilly gold tiles will really set your suite apart, especially when teamed up with a small palette of complementary colours.
Contrast the metallic tone of the tiles with a white gloss and platinum wash bowl, perched atop a mahogany wall hung back unit, which will appear to float above the floor and give the illusion of space.
Sunshine yellow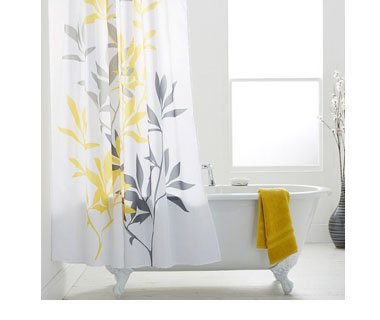 To brighten up a smaller bathroom, add a dash of sunshine with subtle touches of yellow throughout. Try painting a vintage chest of drawers in yellow, and continue the theme with lemon yellow towels and a carefully selected bath rug.
Brighten up shelves and windowsills with flowers, candles, and incense burners, which again will add some depth to an otherwise plain and simple space.
Used carefully, yellow can help to create an astonishingly beautiful bathroom that's brimming with positive karma. Brighter tones, such as lemon and canary, present the chance to embellish the rest of your bathroom when used sparingly, while darker, golden tones can perfectly balance elegance with luxury to ensure your suite is always a talking point amongst guests.