Forget towels on the floor and toothpaste on the mirror, it's time to create a bachelor's bathroom you can finally enjoy.
When done right, a bachelor's bathroom can rival the ones you see in high-end hotels. Think glossy textures and minimalist designs. The less the better – it's much easier to keep the space tidy that way. Here are our tips for transforming your bachelor pad bathroom into a sleek retreat.
Embrace masculine colours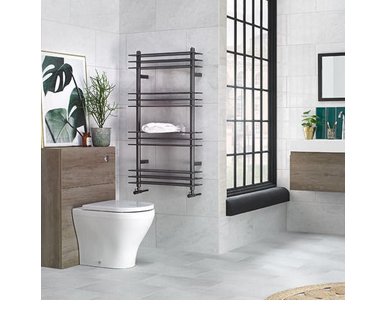 Dark colours are ideal for showcasing your masculine style and will go a long way in making the space look sophisticated. Keep the colour scheme simple to draw focus to your high-tech gadgets.
You can't go wrong with black
Black is the backbone of a bachelor pad bathroom. Colour blocking is great way to incorporate black creatively and will add a touch of edginess. Focus it in a specific area to create dramatic impact – for example, tile one wall black and place white furniture in front for a bold statement.
Sophisticated shades of grey
Grey is a great colour choice for making a space feel open while creating a masculine feel. Dark brown furniture will contrast perfectly against grey. Bring in some leafy green accents for botanical appeal that feels natural and cool.
Sleek features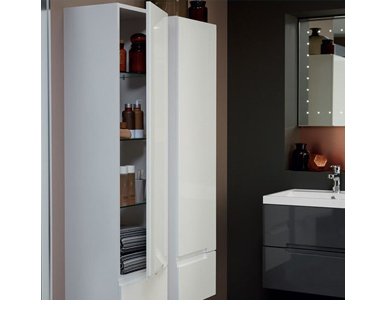 The ideal bachelor pad bathroom is both stylish and functional, with cool furniture and features that are easy to clean. Incorporate sleek storage and glossy textures to create an ultra-contemporary look that is almost effortless to maintain.
Choose glossy surfaces
Glossy surfaces are ideal for creating a sophisticated contemporary look. High-shine materials will help to bounce light around the room, and therefore work especially well in bathrooms with a dark colour scheme. Choose glossy grey cabinets for a casual yet stylish feel.
Smart storage
Streamlined storage will help to keep your manly abode in check. Having a place to stash clutter neatly out of sight allows you to maintain a minimalistic feel – an essential characteristic in a bachelor's bathroom. Use wall-hung cabinets to conceal your towels and grooming products.
Effortlessly cool atmosphere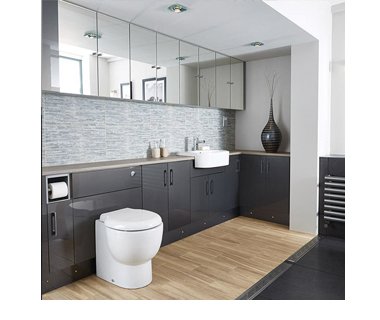 Your bathroom should be a place where you can kick back and relax after a long day. Adding a few thoughtful details will transform it into a space that not only looks great, but feels urban and cool, too.
Atmospheric lighting
Soft overhead lighting will transform the room's mood and create that mellow ambience you need when relaxing in the tub. Spotlights are a good choice for creating a subtle glow and will keep the vibe relaxed.
Embrace the ambiance
Even the most rugged bachelors can't resist a great scented candle! Beyond smelling great, candles will add warmth and cheer to your design scheme. Choose a good, old-fashioned scent to suit the rest the theme.
Modern gadgets
A bachelor's bathroom wouldn't be complete without modern gadgets. High-tech additions and innovative fixtures will help to contribute to the overall masculine feel of your bathroom.
Walk-in shower
Give yourself the executive treatment with a walk-in shower that incorporates deluxe features you'd find in an indulgent spa. Install a powerful overhead shower that will treat you to a vigorous deep cleanse quickly, so you can be in and out in no time.
Bluetooth mirror
Listen to music while getting ready and make your early morning routine less of a chore. A bluetooth mirror can be linked up to your music so you can listen to your favourite tunes while shaving or brushing your teeth. Its integrated lighting will also help aid your daily routine.
Feeling inspired? Browse our design guides for more ideas on decorating your bathroom