The colour of clear skies and oceans, blue is an ideal shade for the bathroom. Sitting at the cooler end of the spectrum, it won't absorb too much light, making it ideal for bathrooms on the smaller side.
When teamed with the right colours, blue can create a variety of different settings. Soft powdery shades can lend a shabby-chic or nautical feel, whereas darker hues will bring a contemporary and sophisticated finish.
We show you how to design a blue bathroom, with tips on which colours and features to choose to create your dream scheme.
Blue and white for a nautical look
Keep it traditional by pairing blue with white. This cohesive duo will pack a pleasing punch in a nautical-themed bathroom. Focus the blue behind your starring features, such as a freestanding bath or illuminated mirror, for a bold impact.
Decorate the rest of the space in all-white to create an impactful contrast and dot accessories throughout your layout to finish off the look. Sailing-inspired paintings of figurines will add a quirky twist, while striped towels are a simple way to add a burst of nautical blue to your bathroom.
Blue and cream for a country cottage look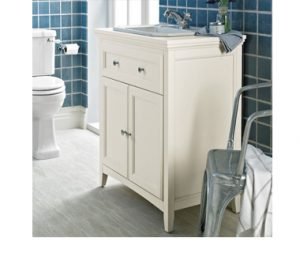 Blue and cream are a match made in heaven. The pale tones of your cream features will add softness, toning down the blue to create a peaceful palette that feels calm and relaxing. This combo will work well in a traditional themed bathroom.
Try contrasting blue tiles with cream furniture, such as that in the Savoy Old English range, for a country cottage vibe. Pale flooring will help to maintain an airy and open feel. If you want to add a modern touch, consider incorporating rose gold detailing, or keep it classic with silver taps and doorknobs.
Blue and grey for a metropolitan look
To create a casual, urban scheme, try combining blue with grey. Pairing blue with a moody hue creates a soft industrial look that's reminiscent of a trendy city apartment. It's the definition of welcoming and modern, rolled into one.
Adopt this look by decorating the walls in a slightly unexpected shade of blue, such as teal or aquamarine, and incorporating dark grey furniture (check out the Linea range for colour inspiration). Add brightness by choosing white fittings, and consider adding a subway tile backsplash for a real city-inspired finish.
Multi-tonal blue for a seaside holiday vibe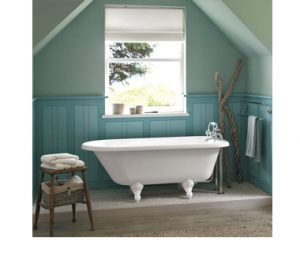 Just like the sea, varying shades of blue work well together. Pairing similar tones will conjure up a dreamy, holiday mood – think relaxed coastal cottage meets tropical lagoon. Create a relaxing blue scheme and decorate the lower half of the wall in one shade of blue and the other half in a slightly lighter shade.
Adopting a two-tonal technique also adds an extra dimension to your walls and can help to make the ceiling appear taller. This colour technique will create the perfect backdrop for a white freestanding bath.
Blue accents for a sense of freshness
If you want to inject a little bit of colour but don't want to cover the space entirely in blue, accents are the perfect solution. Channelling blue here and there can make a stylish impact and is simple to do.
Consider tiling the walls in white and decorating with a blue border to create refreshing look that's perfect for unwinding in after a long day.
Blue is a universally appealing shade that pairs well with so many colours. Reminiscent of coastal settings, it's ideal for bringing aqua appeal to your bathroom. Visit your nearest showroom to explore nautical bathroom ideas up close or browse our design guides for more inspiration.