The bathroom serves many purposes, from pre-work grooming regime to getting the kids ready for school. All these intersecting routines can result in the family bathroom getting busy – and quick.
Practical designs and clutter-busting storage can help your bathroom run more smoothly. We've compiled a list of tips and ideas to help you stay organised throughout the morning rush (and beyond).
Suitable storage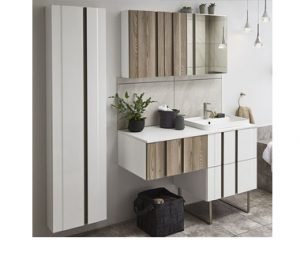 A bathroom that serves several people needs to have sufficient space to accommodate everyone's toiletries. The right storage can help to keep it tidy and clutter-free, and is an essential in a busy family bathroom.
Extra spacious units
Extra spacious units will help to keep your bathroom essentials in check. Opt for compact designs with drawers to help you organise all of your bits and bobs.
Small but useful shelves
Make the most of your wall space by fitting shelves where you can store the things you use every day. Glass shelves can be placed high out of reach (away from little hands) and some designs are specifically made to fit into the corner, for extra space-saving benefits.
Space-saving designs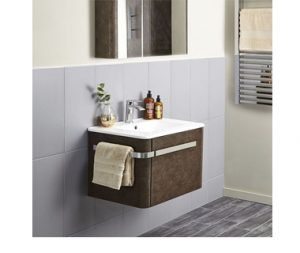 Family bathrooms can be tight on space, especially when multiple people are nipping in and out during the morning rush. Give yourself some breathing room and choose compact designs to utilise every spare nook and cranny.
Corner bath
A corner bath will make the most of awkward corners and will only take up a small amount of floor space. It will also free up extra valuable space in the middle of the room, making your bathroom appear larger.
Wall-hung vanity unit
A wall-hung vanity unit has a streamlined design that won't take up much room, and it will also provide an adequate amount of storage. The generous gap underneath will create the illusion of more space, and give you the option of tucking a laundry basket or other storage accessory underneath.
Practical additions to keep things clean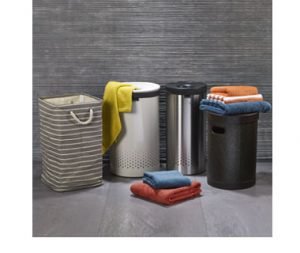 A busy family bathroom can get messy quickly, especially on hectic school days. Practical additions can go a long way in keeping it clean. Think about the bathroom routines that cause the most mess and tackle this with additions that keep it hygienic.
Towel radiator
Damp towels can quickly pile up when family members are using the bath or shower one after another. A towel radiator is essential and will dry towels fast. It also has the added benefit of keeping your towel toasty, ready for when you step out of the shower – a real treat on cold mornings.
Laundry basket
A laundry basket is a wise investment in a family bathroom. It's an easy way to encourage everyone to keep organised, and will ensure wet towels don't end up strung across the floor.
Time-saving designs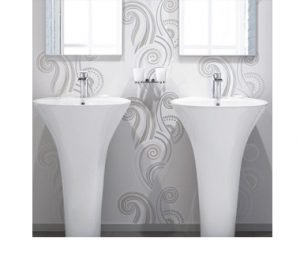 The right fixtures can help a family bathroom run more smoothly. Think about ways to speed up your family's getting-ready routine and design your bathroom to suit.
Dual basins
'His and hers' basins will mean two of you can wash your face or brush your teeth at the same time, easing the morning queue. It's a great option for getting ready with the kids, and adds a classy finish to your design scheme.
Powerful shower
A powerful shower will act as your saving grace on busy mornings. The stronger the flow of water, the quicker each of you can be in and out. It's an easy way to cut down the family's morning regime and will feel more indulgent, too.
Child-friendly materials
Materials should be chosen with practicality in mind – look for durable pieces that can take on whatever your little ones have in store. Safety is important too: avoid sharp corners and glossy floors.
Wipe-clean surfaces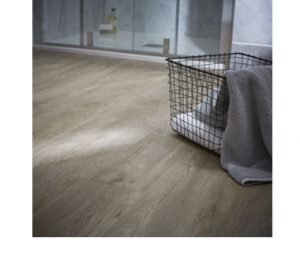 Glossy surfaces are low maintenance and easy to wipe down if they get dirty, and they have the added benefit of bouncing light around to make your bathroom appear larger.
Slip-free tiles
Slipping hazards are a concern in a high-traffic bathroom where the floor is prone to getting wet. Slip-free tiling can offer peace of mind. Wood-effect vinyl flooring is moisture-resistant and will make the space look sleek and modern.
A family bathroom is all about creating a space that caters to everyone's needs. By choosing space-saving features and incorporating practical elements, you can design a bathroom the whole family will enjoy. Visit your nearest showroom or explore our design guides for more ideas.your niggly essentials. Tuck big ones on the floor and place smaller baskets on shelves, ensuring you have a place to store the things you need that look good while doing it!
An excuse to decorate
Decorative touches can be the cherry on top of a designer bathroom scheme. Choosing accessories like vases, flowerpots, and candle holders can give your bathroom a detailed feel. Brands like Nordal and Adari create high-quality pieces that look authentic and unique, so you can finish off your bathroom in style.
By choosing a few key pieces, you can take your bathroom to a whole new level. Look for quality features that have something special about them, and don't forget to pay attention to the details.
For more bathroom inspiration, browse our full design guide collection or visit a showroom near you.