Fluffy bath towels, a powerful shower, flattering lighting, and a giant mirror… these just a few of the things we look forward to when staying in a hotel. And now you can enjoy that same sense of luxury in your own bathroom.
Our hotel-inspired bathroom design tips will help you recreate that same sense of indulgence at home. From rich materials to specialist features, you can recreate a luxurious atmosphere in your bathroom every day.
Choose luxurious materials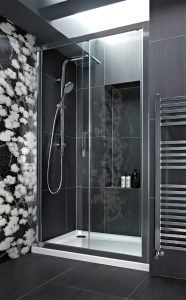 The right materials can make all the difference in creating a hotel-inspired vibe at home. High-end textures are key to designing surroundings you can admire, and will take your bathroom to next level luxury.
Marble
Marble is a staple in a lavish hotel suite. A favourite material of the Ancient Greeks and Romans for sculpting, marble has long been associated with luxury, meaning it's the perfect choice for conjuring a sense of grandeur. The natural pattern can complement a selection of bathroom accessories, and the shine is great for reflecting light.
Glass
Hotels often feature a lot of glass, for both practical and aesthetic reasons. Glistening transparent textures help to keep the room looking spotlessly well kept, and glass allows the eye to travel the length of the room, making the space seem bigger than it is. And, just like marble, the reflective surface bounces light around the room.
Light surroundings
Hotel bathrooms are often light and airy, which gives them a comfortable and relaxed feel. Lighting can transform the mood of a space entirely, as a light and bright space draws attention to how well-kept and serene the bathroom is.
Focused lighting
Focused lighting is ideal for creating a restful ambience. Because natural light in the bathroom is often limited (especially in big hotels), carefully-placed artificial lighting is an absolute necessity. Incorporate spotlights to create subdued pockets of light, particularly over the main areas of the bathroom such as the basin and bath.
Mirrors
Reflections are especially important in a bathroom designed to inspire pampering. Opt for a large mirror to make your daily routine feel effortless. A good mirror will also bounce light around the room, creating a more open space. Consider a mirror with built in lighting for the ultimate luxury hotel vibe.
Innovative fixtures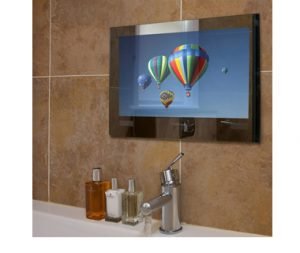 Innovative additions are at the heart of hotel bathrooms – everyone loves to revel in luxurious fixtures every now and again! Why not give your own bathroom the same feel every day of the week?
Waterproof TV
A hotel bathroom is designed to be the ultimate retreat, and nothing feels more relaxing than being able to watch TV while indulging in a long, hot soak. A waterproof TV will allow you to enjoy your favourite programmes under a mountain of bubbles, or catch up on the latest news during your morning shower.
An indulgent shower
A powerful shower is a must-have in a hotel-style bathroom. Choose a shower with digital controls to customise the water temperature and flow to your exact requirements – you can even install one that you can switch on while you're still in bed!
Creating a hotel-style bathroom is easy with the right ingredients. By incorporating luxury materials and fancy features, you can indulge in a touch of extravagance every day. Explore our design guides for more inspiration on how to decorate your bathroom.