The gentle lapping of waves, sandy shores, and sharp silhouettes of boats in the distance – these are some of the scenes that spring to mind when we think of 'nautical'. Taking inspiration from the seaside, it makes a perfect theme for the bathroom.
Give your space a nautical makeover and enjoy unwinding in a beach-like sanctuary every day of the week. Check out our tips and advice for creating a nautical bathroom.
Embrace seaside colours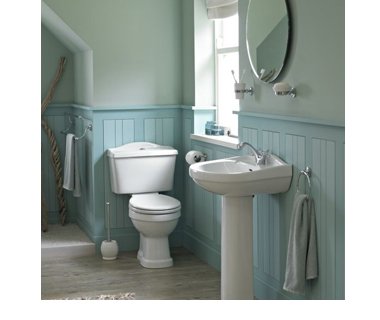 A nautical theme embraces all the colours you'll find at sea, including foamy whites, breezy blues, and sandy tones. Introduce a calming colour palette reminiscent of the retreating tide to breathe beach-like qualities into your space.
Traditional blue and white
Blue and white is a staple colour combination in a nautical theme, and the two tones work in perfect harmony to create a traditional maritime look. Keep it simple with a bright blue feature wall and white bathroom furniture. A statement bath with angled contours will offer yacht-like appeal. Decorate glass shelves with vases of varying shades of blue to create tonal depth.
Contrasting shades of blue and green
Shades of aqua green and blue are reminiscent of the sea – create a relaxing atmosphere in your bathroom by contrasting half the space with a light shade of bluey-green and the other with a slightly darker hue. Use wooden panelling to make the space feel even more coastal-like and introduce light grey or brown flooring for a sandy sense of coolness.
Introduce natural textures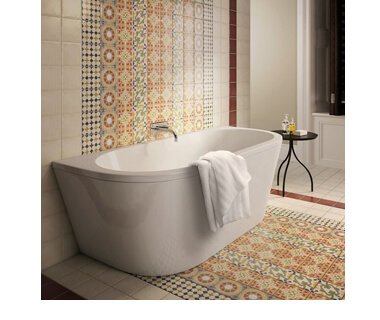 Organic textures are key for channelling a nautical look. Rough and ready materials such as stone and wood help to mimic the materials found on sandy shores.
Stone
Natural stone textures can instantly conjure up memories of rocky beaches. Replicate pebbly textures with rock-effect tiling and combine with a glass and pearl stone border for a luxurious touch. This is a good option if you want to incorporate a modern aspect of the nautical trend.
Distressed woods
Bring in some grainy wood texture to emulate driftwood washed up on sandy beaches. Organic textures are ideal for lending a natural feel and will also create a cosy atmosphere. Choose wooden cabinets for a subtle nod to coastal styling.
Add maritime stripes
Simple decorative touches can make a huge impact when creating a nautical space and are easy to incorporate through bathroom essentials like storage and towels – ideal if you don't want to give your space a huge overhaul. Nautical stripes will evoke the spirit of the seaside.
Striped storage
Symbolic of sailors, nautical stripes offer instant seaside charm. A statement wash bin is an affordable way to inject some stripes and will transform everyday storage into an eye-catching focal point.
Beach-worthy towels
Even if you're not on the beach, you can still enjoy that same sense of comfort and relaxation with luxurious towels.
By blending sandy textures with ocean-inspired colours, you can create a nautical bathroom that reminds you of an idyllic seaside retreat. Visit your nearest showroom to explore nautical bathroom ideas up close or browse our design guides for more inspiration.