Red is associated with energy and passion, making it a great colour if you want to inject excitement into your bathroom. Depending on the shade you choose, you can create different moods, from vintage throwback charm to trendy modern minimalism.
We run through some of our favourite features, like red bathroom accessories and terracotta tiles, and share our design tips for creating a red bathroom you'll love.
Retro red
Use red in your bathroom to create a charming, retro Americana theme. Think mixed patterns,  shabby-chic accessories, and vintage-inspired furniture in shades of mulberry, cardinal, and candy apple red.
Get the boutique look by styling a period-effect freestanding tub in front of a red tiled feature wall. Add a striped red bathmat and towels for a nod to vintage seaside charm. Give the room a rustic finish with wooden furniture and flooring. Team with gingham curtains for a perfect 1950s finish.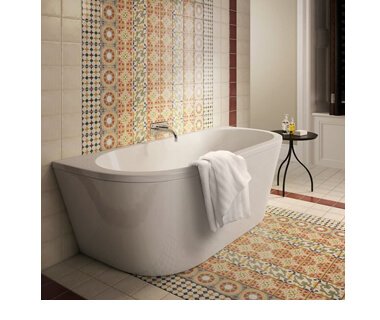 Earthy red
If you want to use red to give your bathroom a natural-looking finish, opt for reddish-brown tones like terracotta, burgundy, and burnt red. Earthy shades will add warmth to your scheme, giving it a relaxing and cosy atmosphere.
Create a Mediterranean theme by styling patterned tiles against a cream-coloured backdrop. Terracotta and maroon tones can be contrasted against shades of yellow and teal, for a bright and cheerful twist. For a more subdued effect, choose rust coloured stone-effect tiles and style them against neutral shades, like chocolate or oat-brown, for a subtly red glow.
Rosy metallic
Add an ultra-modern flash of red with metallic fittings and accessories. The rosy tinge has an irresistible sense of Scandi-chic cool and is a great way to add a splash of brightness if you want to inject a minimalist hint of red into your bathroom.
Rose gold looks great with almost everything – pair it with white for a fresh hit of shine, or style it with different shades of grey for a contemporary look. You can coordinate the effect across your layout, with everything from rose gold taps to a rose gold bath waste, and look for copper accessories to finish off the look.
City red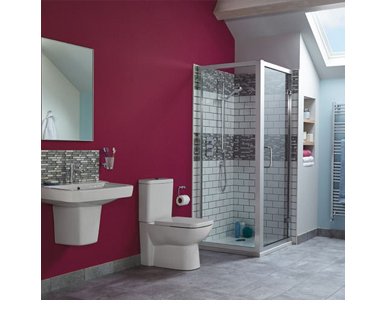 Red is arguably the colour that perfectly captures the thrill of a busy city, and you can use it to create an urban-inspired atmosphere in your bathroom. Style white furniture against a red feature wall for a bright and invigorating design – wall-hung pieces will give your bathroom a modern edge, while traditional furniture will offer a more classic finish.
If you want to give your bathroom an air of exclusivity, add vibrant red accessories, like cinnamon-coloured towels to a black and grey bathroom for a cool, masculine feel. Or why not flip it around and create a statement with a red tiled floor and black and white walls?
Art gallery red
Turn your bathroom into an artistic retreat by making red the focal point in a predominantly white bathroom. Tiling a feature wall in a rich shade like cranberry or plum will have an instant impact and give your space an edgy appeal while maintaining a bright and open feel.
Alternatively, style artsy red furniture and features, such as an interesting chair or vanity unit, against glossy white tiles. You can also hang wall shelves and dot red statues, vases, and artwork around the room for a gallery-like effect.
Red will instantly command attention in your bathroom, and you can use it to create an atmosphere that reflects your mood. Whether you want to add a hint of vintage charm or make a bold statement in a luxury scheme, there are plenty of ways to incorporate just the right amount of red into your bathroom.