Traditional design is all about combining vintage influences and natural materials to create a relaxing and elegant space. Because it's a versatile theme, you can pick and choose your favourite aspects to give your own unique spin on traditional bathroom design.
Browse some of our favourite traditional bathroom suites and features, and get inspired to create your dream bathroom.
The ultimate luxury bath
Nothing quite says 'elegant' like a freestanding tub, and a large, luxurious bath can become a standout feature in your traditional bathroom suite.
Vintage vibes with traditional feet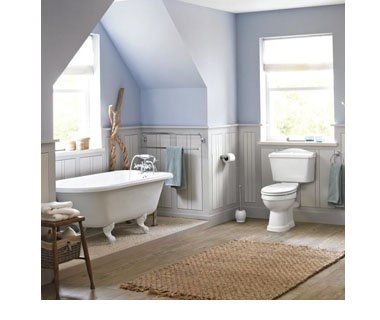 Freestanding tubs with cast iron or resin feet give off an instant sense of vintage glamour, ideal for a Victorian-inspired traditional bathroom. Create the ultimate luxury experience by placing one near a window, so you can indulge in long soaks and make the most of the natural light.
Elegant, elongated shapes
Freestanding tubs with a base that sits flush with the floor can blend seamlessly in with the rest of your bathroom scheme, for a subtly elegant effect. For a traditional finish, opt for a curved tub and long, elegant tap. Style it with flooring in a matching colour to create an effortlessly chic effect.
Create an atmosphere with traditional furniture
Choosing the right furniture for your bathroom can create a traditional look that helps to contribute to the overall feel of the scheme. Look for simple styles that have a hint of original detail, for a bit of added character.
You can't go wrong with shaker-style units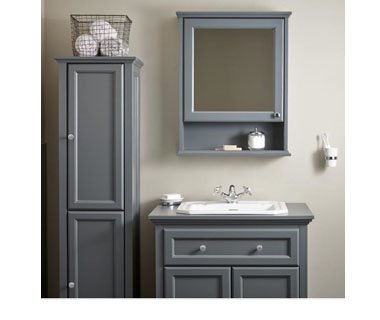 With its understated charm and classic styling, shaker-style furniture is a great choice for a traditional bathroom. Wooden cabinets in a neutral colour and matt finish will give your scheme a timeless appeal. Pair it with creamy pastel walls and porcelain features to complete the traditional look
Go the extra mile to make it match
Matching furniture across your bathroom scheme will create a cohesive feel, and give your theme a traditional foundation that you can add to and build upon. Beyond the basic features, like vanity units and cupboards, consider integrating matching bath panels and freestanding cabinets to finish off the overall look.
The best colours for a traditional bathroom suite
Traditional bathrooms can be styled in a huge range of colours and finishes, so you can create a pallet that reflects your taste and makes the most of your space. Stick to natural materials, such as marble and wood, and neutral tones to maintain a classic look.
Rich, dark, and elegant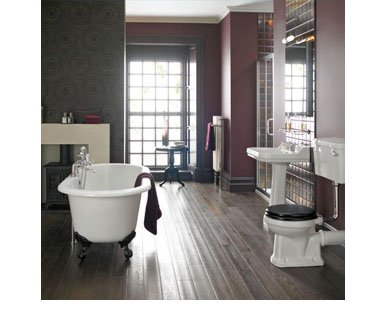 If you want to create a traditional bathroom that has a formal feel, consider using dark tones across your layout. Layering rich colours with contrasting tiles will help to break up the scheme and make the room feel spacious. Wood flooring will add warmth, while glossy bright features can stand out against the dark backdrop for a wow factor.
Pretty pastels for a traditional family bathroom
While neutral colours tend to be the norm in traditional bathrooms, there's no reason why you can't add a splash of colour! Choosing subtle, pastel tones will create a gentle and relaxing atmosphere. Use a natural texture such as wood or marble across the floor and opt for simple, matching features to keep in line with the understated theme.
Irresistibly vintage touches
Some traditional bathrooms stick to a strict period theme, such as Edwardian or Victorian, whereas others mix and match influences from across the decades to create an entirely unique design. Either way, don't miss out on the chance to include a bit of vintage flair in your traditional bathroom.
A touch of poetry with a pedestal basin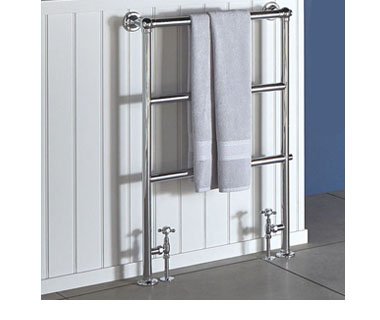 Pedestal basins are available in classic and ultra-modern styles alike, but a vintage-inspired design will look perfect in a traditional bathroom. Opt for a basin that has a bit of drama, with long elegant lines and cross head taps, to give your space a touch of throwback luxury.
Beautify the basics
You can add both style and practicality to your bathroom by giving the basic elements an antique twist. A traditionally-inspired towel rail will bring a retro flair and a touch of luxury to your design. Incorporate matching details like towel rings, robe hooks, and toilet roll holders to tie your whole scheme together.
Finish it off with a rosy shine
Because traditional bathrooms tend to be fairly subtle and familiar in appearance, you can get away with adding a hint of drama with a bold, metallic feature. Copper is a timeless and versatile tone that blends perfectly with different colours and textures, ideal for injecting a bit of shine into your traditional bathroom suite.
Make a statement with bold accessories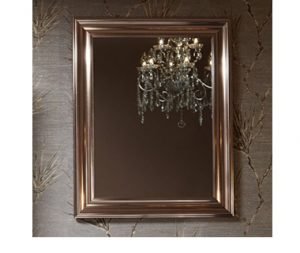 From mirrors to storage to decorative vases, there are plenty of opportunities to add a splash of metallic drama to your bathroom. A large wall-hung mirror will help to reflect light and open up your space, and choosing a classic design in a copper tone will work seamlessly in a traditional scheme.
Include unexpected rose gold
Style up the simple features by turning them rose gold. While taps and plugs might not be the most immediately exciting bathroom features, you can turn them into the star of your bathroom. Maintain a traditional look by keeping the rest of the theme subtle, and allow your rosy features to pop.
By blending simple colours and paying attention to the details, you can create a beautiful traditional bathroom suite that reflects your personality. Book a free design consultation for more expert advice, or browse our design guides and get inspired to create your dream bathroom.
Learn more about traditional bathroom suites with our in-depth buyer's guide.