The concept of the 'bathroom' was born during the Victorian era. Indoor plumbing became available for the middle classes in the late 1800s, and houses started being built with a dedicated room for washing and bathing.
Although Victorian bathrooms didn't have the same sort of modern comforts we enjoy today, you can still take inspiration from the era to create a period-style design in your home. Find out more about how to choose features and colours for your bathroom, to give it a Victorian-inspired look.
Classical pieces
The main features in a Victorian-style bathroom should have a distinctly classical finish – think long, elegant lines, bevelled edges, and intricate detailing. Look for vintage-inspired pieces that will work together to create an antique look across your entire scheme.
An elegant basin
When choosing a Victorian basin, there are two main designs that work naturally with the era. A simple pedestal basin like our Whitechapel pedestal has a column-like design, ideal for a luxurious bathroom. For a stripped-back look, a Victorian cloakroom basin has a beautiful rustic effect that will give your scheme an undeniably vintage finish.
Claw foot tub
When it comes to choosing a bath for your Victorian bathroom, the more dramatic, the better. A freestanding tub is a must. To really channel the period, choose a slipper bath with traditional cast iron feet. It'll give your bathroom an elegant finish that the Victorians would be envious of.
Darling details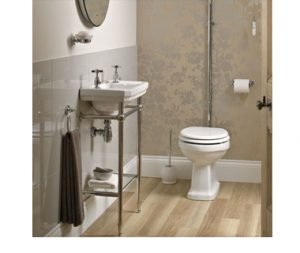 Choosing the right details is key to creating a cohesive feel across your Victorian bathroom. You can use simple bathroom essentials to express your love of vintage and contribute to the overall effect of your theme.
Traditional radiator
Keep your bathroom cosy and add to the vintage appeal with a traditional radiator. Choose one that has a chrome finish and ball jointed edges to stay true to Victorian-inspired styling.
Ornate taps and fittings
Add vintage-inspired details to finish off your bath and basin in the Victorian way. From simple cross head basin taps to an ornate floor-standing bath filler, you can find finishing touches that will suit the style of your period bathroom.
Embrace natural touches
While the Victorians loved elegant décor and luxurious features, they used natural materials as the basis for their features and designs. Get the look in your bathroom by using wood and marble elements as the foundation for your design.
Wooden furniture
Incorporating wooden furniture into your bathroom will enhance the traditional feel and create a truly Victorian atmosphere. The Savoy range is designed specifically for traditional and period-style bathrooms. You can pick from a range of units and cabinets that feature panelling and detailed edging, which will contribute to the antique look across your entire layout while adding useful storage.
Marble flooring
If you want to channel a truly luxurious Victorian aesthetic, use marble flooring to bring natural texture into your design scheme. Opt for lighter tones that use shades of creamy white and pale grey, which will pair well with white furniture and fittings.
Period-style patterns
The Victorians loved soft colours and delicate patterns – which are perfect for creating a relaxing atmosphere in your bathroom. Whether you want to create a light and simple bathroom or a more colourful and decadent space, you can use tiles to get the look you want.
Patterned tiles for an elegant effect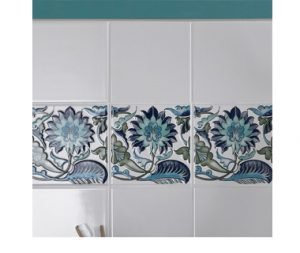 Enchanted by faraway countries' cultures, the Victorians loved ornate, botanical patterns adorned with exotic plants and birds. Pay homage to the look in your bathroom with tiles from the 19th century-inspired V&A range, which includes everything from bold, turquoise florals to subtle, understated patterns.
Subway tiles for an understated look
If you want to create a stripped-back Victorian look, subway tiles are a popular choice for period bathrooms, because they mimic the style of tiling that started to be used in underground stations at the turn of the 20th century. White is a versatile option that will effortlessly match your other period features, while soft colours like sage green and dusky pink were favourites in Victorian homes.
Balancing simplicity with elegance is the key to creating a Victorian-inspired bathroom scheme. Look for antique pieces and don't shy away from indulging in a few luxury touches. For more Victorian-themed inspiration, check out more tips about styling a Victorian bathroom.