When it comes to interiors, 'vintage' can mean many things. From 1920s art deco to 1960s pop art, there have been many brilliant trends throughout the decades worthy of being featured in your bathroom today.
We run through some of our favourite vintage-inspired pieces and designs, so you can reach into the past and create a stylish throwback vibe in your bathroom.
Period-style suite
The Georgians, Victorians, and Edwardians probably didn't have bathrooms that were as sophisticated as the one in your home, but you can still take inspiration from the elegant interiors these eras are known for. Create a luxe vintage atmosphere in your bathroom with period-style features.
Freestanding bath
A freestanding bath will instantly give your bathroom a vintage feel. To really embrace the period-style look, opt for a design with antique-effect feet. Pair it with a freestanding bath filler to make an elegant statement.
Classic radiator
Make your heating solution a thing of beauty with a traditional radiator. Constructed from steel with a chrome finish, it will bring a classy shine to your vintage scheme. Some designs can double as a towel rail, giving you the added benefit of warm linens waiting for you after a bath or shower.
1920s and 1930s geometrics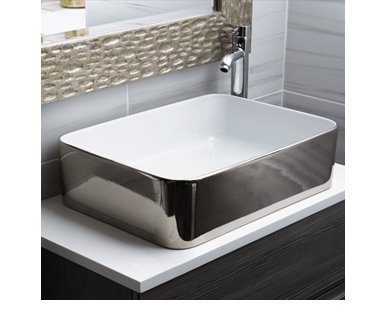 The art deco craze was all about making a statement with bold, geometric shapes. Embrace the Jazz Age in your bathroom by incorporating interesting pieces that will give your bathroom an edgy vintage touch.
A basin with angles
A square-shaped basin will bring a touch of intrigue to your bathroom, while giving a nod to the days when cubes and rectangles were all the rage. It's a great way to channel contemporary styling that's inspired by vintage design.
L-shaped bath
While the flappers might not have lounged in L-shaped baths, there's no doubt they would've loved this modern design. With sharp lines and a cool shape, you can embrace art deco aesthetics while enjoying today's clever comforts.
Americana tiles
When we think of the 1950s and 1960s, plenty of pop culture images might come to mind – think Andy Warhol, rock n' roll music, and muscle cars. Embrace the allure of vintage Americana in your bathroom by having fun with tiles.
Diner-style black and white
Black and white tiles will instantly set the scene in your bathroom and give your space a vintage atmosphere. For a 1950s diner-style feel, create a checkerboard pattern across the floor – choose all white furniture and add a bright splash of colour on a feature wall for a comic-book effect.
Go shabby chic with pastels
Pastel colours can instantly make a space feel cosy and relaxing, meaning they're the perfect choice for a bathroom. To create a shabby chic look, mix and match chalky shades like buttercup yellow, powder blue, and baby pink across your entire scheme.
Power glam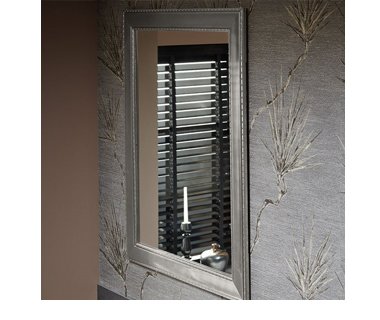 You can channel the loud and proud attitude of the 1970s and 1980s (without going overboard) by incorporating metallic features and accessories into your layout. It's a great way to make your space feel fun and just a little bit indulgent, while still maintaining a classy feel.
Glitzy framed mirror
Embrace a bit of disco fever with a statement mirror – the bolder the better. A heavy, antique-inspired design will bring an irresistible hit of glamour, while the metallic finish makes it feel current and on trend.
Metallic accessories
Bring a touch of shine to the nooks and crannies in your bathroom with metallic decorative accessories. Pick quirky pieces that have a rustic finish, and can be placed across your entire layout to create a stylish, haphazard feel.
Bringing a touch of vintage into your bathroom can transform it into an ultra-luxurious or fun and playful space. With decades to choose from, there are plenty of throwback trends you can embrace – explore our traditional bathroom design guide for more ideas.