A wet room is a sealed shower area that is designed to sit flush with the rest of the layout. Admired for their minimalist design, wet rooms are well suited to contemporary bathrooms.
Designed with water-tight materials, they can handle considerable amounts of water and are most commonly seen without a shower tray or screen, depending on the size of the bathroom.
There are many benefits to having a wet room:
Easier and quicker to clean than your standard shower, especially if you don't use a shower screen or tray
No need to worry about excess water on the floor
Help to give the illusion of more space, as there's no shower door causing obstructions
Offer step-free access as they are not raised like a normal shower cubicle, making them an ideal choice for those with restricted mobility
Considered an attractive feature by many buyers, it can increase the value of your home
Think a wet room might be the right choice for your bathroom? Check out our tip tips on how to create the perfect wet room design in your home.
Choose an impactful shower design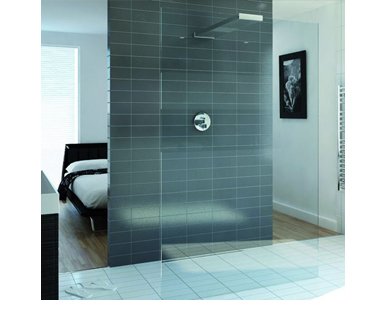 Is your bathroom ultra-modern or more traditional? To create the atmosphere you want, consider what kind of tiles and shower will best accentuate your wet room while making sure to choose waterproof materials.
Large shower head
A large shower head complements a wet room perfectly and will create a luxurious hotel feel. Concealed valves will keep things streamlined and make the space feel more open, adding to the wet room wow factor.
Tile it from floor to ceiling
Many wet rooms are tiled from floor to ceiling. This not only offers a seamless look but ensures the space is completely water-proof. When choosing tiles, think carefully about the colour. Darker colours offer easy maintenance while lighter shades will help to brighten up the overall feel of your bathroom.
Consider practicality
Wet rooms result in larger areas of your bathroom being in contact with more water. While the aesthetic of a wet room plays a big part, there are also many practical factors to consider when installing a wet room in your space.
Safety
Textured floor tiles are a good choice for a wet room as they'll provide grip underfoot, helping to prevent slips. You'll need to think about safety in terms of the shower screen too – ensure you choose a design that's easily visible to prevent people from walking into it.
Ventilation
Ventilation is crucial in a wet room. Think carefully about your extraction system, particularly if you don't have a window. It's a statutory requirement to provide adequate amount of ventilation and is more important than ever where there's a wet room involved.
Keep your wet room dry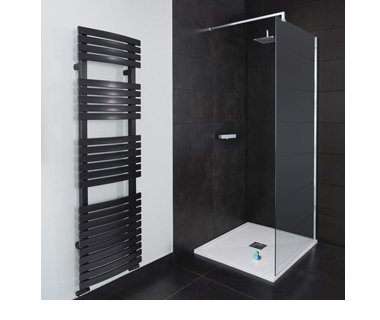 With a bit of pre-planning, you can create a wet room that is designed to look great and work flawlessly, ensuring it will provide a lasting style and functionality in your bathroom.
Waterproofing
Waterproofing your wet room is essential in extending its lifespan. Before tiling the space, you'll need to prime any areas that come in contact with the water to prevent leakages. This typically includes the area surrounding the shower, the floor, and the lower half of the walls.
Ensure good drainage
Good drainage is a crucial factor in a wet room. You'll need a drainpipe with a sloping gradient to ensure the water flows in the direction of the drain. It's best leaving this job up to the professionals – our installation experts can get you up and running with a five-year guarantee.
The secret to a successful bathroom is planning, so make sure to consider how your wet room will integrate with every aspect of your wider layout. Browse our design guides for more inspirational bathroom ideas or get in touch with our design experts for bespoke advice.